Welcome all, to my inaugural blog post, "The hapless landscape photographer." Why hapless? Well, for starters, this is my second attempt at writing this. My first accidentally deleted thanks Grammarly! I almost gave up trying for a second time, but, Smith Rock State Park was an experience I just had to share.
Smith Rock is about a 15-minute drive from the town of Redmond Oregon and less than an hour from the city of Bend. This wondrous park hosts a broad set of jagged spires that burst up from the ground, and the crooked river cradles the rocks providing outstanding photographic opportunities. It is also known as a mecca for rock climbers, and that became obvious as I watched the parking lot and campground swell with visitors over the first weekend in May.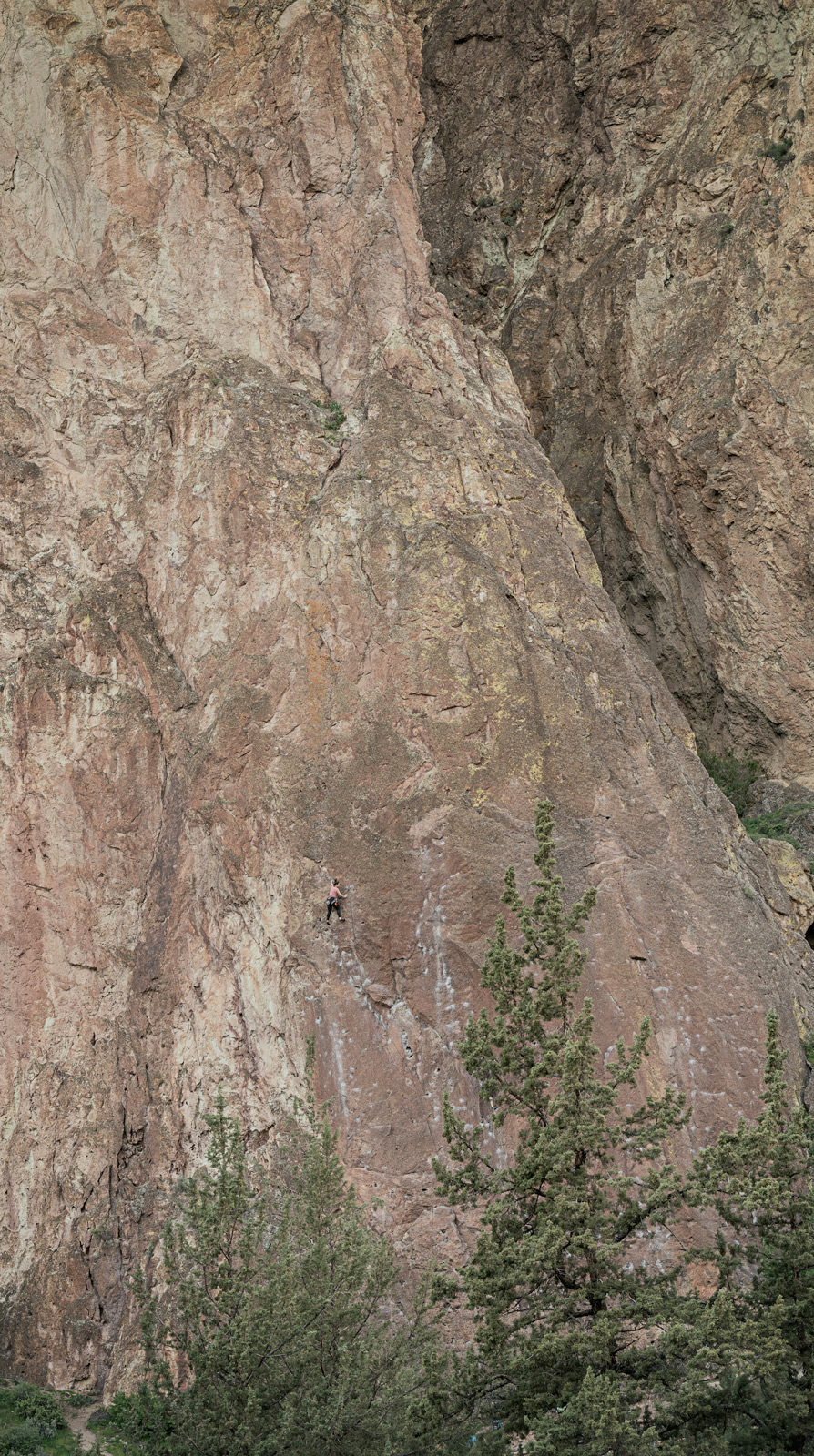 The campground located at the front of the entrance costs 8 dollars a night and passes can be conveniently purchased through an electronic kiosk. There are no reservations, so you will want to arrive early, and preferably in the least a Thursday or Friday morning, by Friday evening the campground was full.
To get good exposures of Smith Rock, you will need a Graduated ND filter, or be proficient enough to blend two exposures. At the moment I also don't have a Grad, so most of these shots are blending two exposures, one for the rocks and sky and one of the foreground. Smith Rock is a premiere sunrise location, so sadly, no sleep-ins. Sunsets here arent as exciting, the sun will drop behind the rocks in late afternoon leaving them dull and undramatic.
If you are going to be photographing Oregon, I highly recommend you purchase Greg Vaughns, Photographing Oregon.
I wouldn't even be writing this post if I hadn't since it wasn't in my original itinerary, the book changed all that. Vaughn arranges all of Oregon's spectacular locations into regions and passes on the best advice you need to get the best possible photos.
He goes even further by listing all the locations at the back of the book with star ratings between 1-5. So if you have time constraints, you can make sure and hit the best-rated spots, instead of wasting time on places that won't yield great results. 
So after setting up camp, it was time to scout the location for suitable compositions. I kept to the south side of the river, and because of the heat, I decided to stick to the shade of the ponderosa pine forests. It was in the woods I found what I believe to be a Yellow-bellied Marmot skull — impeccably dropped in front of a Juniper berry. I want to think the Marmot died preparing to eat its last bill, but it's more likely it fell out of a Bald Eagle nest.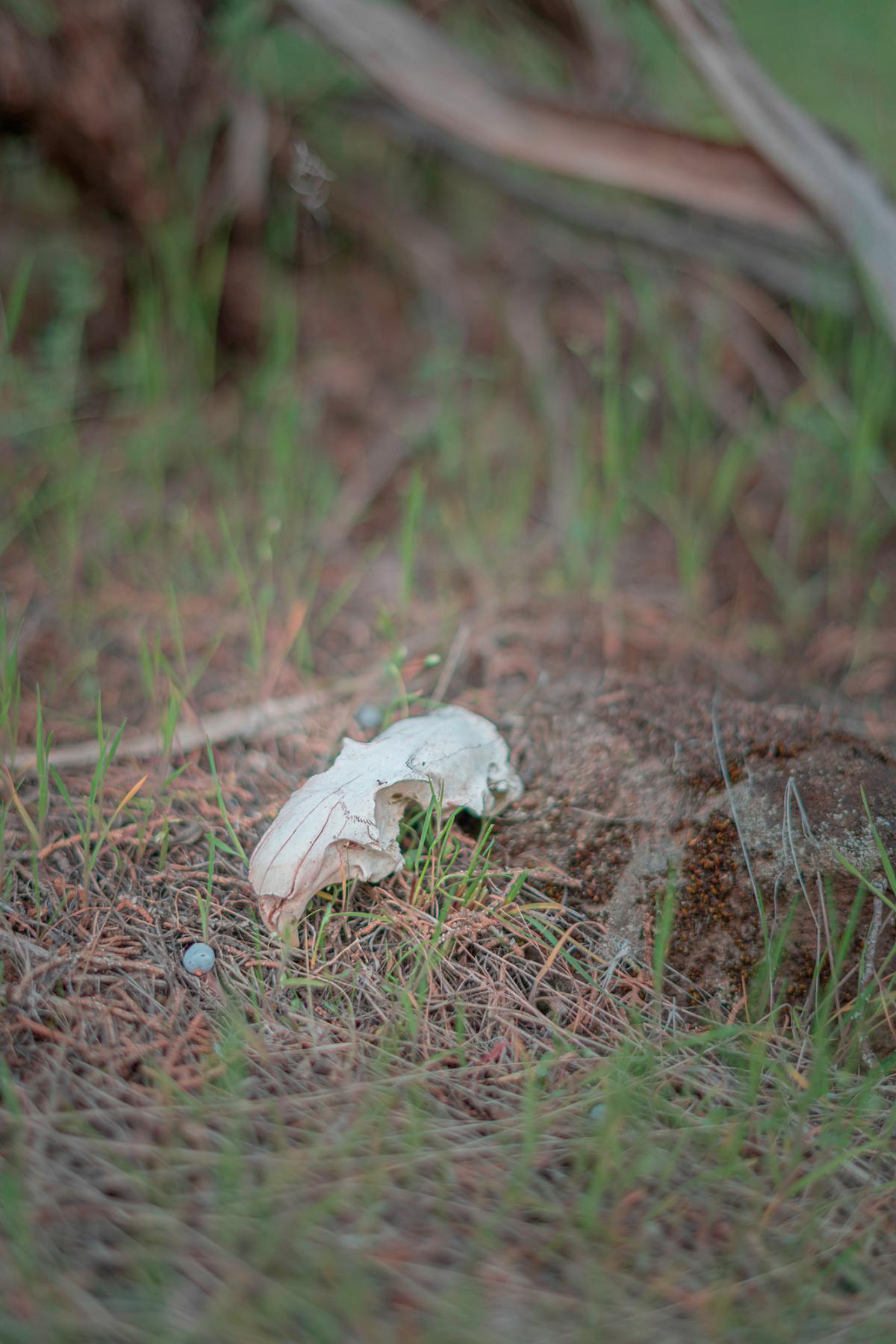 Gradually the sun began dipping below the rocks, and I was struggling to find a pleasing composition from my vantage point. With no wildflowers to be seen, the best I could do was framing some sagebrush as a foreground to the backdrop of the rocks. The 16-35 has an excellent sun star, and I managed to get this shot of the sun as it dipped in line with a roundish formation sculpted on the tip of the jagged rocks.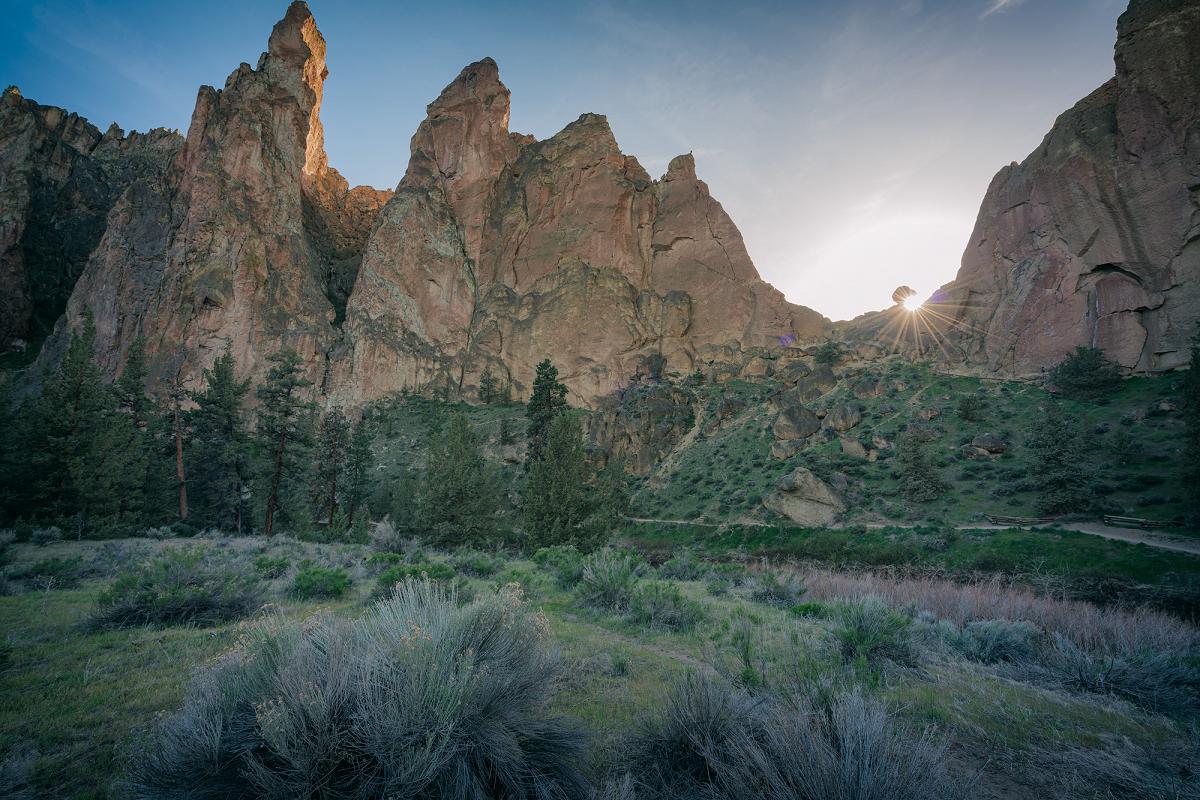 It was soon twilight; I followed the river south, hoping to find the last composition before dark. Bats began their nightly insect hunt, and at one point I watched up to 10 erratically tracing the slow-moving river. I managed a nice reflection shot to close off my first night in Smith Rock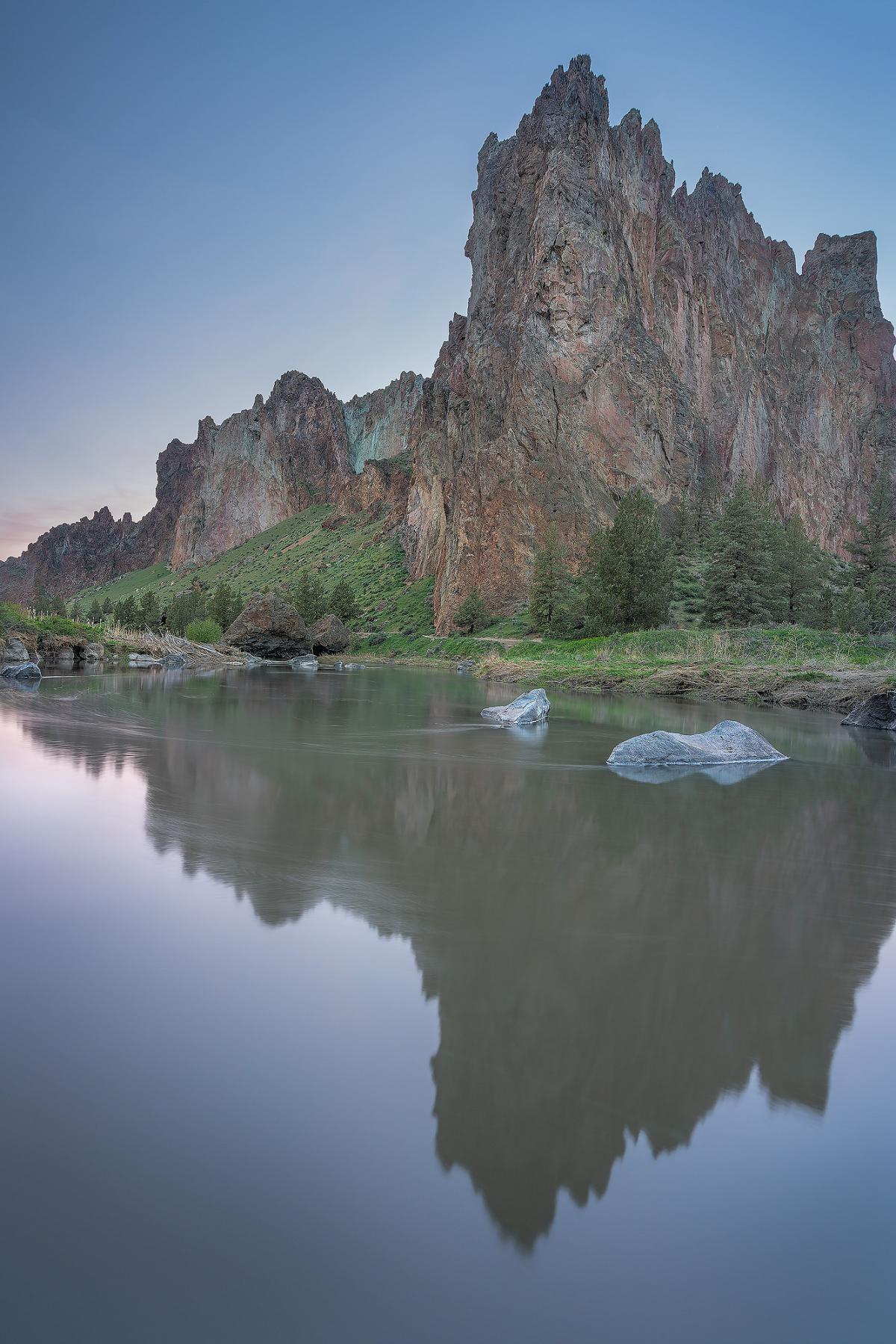 The next morning I woke up early enough to catch some of the stars above, but sadly not early enough to find the milky way. I blame Oregon's incredible selection of ciders. Here is the only shot I achieved of the cliffs and stars, made from the campground.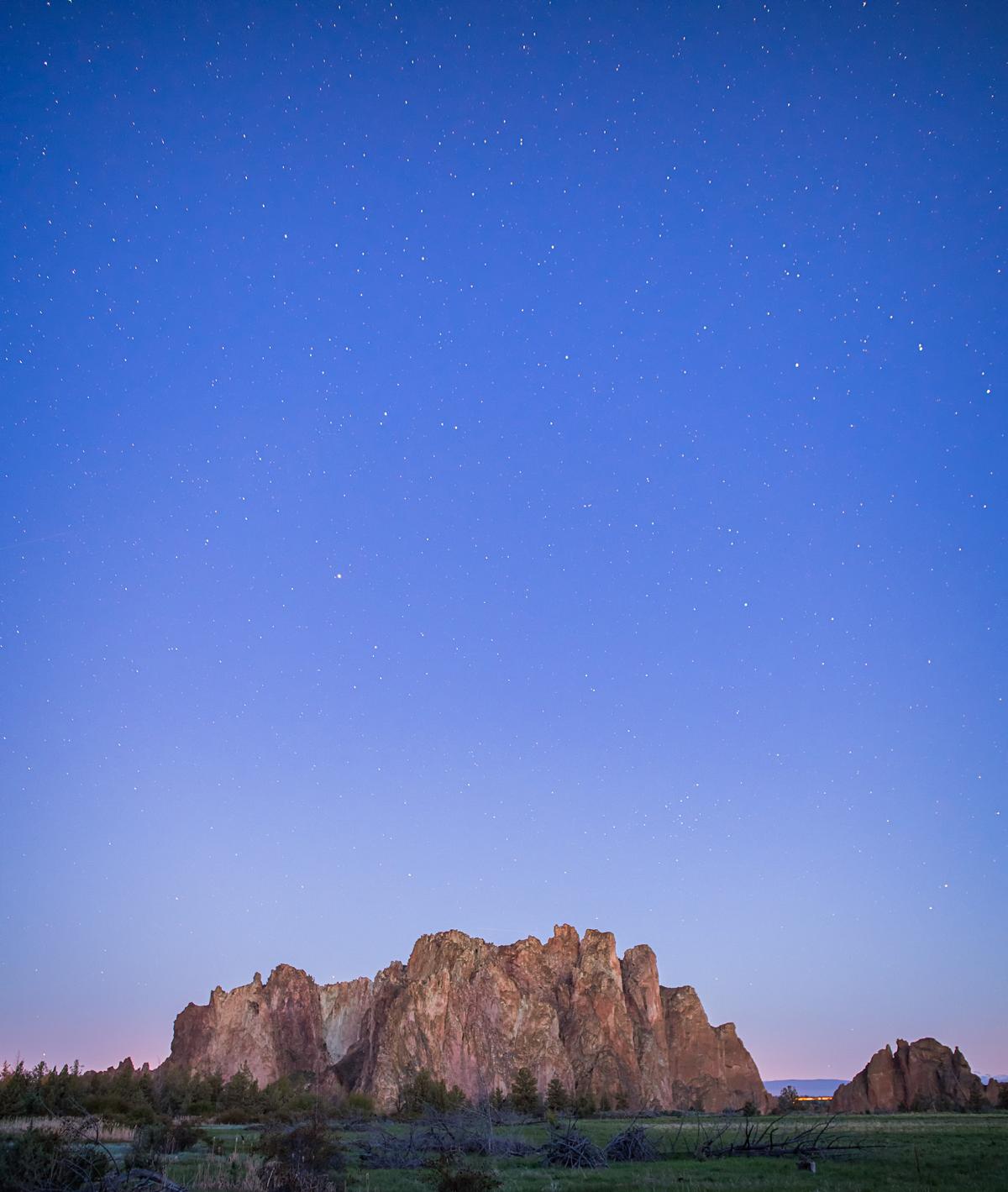 I spent the hour or so before dawn looking for the perfect spot to compose an exciting shot that would combine a compelling foreground with the rocks lit up in all their glory. This is an inherent issue with wide angle lenses, if you don't get the right angle, it can make gigantic rocks and mountains look meek and far away. I tried a longer lens, the longest I have, a paltry 50mm. it did compress things together nicely.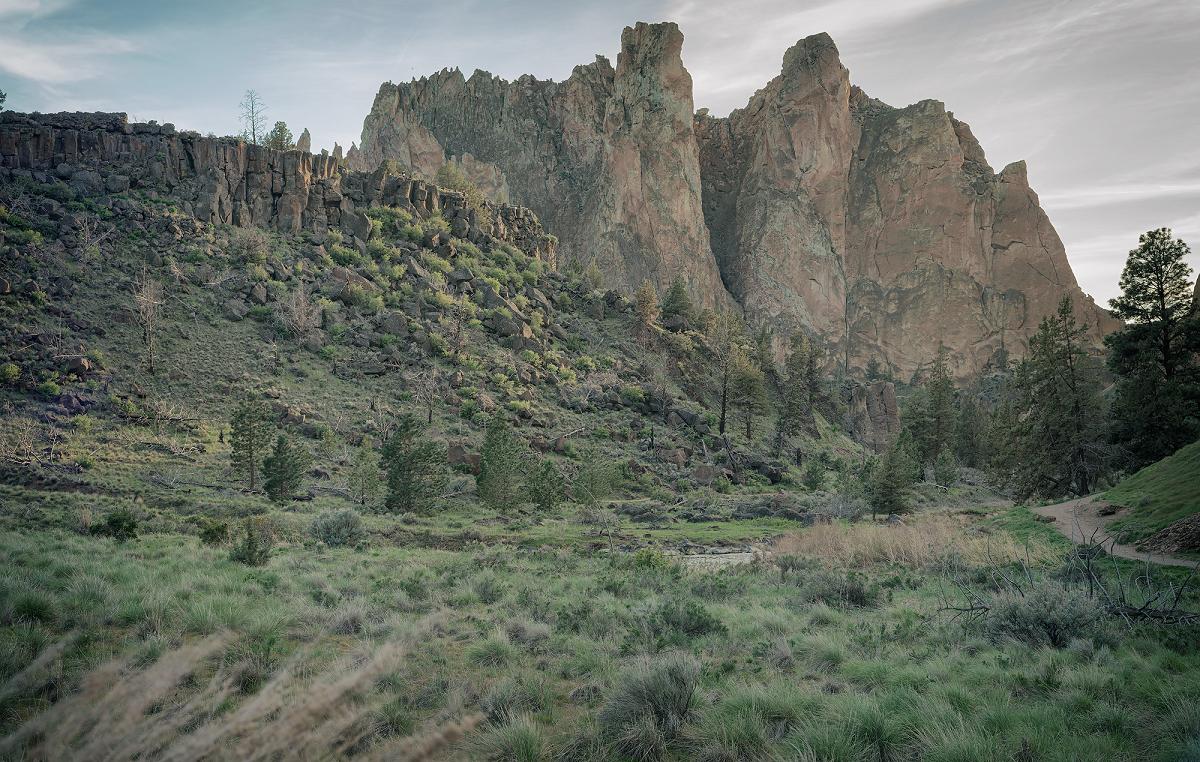 I switched back to my 16-35 for this gnarled corpse of a long-dead sagebrush. Looking at it now it is a very conventional framing, and I probably should have gotten lower for a more interesting shot. I am still trying to focus to achieve maximum depth of field correctly; it was much more achievable on a crop sensor.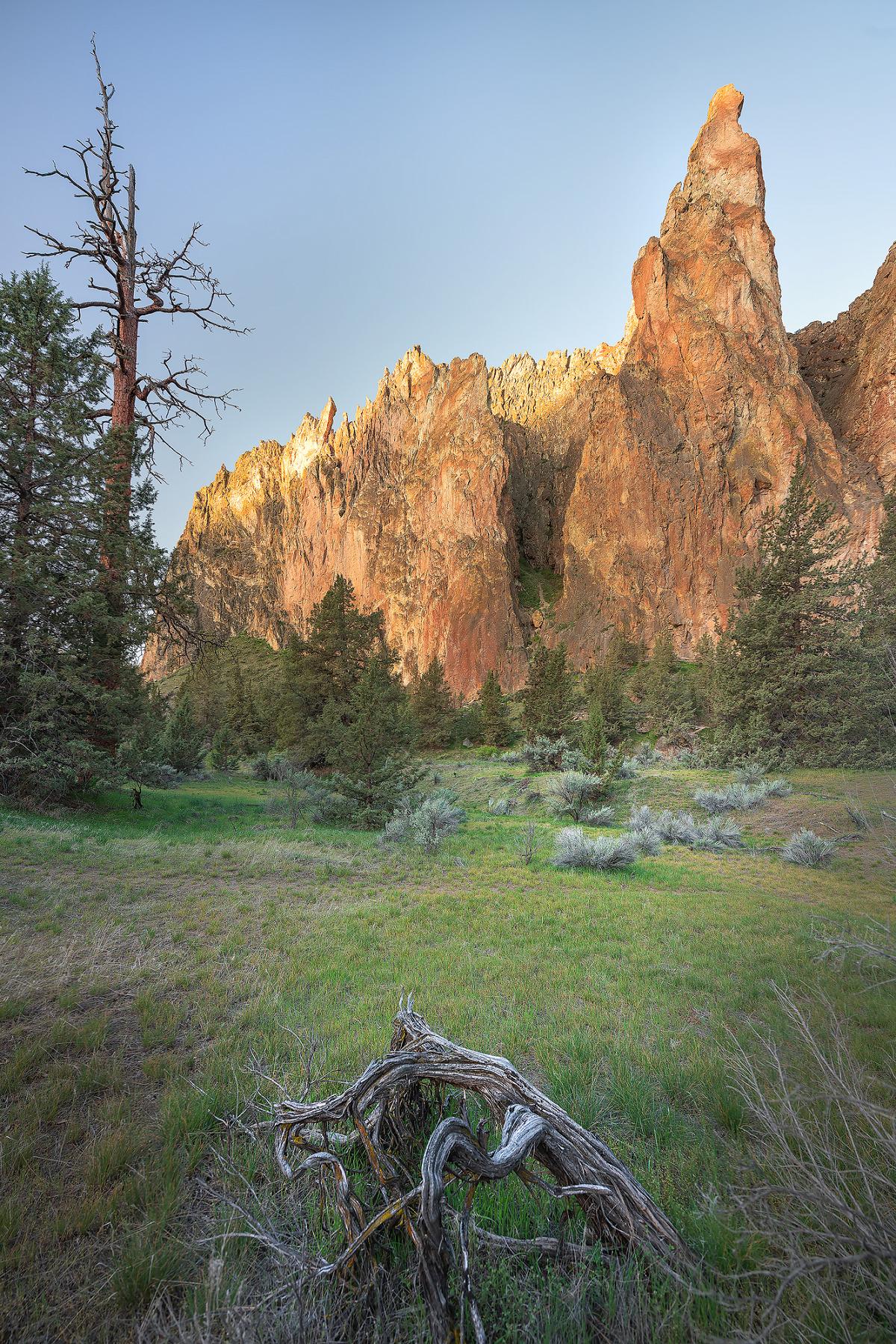 I moved on as the entire formation of stone was engorged in an orange glow. I did my best to frame the rocks and catch the reflection in the torpid crooked river.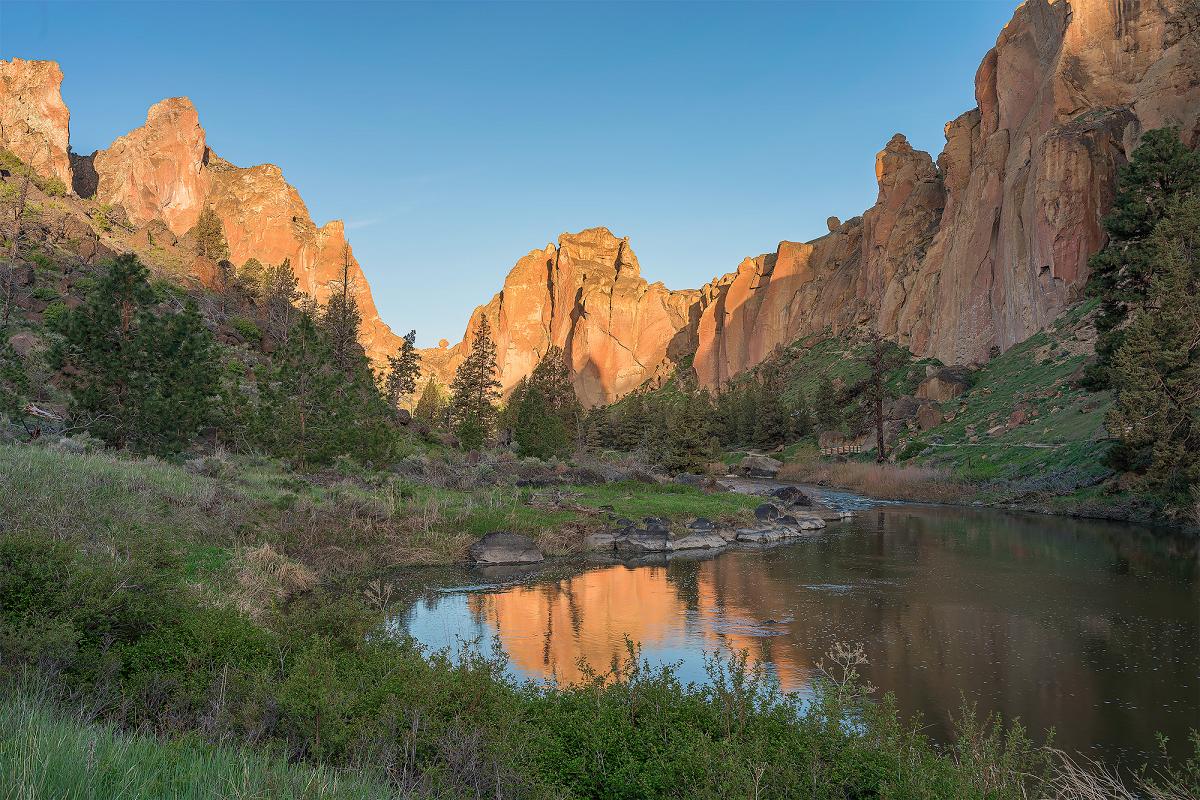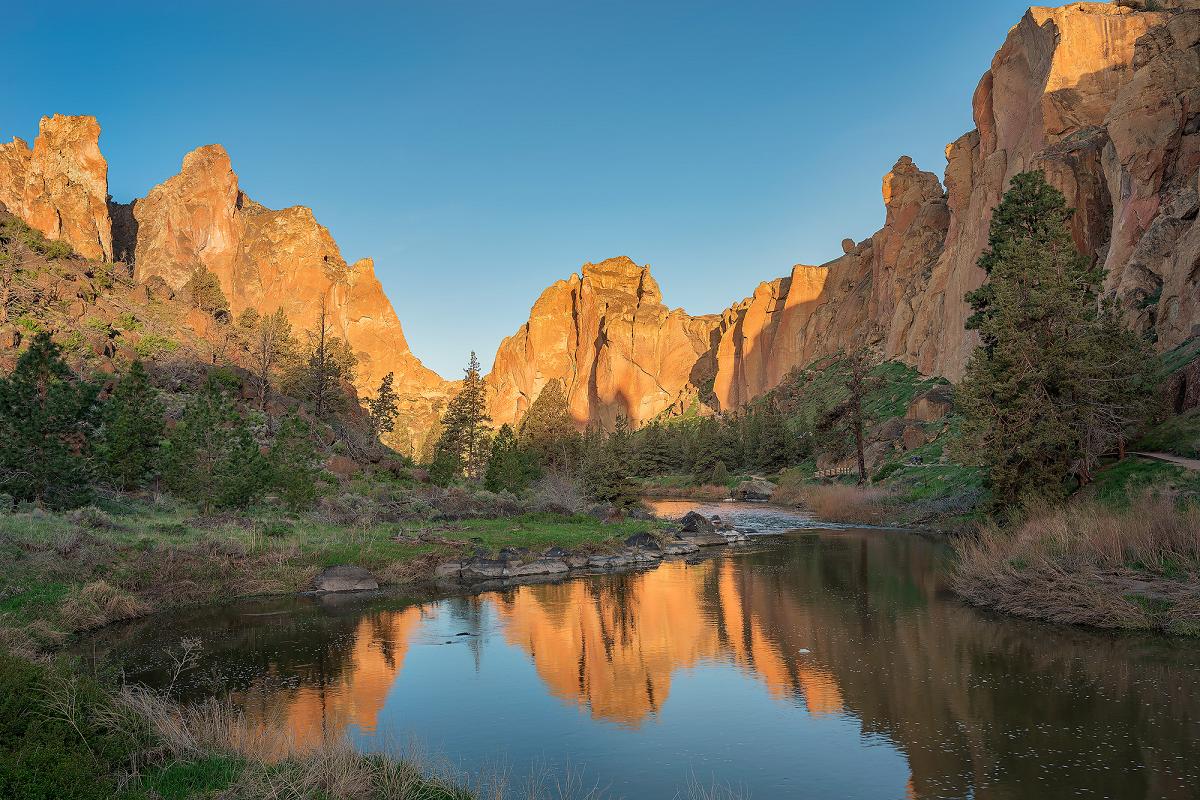 As the sun grew higher, the soft morning light began to dissipate. I rushed back up the trail to get the standard postcard shot of Smith Rock State Park. It's nothing spectacular, and perhaps a bit too much sharpening is being used. I have recently started using an unsharpen mask, following a tutorial I learned from Dave Morrow's photography blog. Previously I had been using the unsharpen mask method.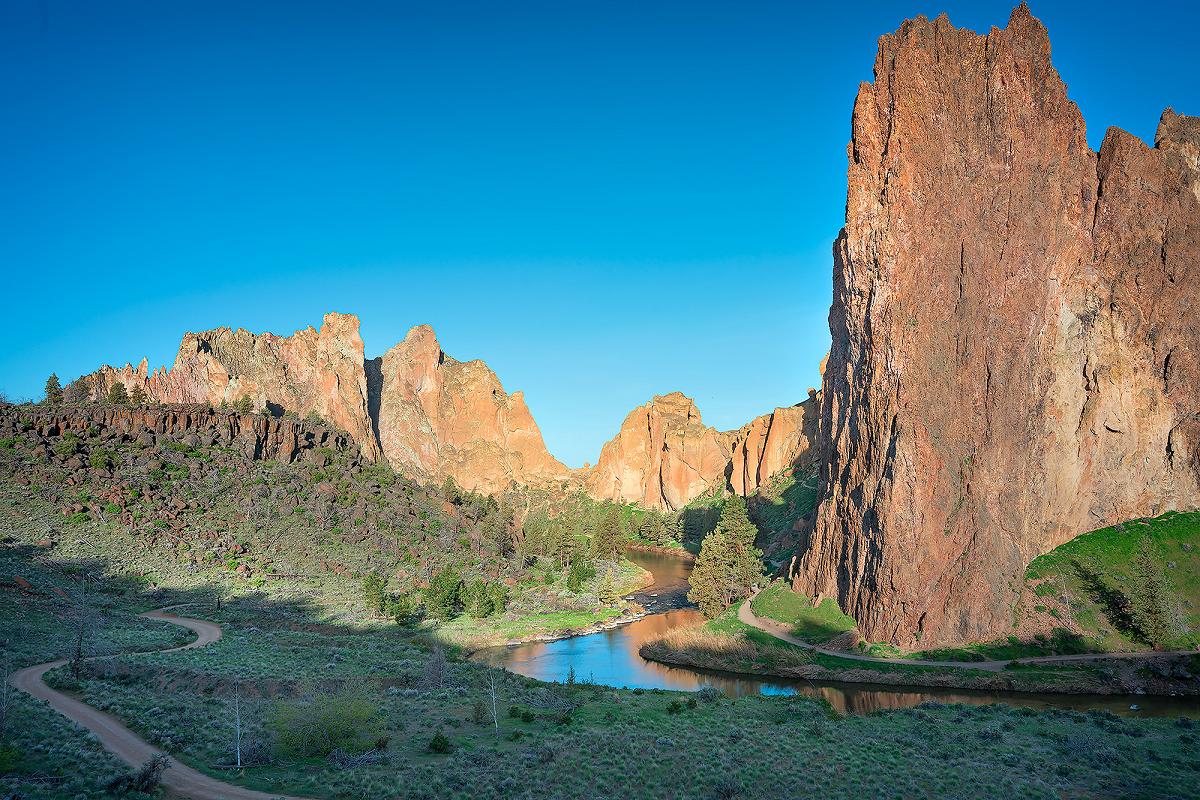 I resumed my photography for a few hours before sunset, and this time, I took the homestead trail to the Easternmost edge of the park. Here the rocks curve and face the setting sun. The river is also faster, making it more photographic for long exposures. I was not disappointed as I managed to get some good shots of the orange soaked rocks towering above the fast-moving current.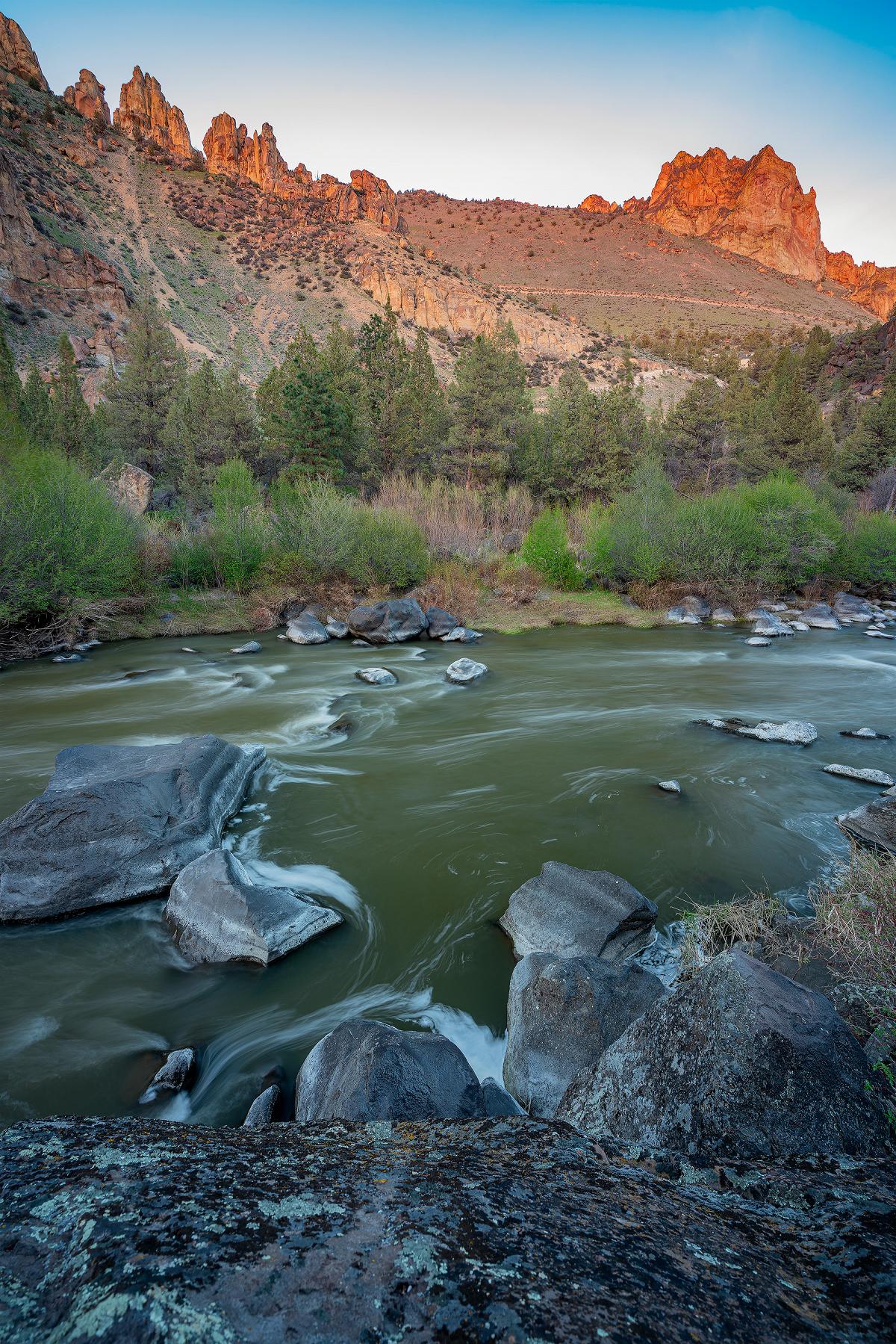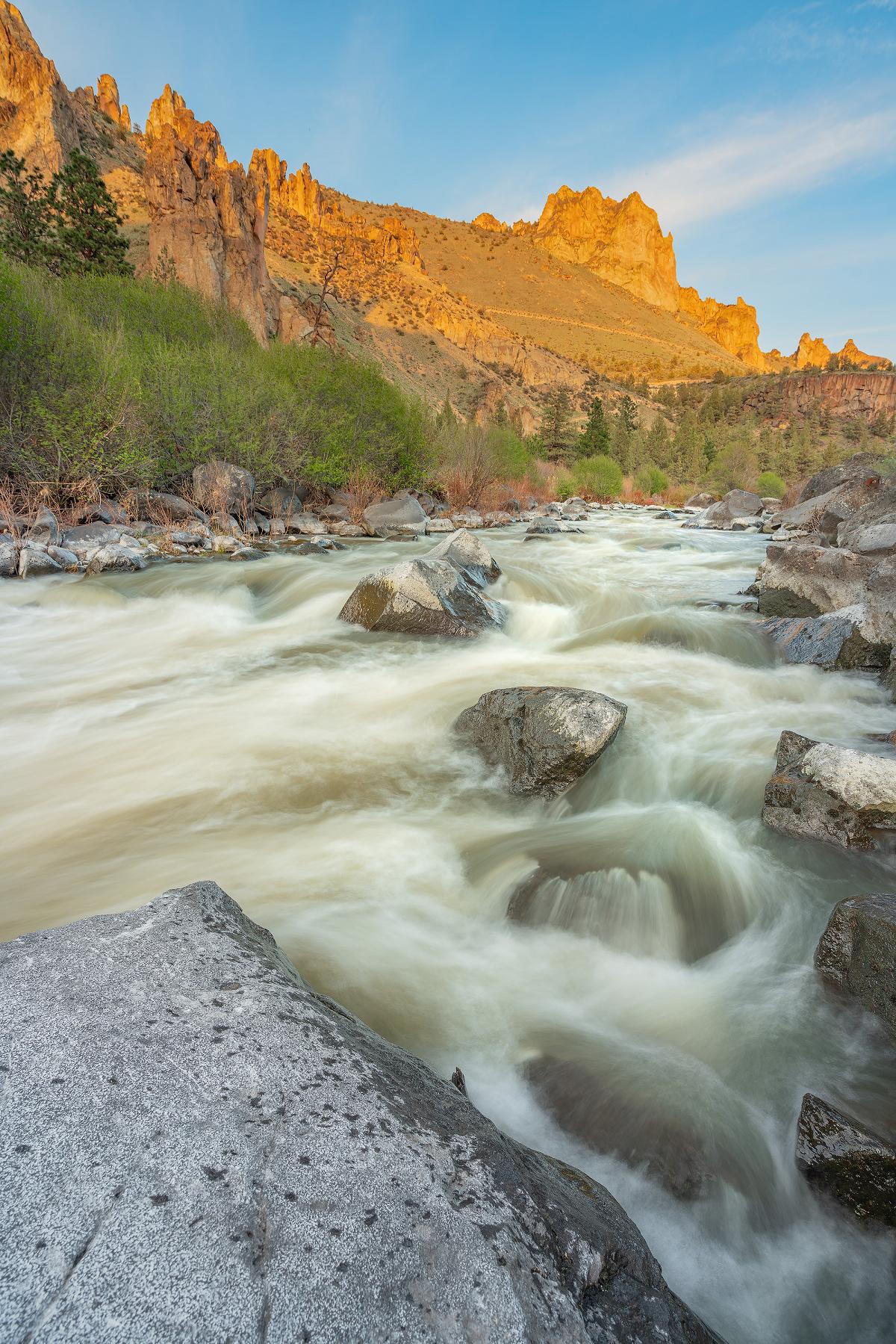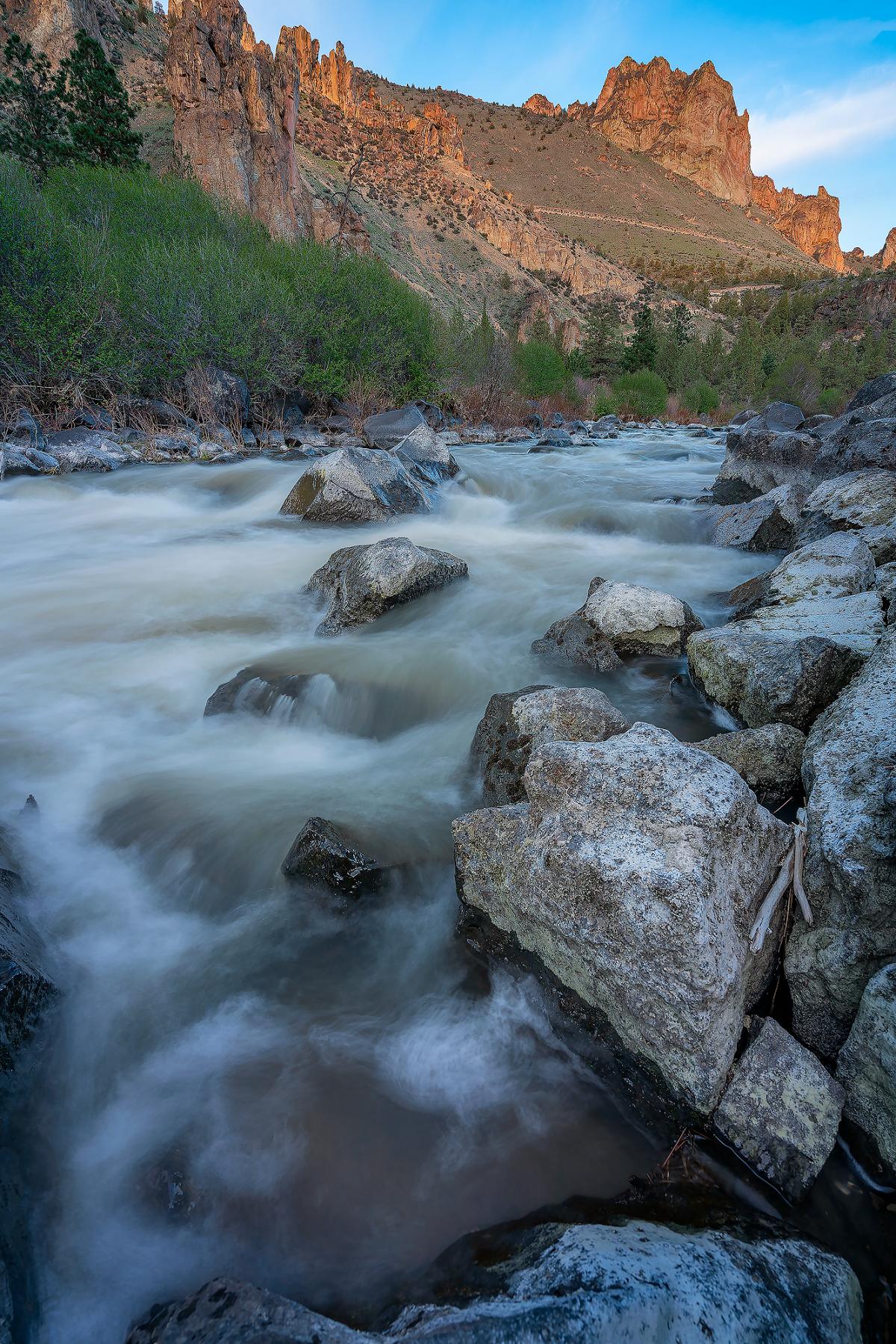 I went to bed satisfied but exhausted, and I ended up sleeping in and missing more sunrise photography, 
I packed up and headed on to Mount Hood and the gorge for waterfalls. Smith Rock State Park is a fantastic place, and I look forward to returning. I did not do any of the more strenuous hikes into the cliffs; there are enough trails to keep you busy for a week let alone a weekend.


Some tips for visiting Smith Rock State Park:


Get there early, and preferably a weekday. By Friday evening the campground parking lot was full. There are no reservations, and you will need to pack your stuff in a short ways from the parking lot.


Be prepared for heavy sun and heat exposure. Early May was already somewhat unbearable at least for me. I shudder to think of what July and August are like to endure.
Buy the photographic guide to Oregon, and it will help you plan things and give you an idea of what you want to shoot.
Check for ticks, anywhere there are substantial populations of mule deer the ticks are sure to follow. I plucked three ticks off myself while I was there.
Thanks for reading and stay tuned for my next post.
Follow me at @lastofthecurlews on Instagram and like my page, Ryan Edward Johnston photography on facebook.