Aside from being a really fun word to say: The "Bugaboos" are an impressive set of jagged spires bursting up from icy blue glaciers, nestled within the Purcell mountain range. The provincial park that protects this area was established in 1969 and has since become world renowned in the rock climbing community. For a Landscape Photographer who is down for back country camping, Bugaboo Glacier Provincial park offers out of this world scenery unlikely to be found elsewhere in BC.
The journey to the trailhead begins by turning off highway 95 near Briscoe BC, from there its forest service roads for, depending on your vehicle and how fast you feel like going, up to 2 hours to  the trailhead. I had no issues with my station wagon, until the very end when I had to go at a snails pace to avoid bottoming out.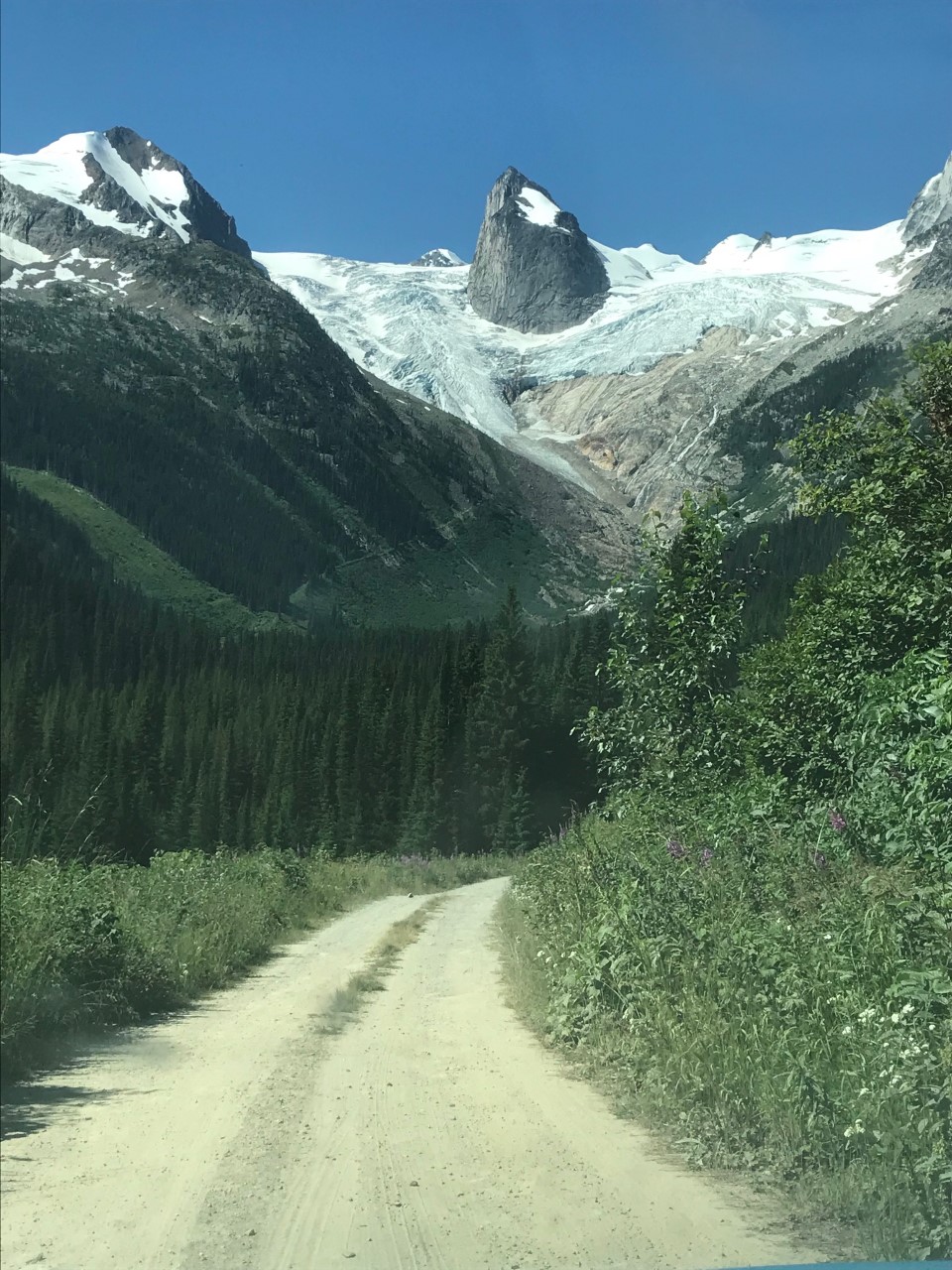 The parking lot has ample amounts of chicken wire to wrap around the bottom of your vehicle, keeping porcupines and other small rodents from chewing your tires and brake lines.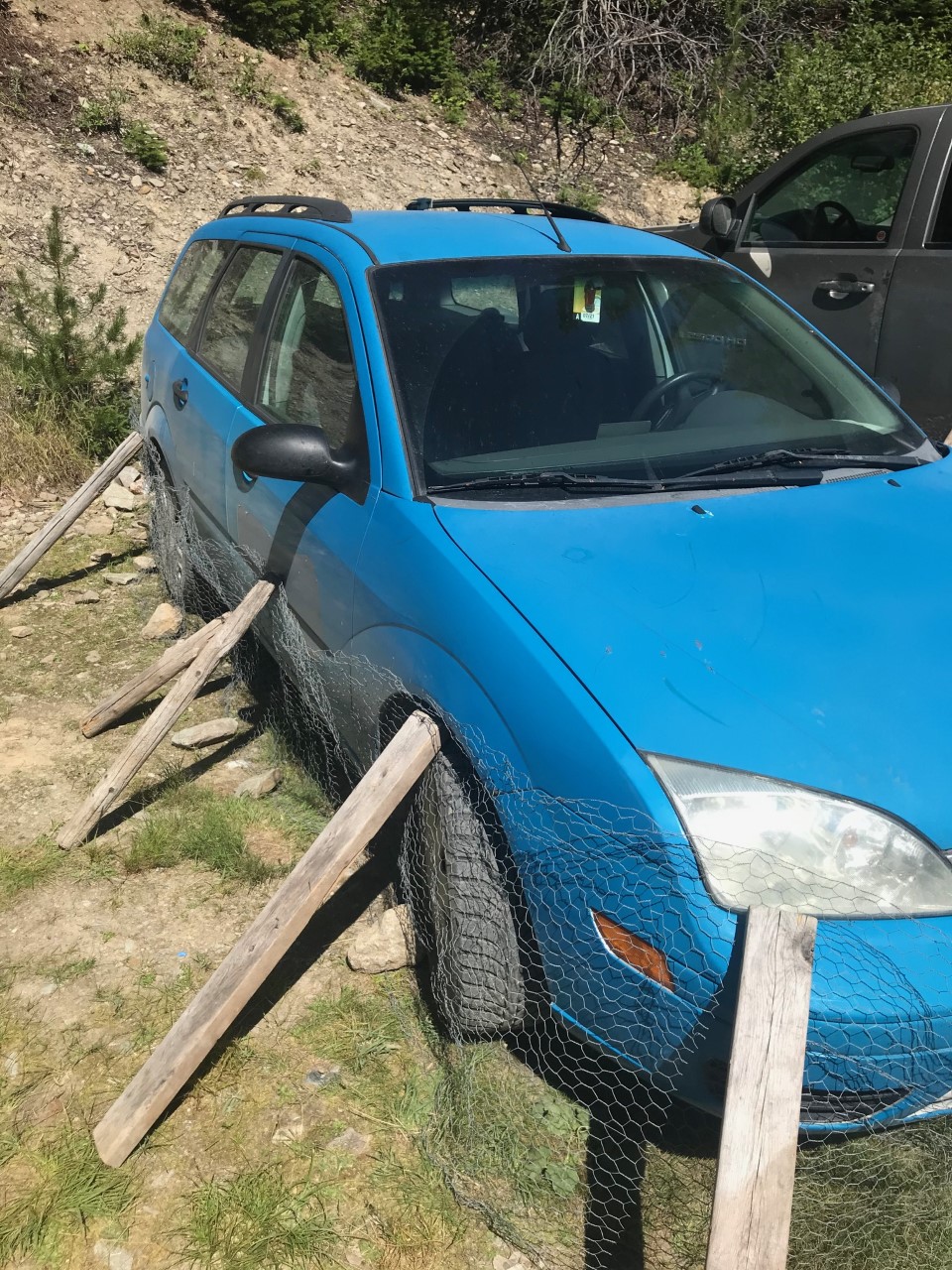 By the time I was done checking my pack and wrapping the car it was already past noon. The skies were clear and the sun beating down, not the best time to be beginning an arduous hike. I was glad the first km or so was flat and through shaded forests, this allowed me to get my bearings. I noticed how different it felt carrying a heavy pack compared to that first foray to Kinney Lake, a month prior. It felt almost normal. It didn't last long though as soon I was gaining elevation, leaving the lovely shaded trees for exposed switchbacks. 
My vigor was soon depleted under the oppressively hot afternoon sun. I took frequent breaks whenever I could find a sliver of shade. Most people I encountered were going downhill, but a few like me made the late start. One such person was a climber named Kevin, who was also from Vancouver. we kept the same relative pace, and took turns passing each other, though he was carrying twice the gear I was. 
We got to chatting, and after finding out he had been in the Bugaboos before, I asked if he was concerned about lighting. I had seen the forecast for possible thunder showers for the next afternoon, which had me concerned, I was possibly only going to stay one night, though I had purchased permits and planned for two. 

He said that things can get pretty scary up there, storms can appear out of the blue, and he had been caught will climbing in one. He felt his hairs standing up and all the metal climbing gear was buzzing. Yikes! The campground he said was relatively safe though, which kind of put my mind at ease.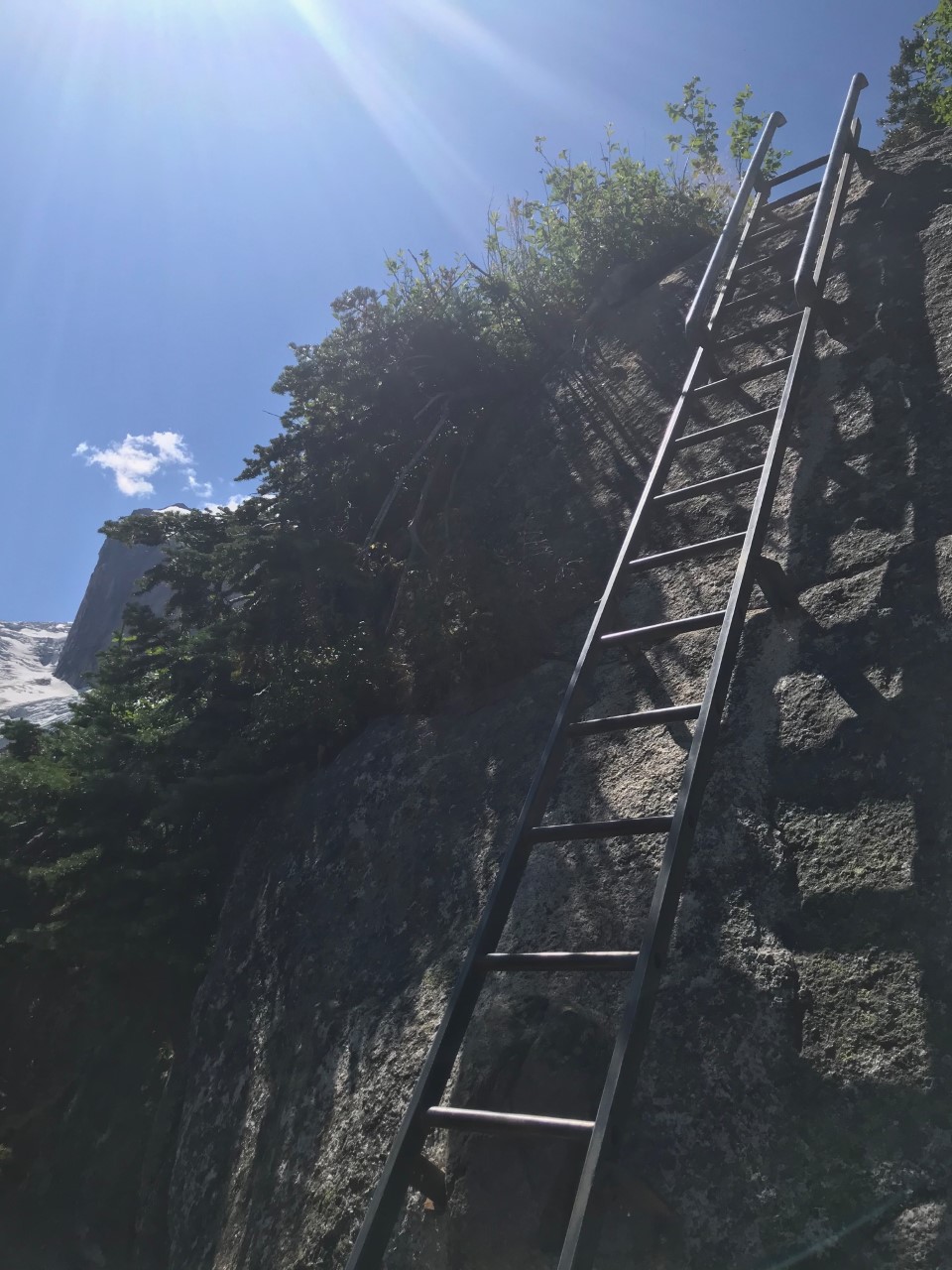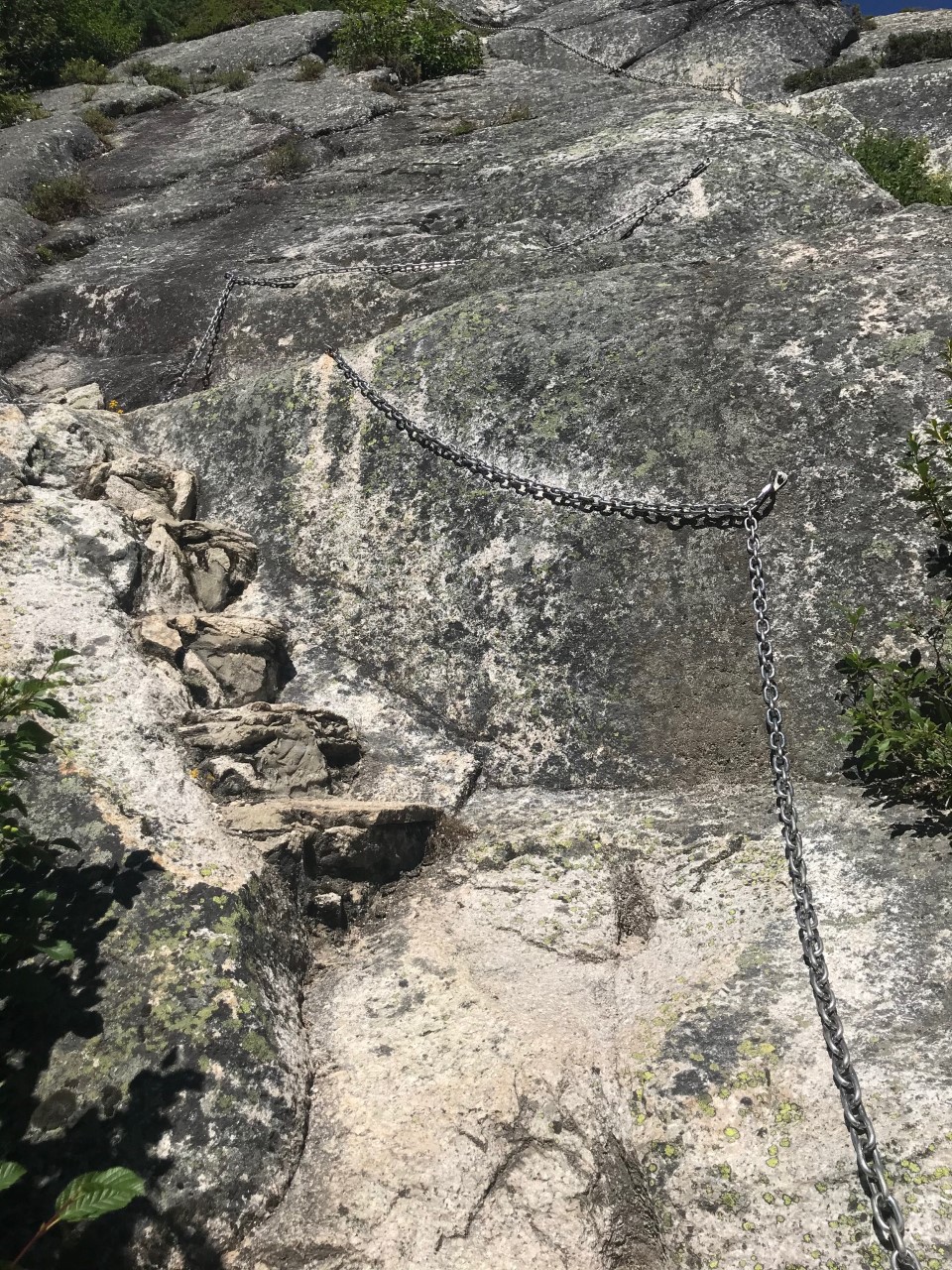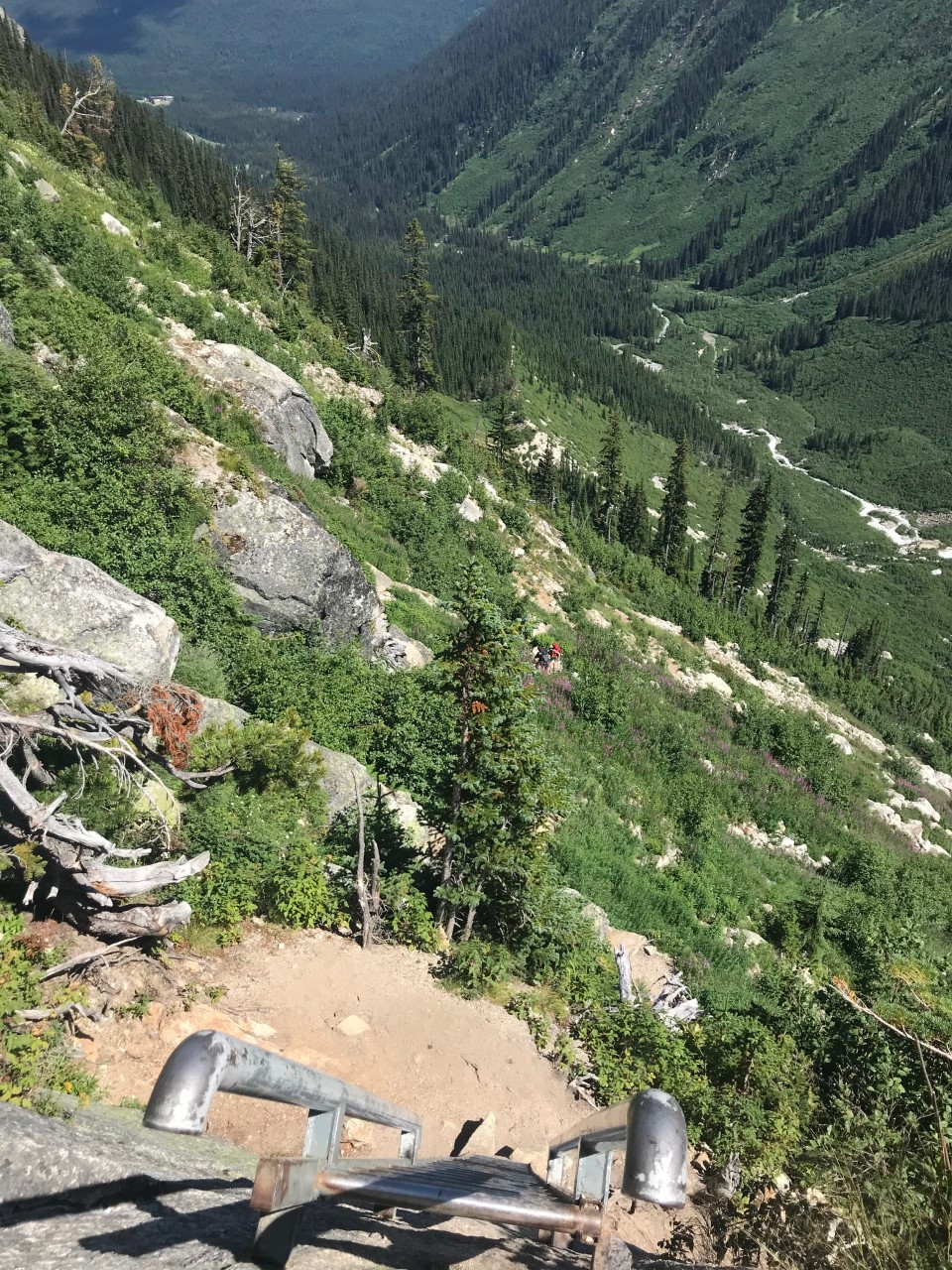 Hiking in direct sun slowed me down considerably. The last two kilometers took me an hour each, my total time was 4 and a half hours, but finally I could see the Applebee dome camp. I've linked my All Trails recording. 
I set up camp as quickly as I could, and took in the magnificent view.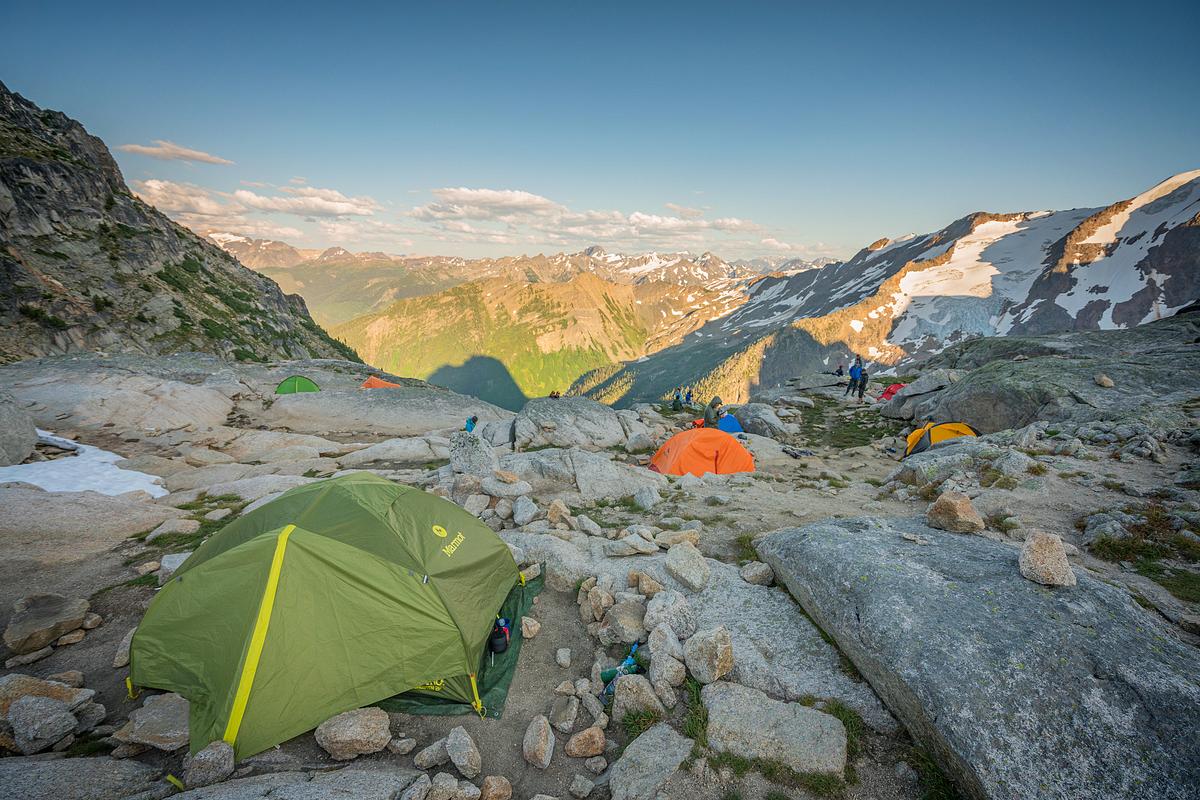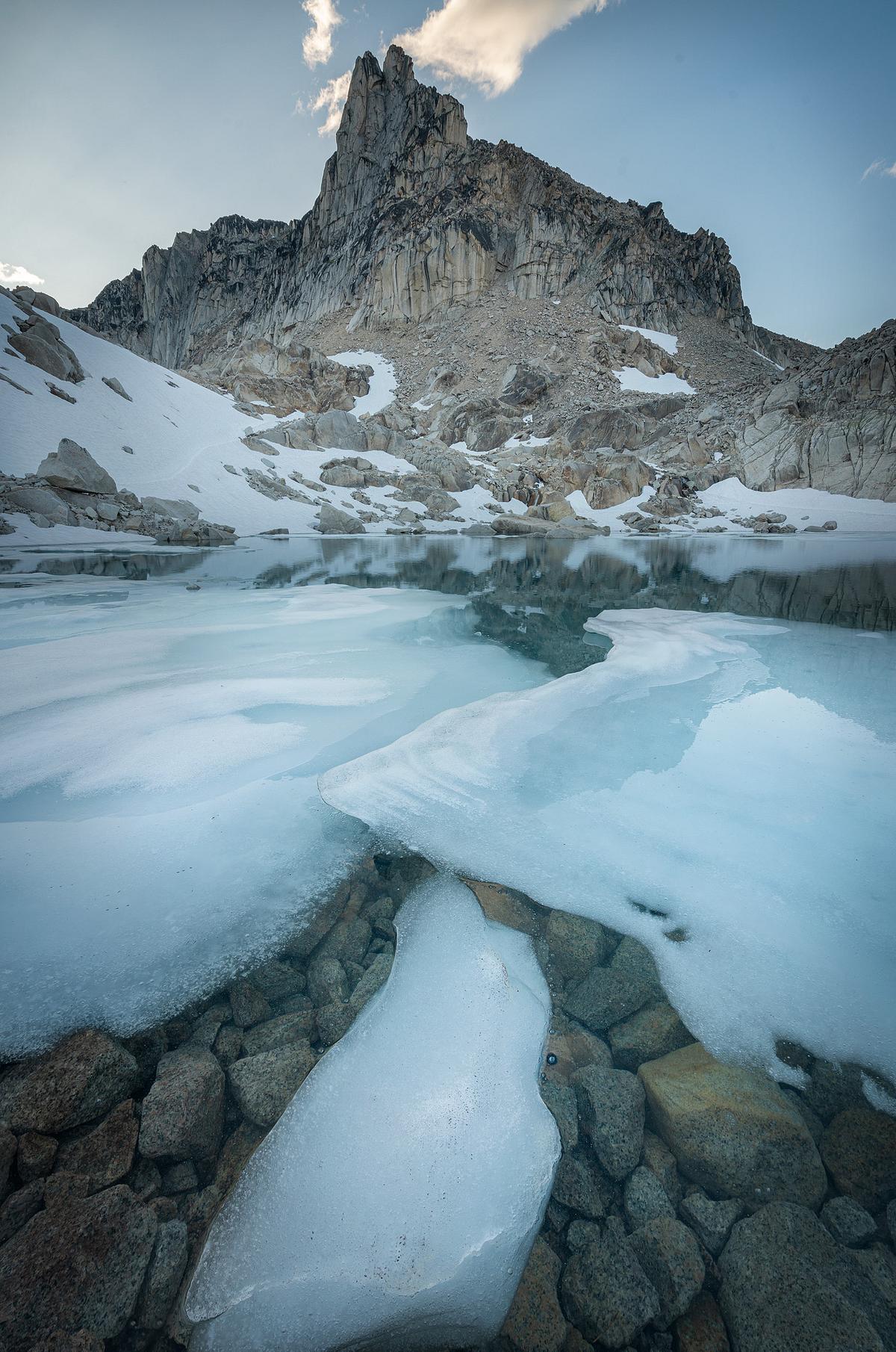 The cold glacial water still partially frozen made for the great foreground to the Spires, the above photo is Crescent Spire, Bugaboo Spire the more famous one is pictured below. The gap in the ice formed a perfect S-shaped curve, I composed the image so it leads directly to Bugaboo Spire, this is what all them Landscaper Photography books always go on about, the S Curve!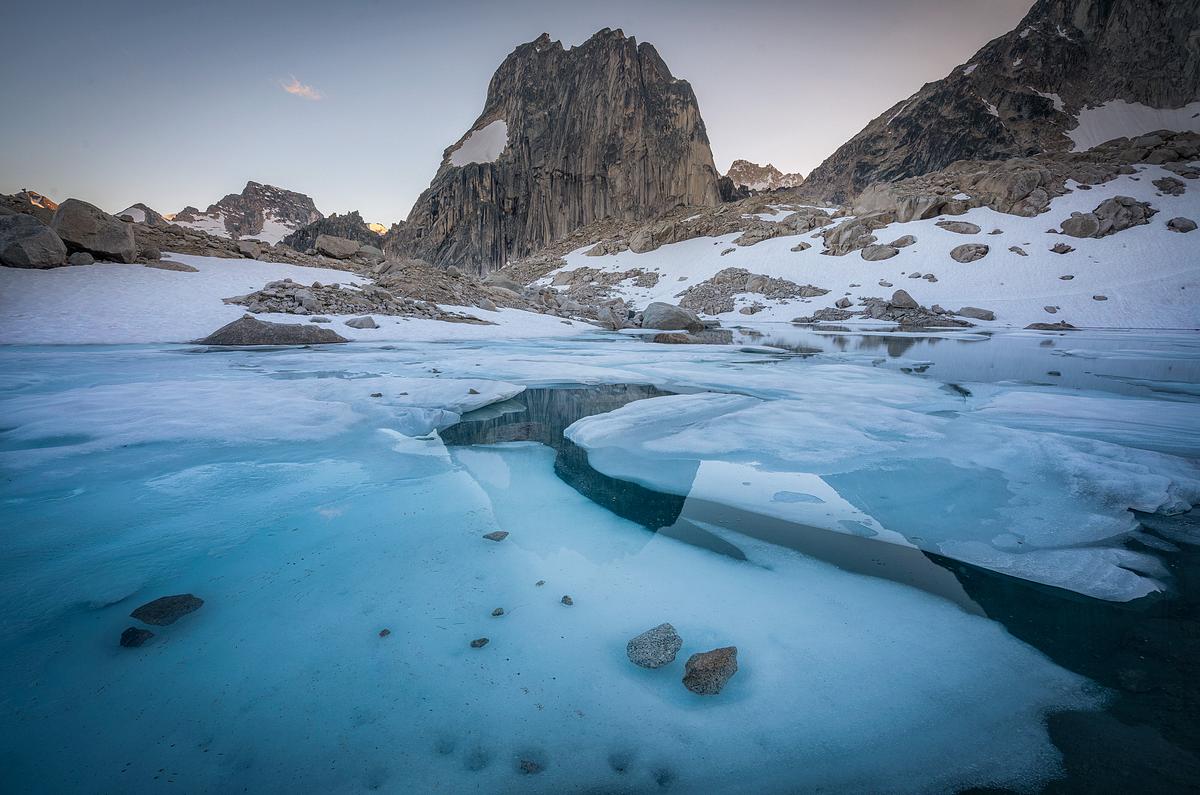 I made my way around the frozen lakeshore, climbing up to look out over the lake. Following the noise of rushing water, I found a small waterfall, not impressive but enough to capture a bit of movement and interest in this scene.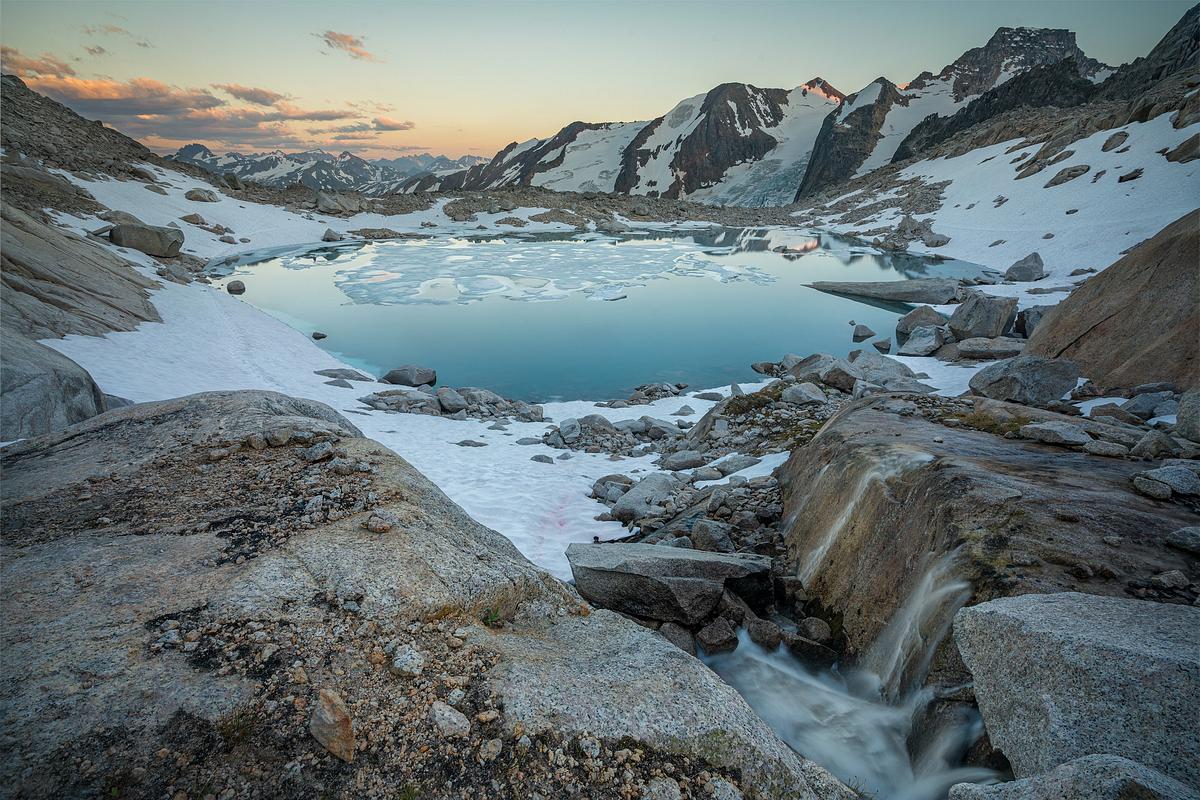 The sun was already behind the Spires. There were only a few clouds in the sky, they burned brightly for a few moments, and then everything turned blue.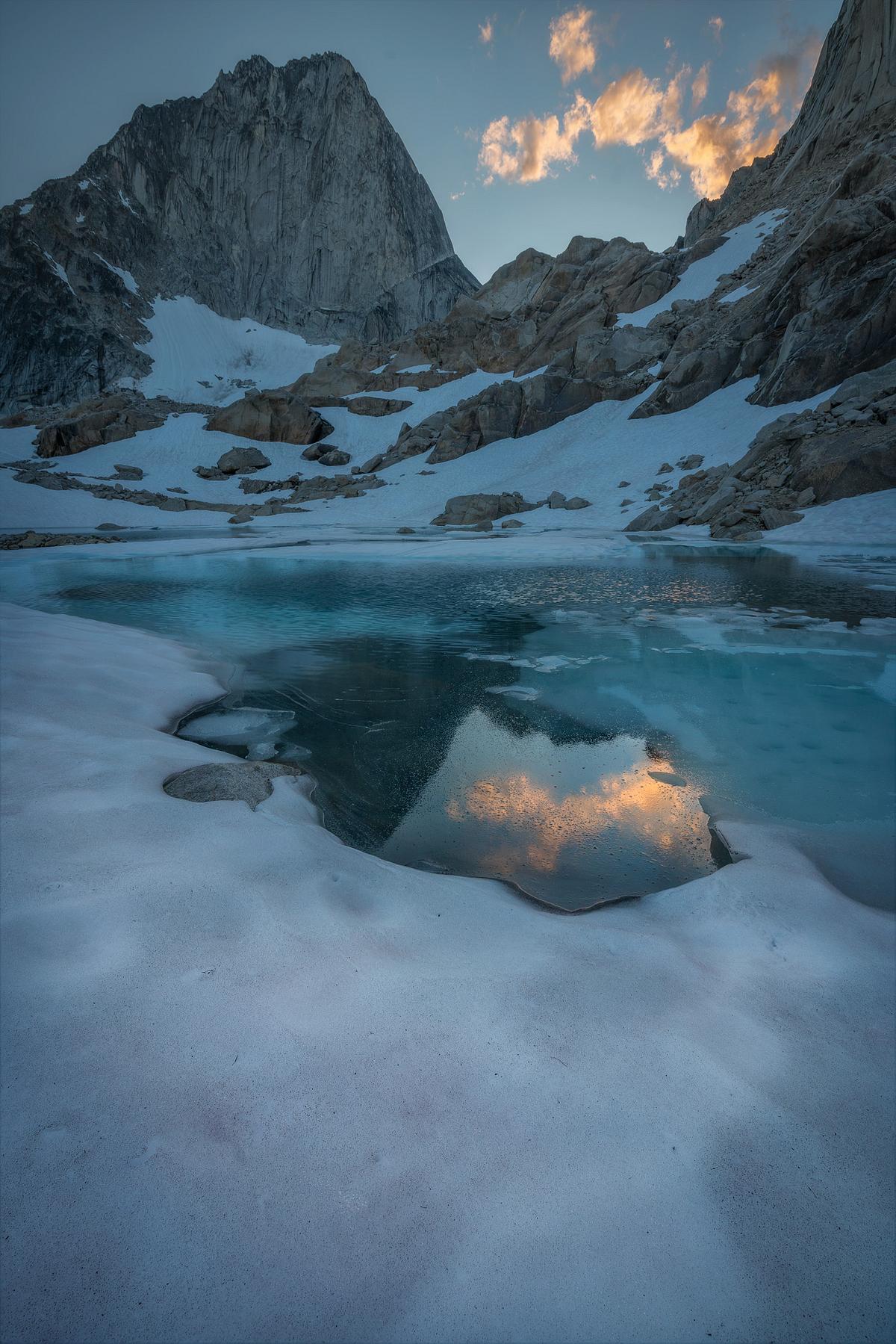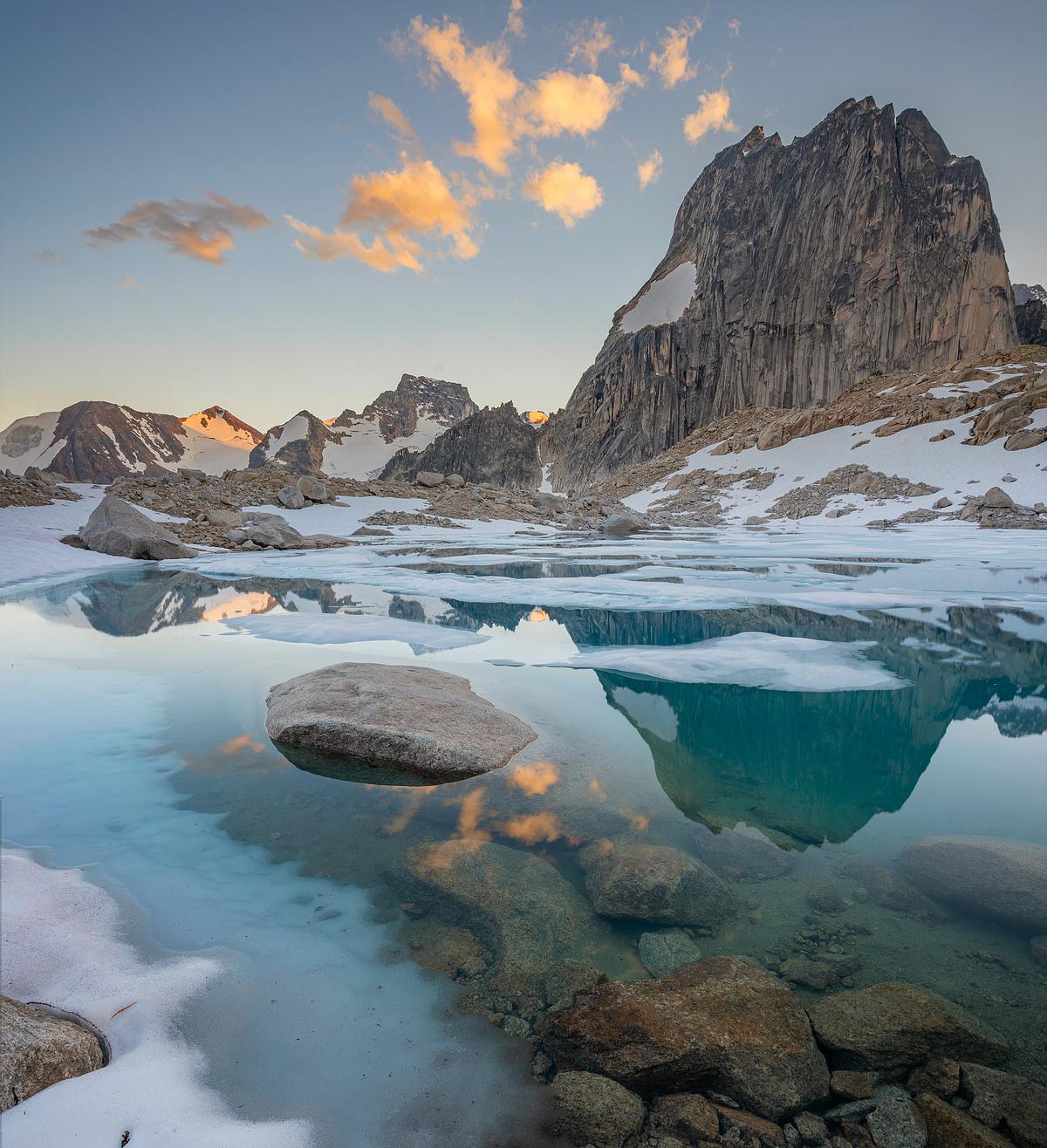 I finished the sunset with this photo of the Applebee Dome Camp. It was hard to believe I was camping here.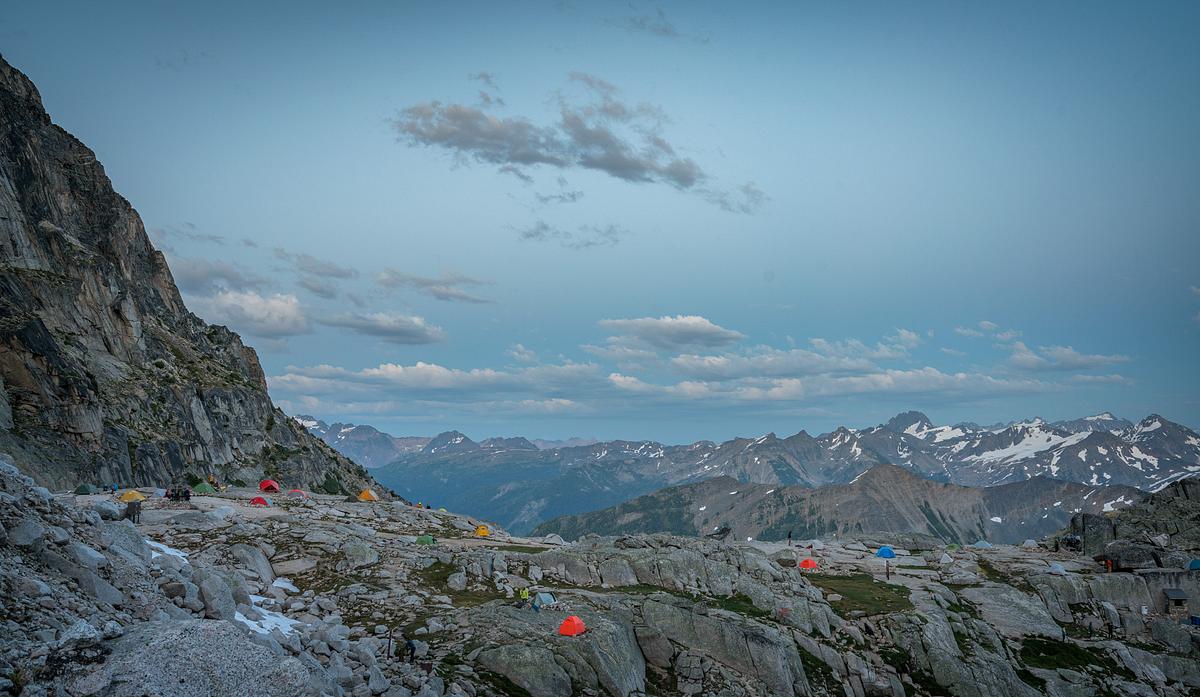 The skies were clear and perfect for Astrophotography, alas, the moon was also full and scheduled to rise an hour after dark. I only had a tiny window to capture the stars. The Milky way was also no co-operating, it would be appearing in the opposite direction of the spire. Still I managed to get one image I quite like. I took the image of the spire at blue hour, and then waited for the stars to appear, i blended them together in photoshop.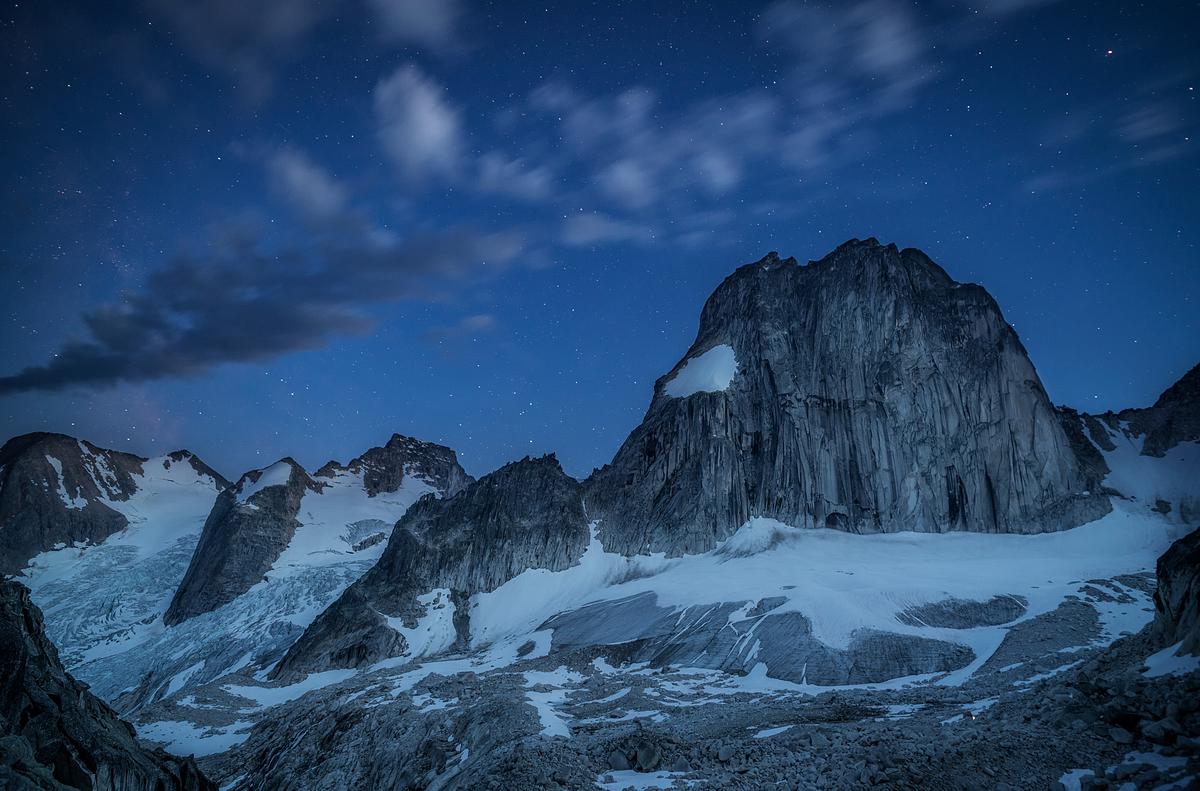 The next morning I woke up at 4am, and began the process of willing myself out of my sleeping bag. Thankfully I did because I was greeted with this awe-inspiring scene of the Moon behind Bugaboo Spire, illuminated in pre dawn light.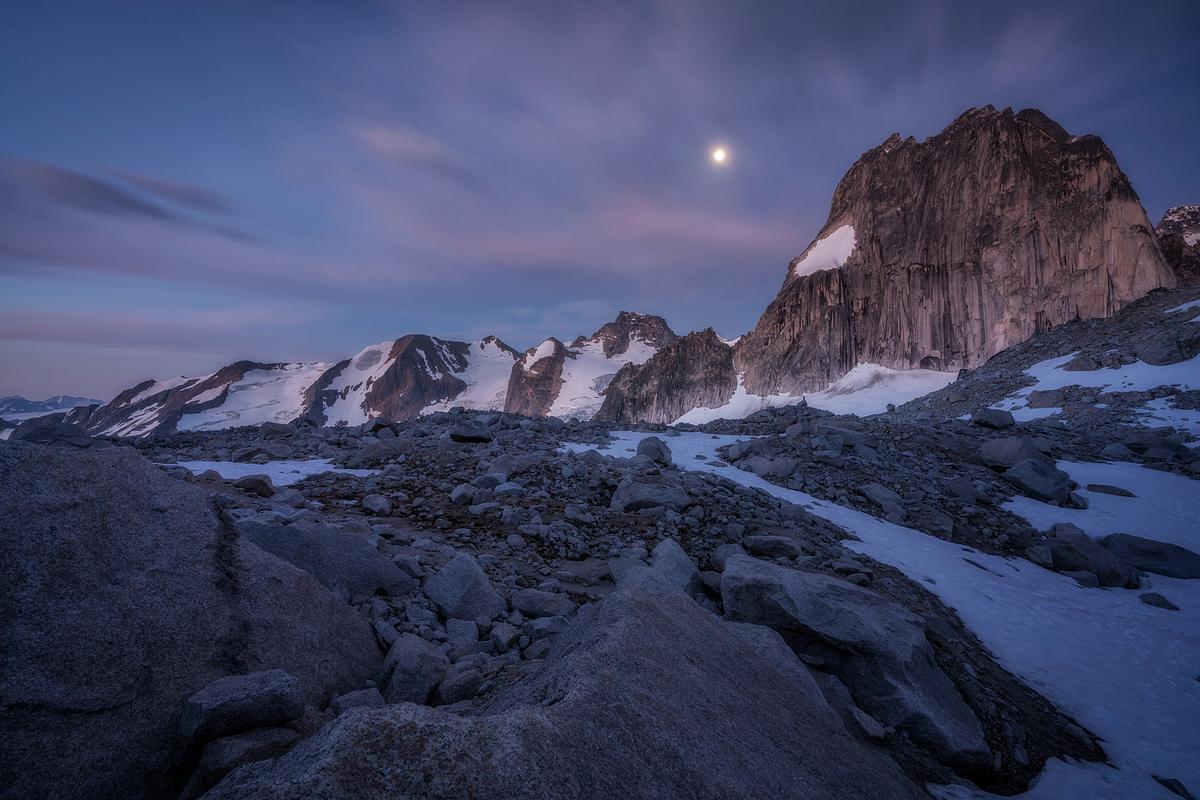 I made my way back to the lake, and the S curve again for a sunrise photo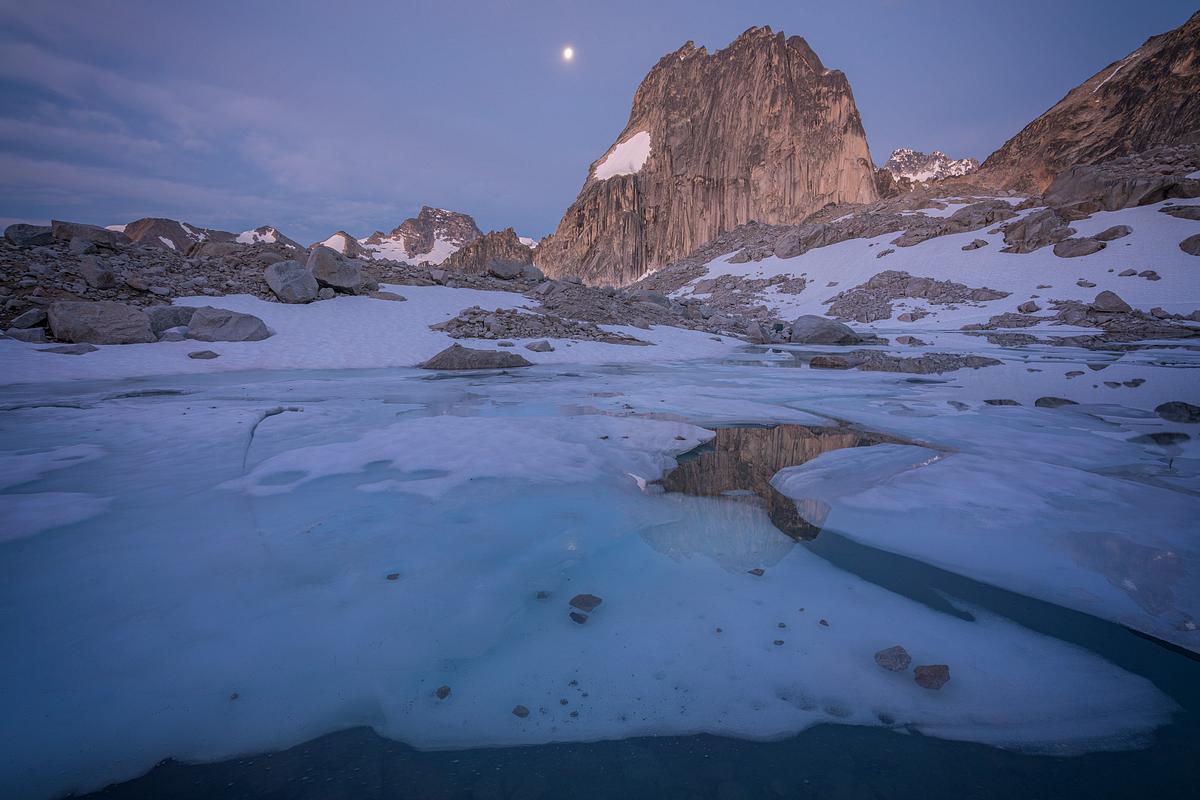 the sun was slowly coming out and magenta clouds and sky soon gave way to an orange glow. I found some small patches of Alpine Sunflowers, using focus stacking to get close to them and keeping the spire in focus.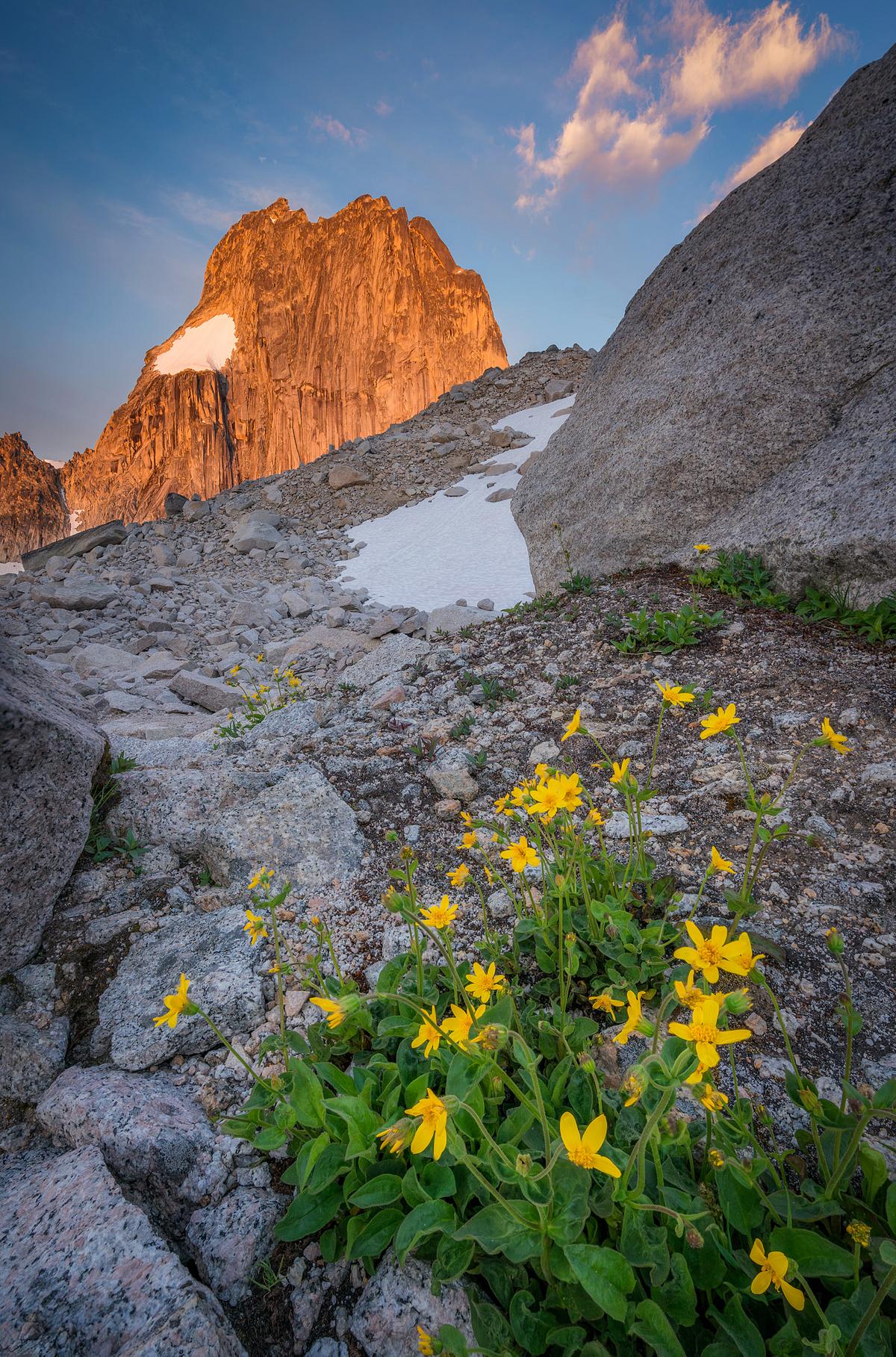 These are the mornings I live for, The Bugaboo Spire began to glow.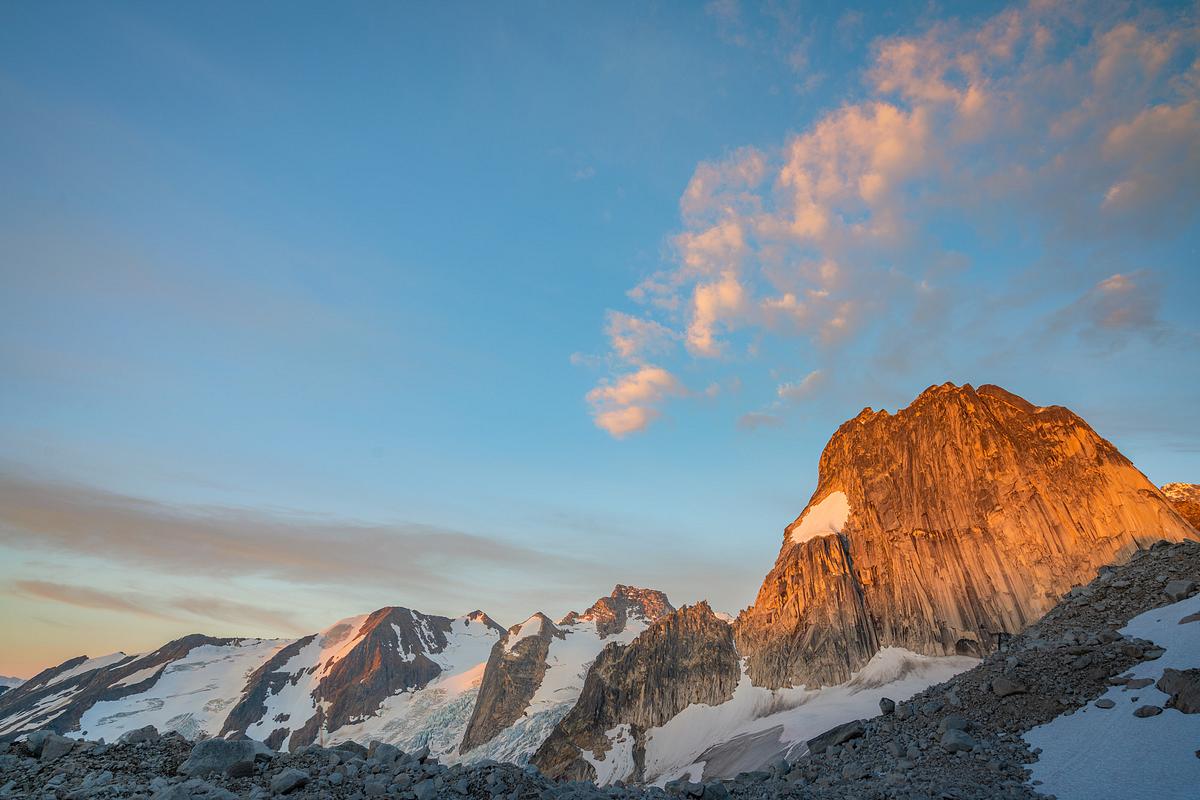 Golden hour came and went, I decided to pack it in and get a few hours sleep. What I awoke to was a vastly different scene. Clouds had overtaken the mountains, rain was falling, and about half of the campers were in the process of packing up and leaving. Obviously I wanted to follow suit, they would know more than I would. I started gathering my gear when one of the climbers, whos tent was closest to mine, asked if I was leaving. "You're not gonna leave are you"? "It should clear up". I was hesitant, but I caved to peer pressure and decided not to leave. I figured, the best light is after storms anyways, and maybe I would experience something magical.

I spent most of the day inside the tent, hiding from the rain. Close to evening it did appear to be breaking up, I could see patches of blue sky, and even some sunlight.  I hurried back out to get some good shots. The last shot I took is below, you can see that dark cloud to the left of the mountains. That cloud got even darker, it was a black cloud, and as it got closer, the rain got heavier, the wind started blowing, and I dove back into my tent.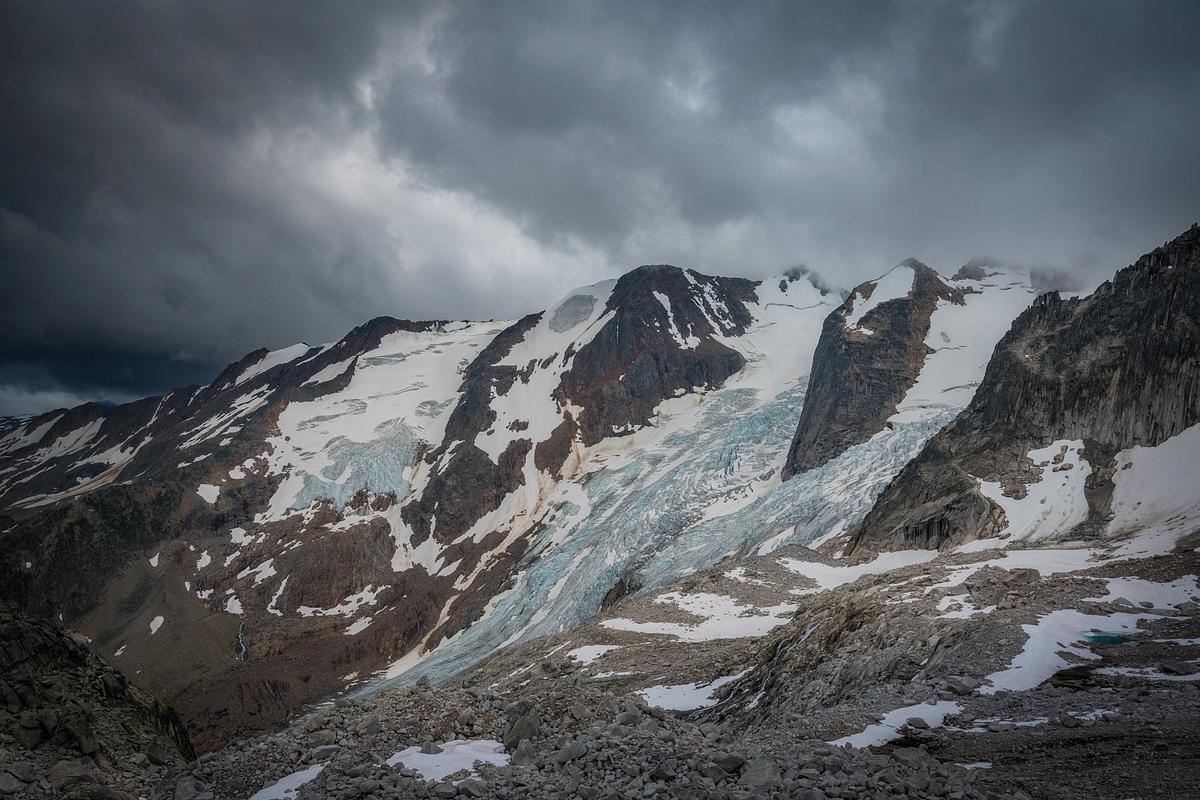 Things started to get crazy, the rain cover of my tent became dislodged from the pile of heavy rocks I had anchored it to, the bottom right half side of my tent blew up from the winds, blowing into my face. I struggled to hold it down, while putting all the rocks I could find on top. The rain became heavier and heavier, the wind stronger and stronger. the insides of my tent were starting to flood, and then the rain turned to hail, and thunder erupted from what seemed like right above me, it shook me to the core. 

The hail violently pelted my tent, I didn't know what to do, I started yelling for help, until I realized, nobody could hear me through the hail hitting their tents, and if they could, what would they even be able to do. I got out of the tent, praying lightning didnt strike me, I managed to tie down the rain flap all the while being victimized by the frozen pellets of ice. 

Back in the tent I sat, frozen and cold, waiting for the next crash of thunder, I didn't know if I would die of a lightning strike, or my heart would explode, but nothing did. the wind would pick up, to an intolerable level, while sound of hail got harsher, and then another crash of thunder would momentarily abate it. It was a horrific cycle. 

I needed to distract myself, I needed to stay calm, so I started by organizing everything in my tent from dry to soaked, putting all the soggy stuff at one end and dry stuff at the "relatively" dry end. Then i took all my wet clothes off and replacing with whatever I driest clothes I had left. Then I took a Gravol, decided to use the last 20 percent of my phone batter and listen to podcasts. I zipped up my sleeping bag..

The zipper of my sleeping bag broke...I couldn't close it, I had to grasp it together in my hands. Fucking great!
I was fortunate enough to have purchased a fleece liner for the sleeping bag the day before in Invermere. This Sleeping bag was supposedly good to -9, but I had already been freezing in 5 degree or lower weather, so I got the liner to add some warmth. Thank god I did, because that's all I really had that night. 

Somehow I drifted in and out of sleep, while the weather died down, the hail flowed, until it became only a trickle. There was no more thunder, and the wind became a breeze. I woke up shivering, outside there was a thin layer of snow on the ground, with more coming down. I didn't want to be on the mountain a second more, I started packing the soggy mess of gear. Usually I make sure everything is rolled tightly, and evenly distributed, but I didn't care, I just mushed it all in my pack and and started down. I was in a daze, and going down was a precarious affair, but I managed to make it to my car within a few hours. 
I still had a long drive back to the highway, to think I could've just left when everyone else did and avoided that night. I vowed to only follow my gut in those situations from now on.
What else can I say about my 2 nights in the Bugaboos? It was extraordinary and terrifying, I cant wait to go back next year.