It's been close to a year or a little less since I last posted, I meant to keep updating as much as possible, I even had a planned post about Olympic National Park I never got around to finishing. Writing about my photography can be almost as tedious as trying to look up the best hashtags to post on Instagram. Other things like politics, music, and the fact I got rid of my car got in the way. And then that whole Covid thing happened.
I struggle with what to photograph in the best of times, If I can't be in an epic sunrise on top of a mountain with wildflowers gushing out of the ground, I lack the desire. Being in Vancouver is bad enough, parks swarm with people, and beyond wanting to only photograph the grandeur of nature, I hate having to compete for space with the hordes of joggers and dog-walkers.
I tried to branch out, I would walk around the city looking for interesting things, Queen Elizabeth park, or Iona Beach, but with everyone being forced to stay in their own city, these places became more crowded than usual and I could never adapt. soon it became apparent all my road trips to the States I spent hours planning would not happen this year. So I planned new ones. Not just road trips though, I decided I would do new things I had always wanted to do but never had the gear or ability to pursue, like backpacking and backcountry camping. I spent a couple months researching what gear I needed, and the best, most affordable options. And then I jumped in headfirst. I did the Berg Lake trail, Cathedral Provincial Park, The Bugaboos, among others. Yeah, it was quite the summer.
From now on I hope to update this site more and post on a more consistent basis. With summer almost over and my vacation days at zero, it shouldn't be as hard as it has been. I start off with a location I have grown accustomed to visiting at least once a year: Wells Gray Provincial Park.
Mahood Lake
Wells Gray Provincial Park is the 4th largest park in British Columbia, as varied as it is huge, this provincial park contains a myriad of trails, waterfalls, and scenic views. Regardless of how many times I've visited, there are still countless areas left unexplored.
Mahood Lake is accessed either from Lone Butte via a dirt road that stretches 122 km. I visited this area for the first time since the previous Fall. The autumn leaves surrounding the lake were amazing, here's a 3 shot panorama stich I made from blue hour.

The morning after that picture I had the shock of a lifetime when driving through the park I came upon a Cougar crossing the Canim River bridge. Within seconds it had run across the bridge and up into the woods.
The scene in the campground in late June was a distinct contrast. The woods were lush and rife with songbirds. American Redstart, Red-eyed Vireos and Swainson's thrush being the most common. Mosquitoes sadly abundant as well. their terrible whining filled my ears. I forgot to bring my spray, making any time spent outside of the tent or car agonizing.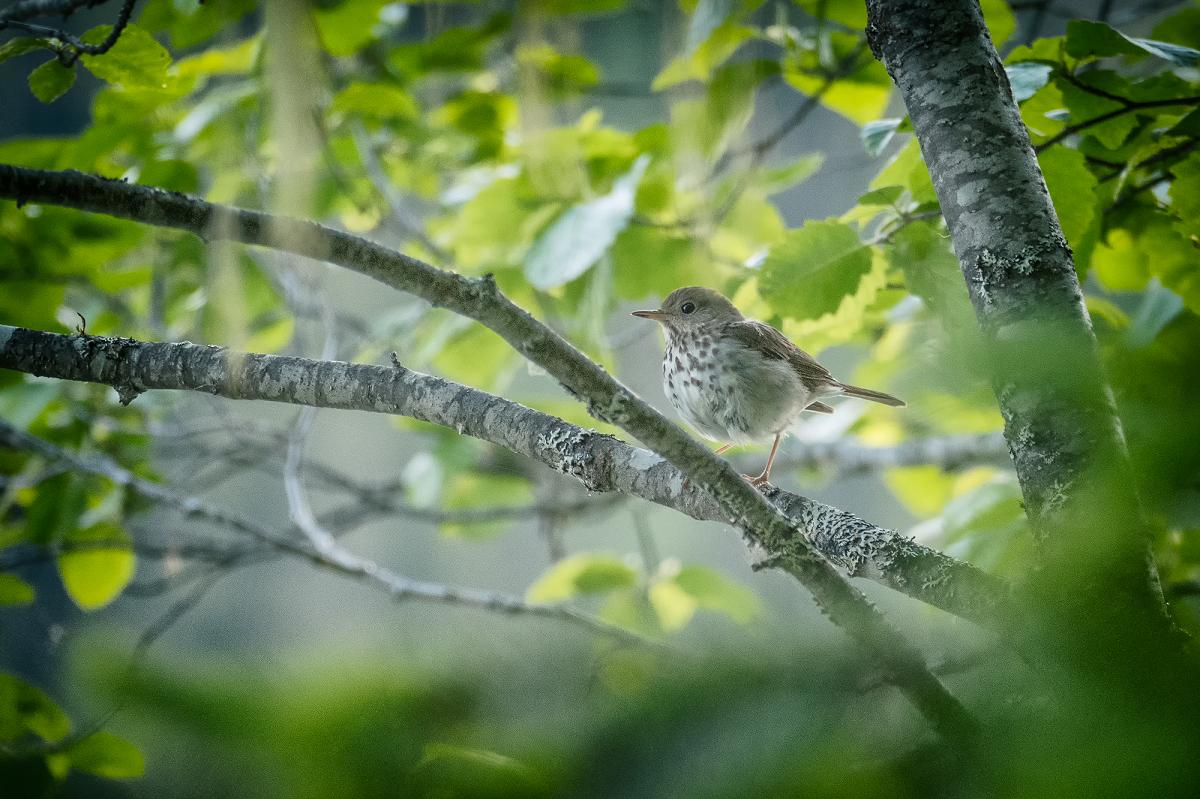 My primary reason to camp at Mahood lake was to spend sunset at Canim falls. The falls drop 23 meters onto ancient lava. The viewpoint of the falls is reached after an easy 1km walk. The photos from here will not be too exciting, it's hard to get a shot without a bunch of trees getting in the way. For me the allure is standing above the falls, capturing them along with the Canim river below and the hills in the distance.
Before the falls, there are some interesting rock formations that are worth exploring. I found these ferns growing in a large crack; employing focus stacking and exposure blending, I merged 4 photos together enabling me to light the ferns and have everything in focus. Though the wind kind of messed up the trees.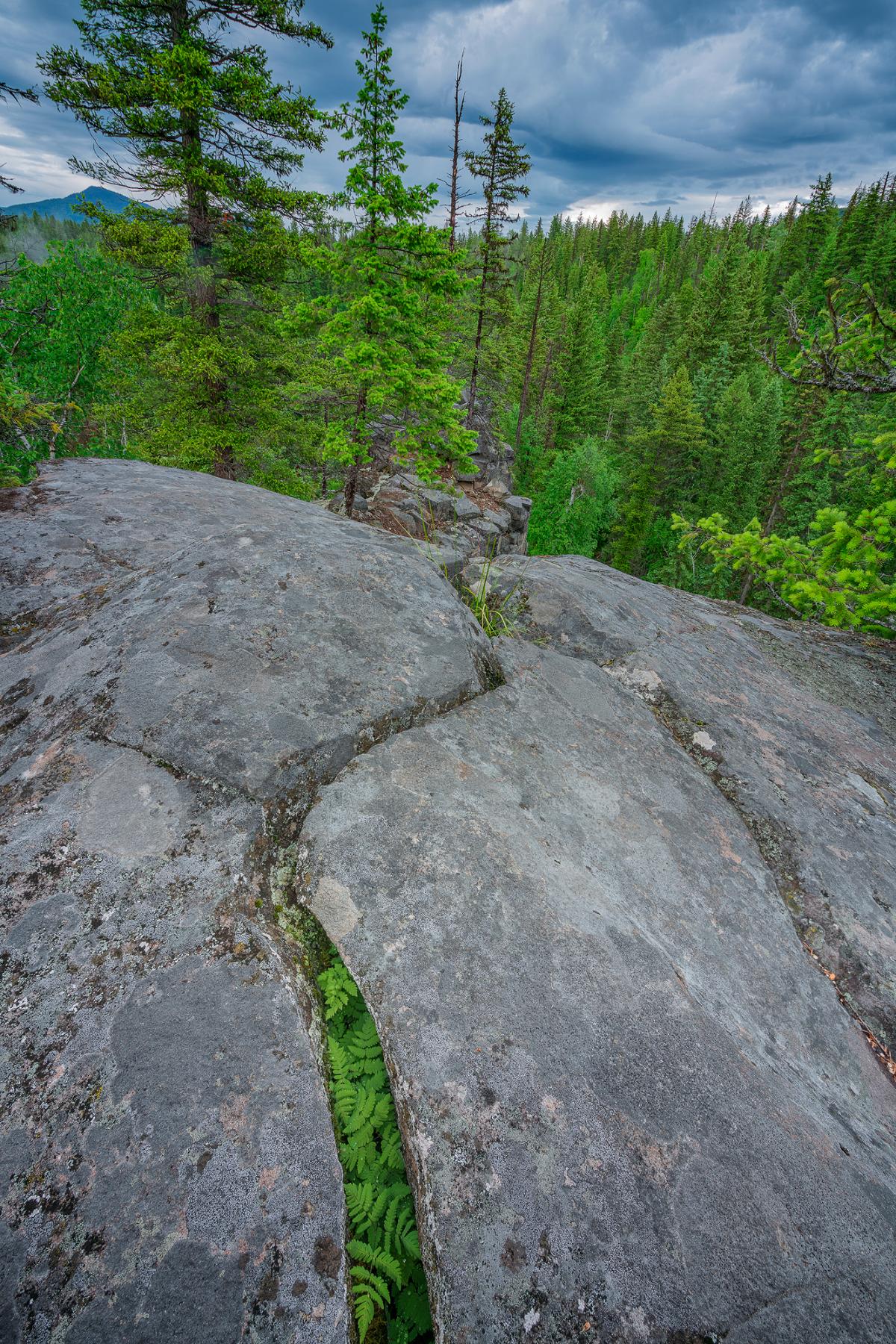 From the top of Canim falls I noticed big dramatic clouds, they along with the mountain in the background turned into a great composition.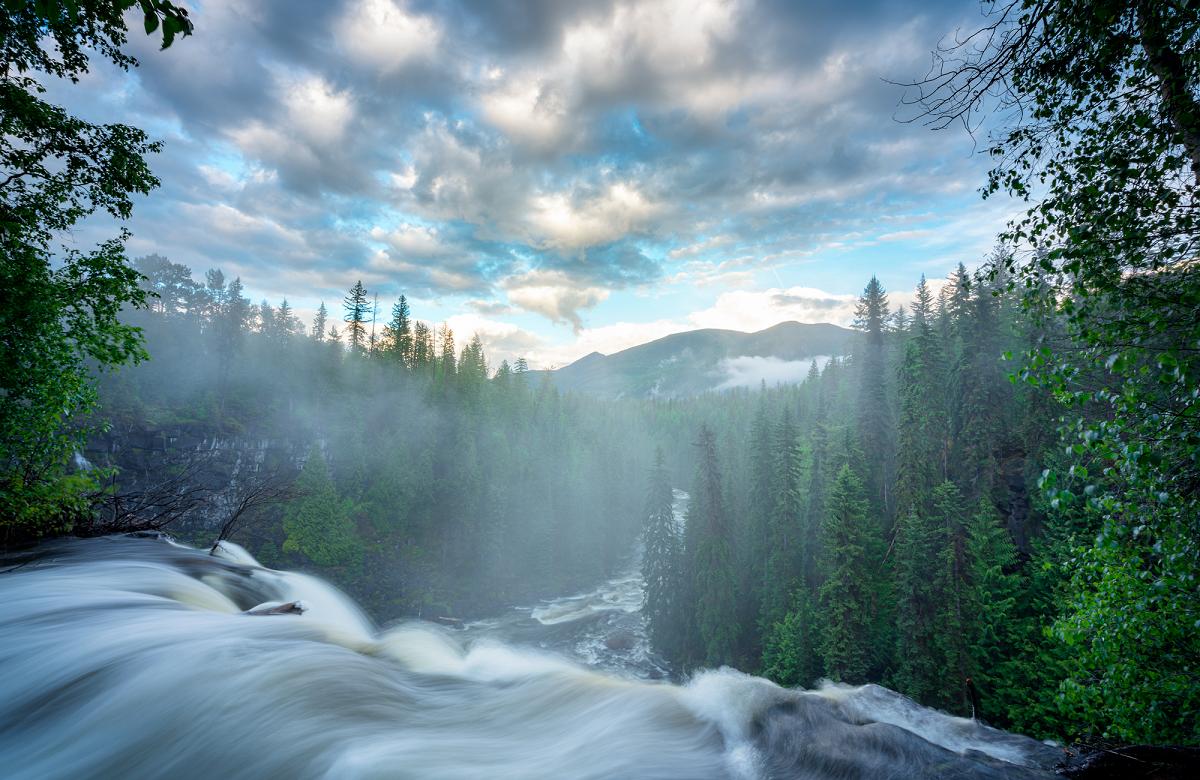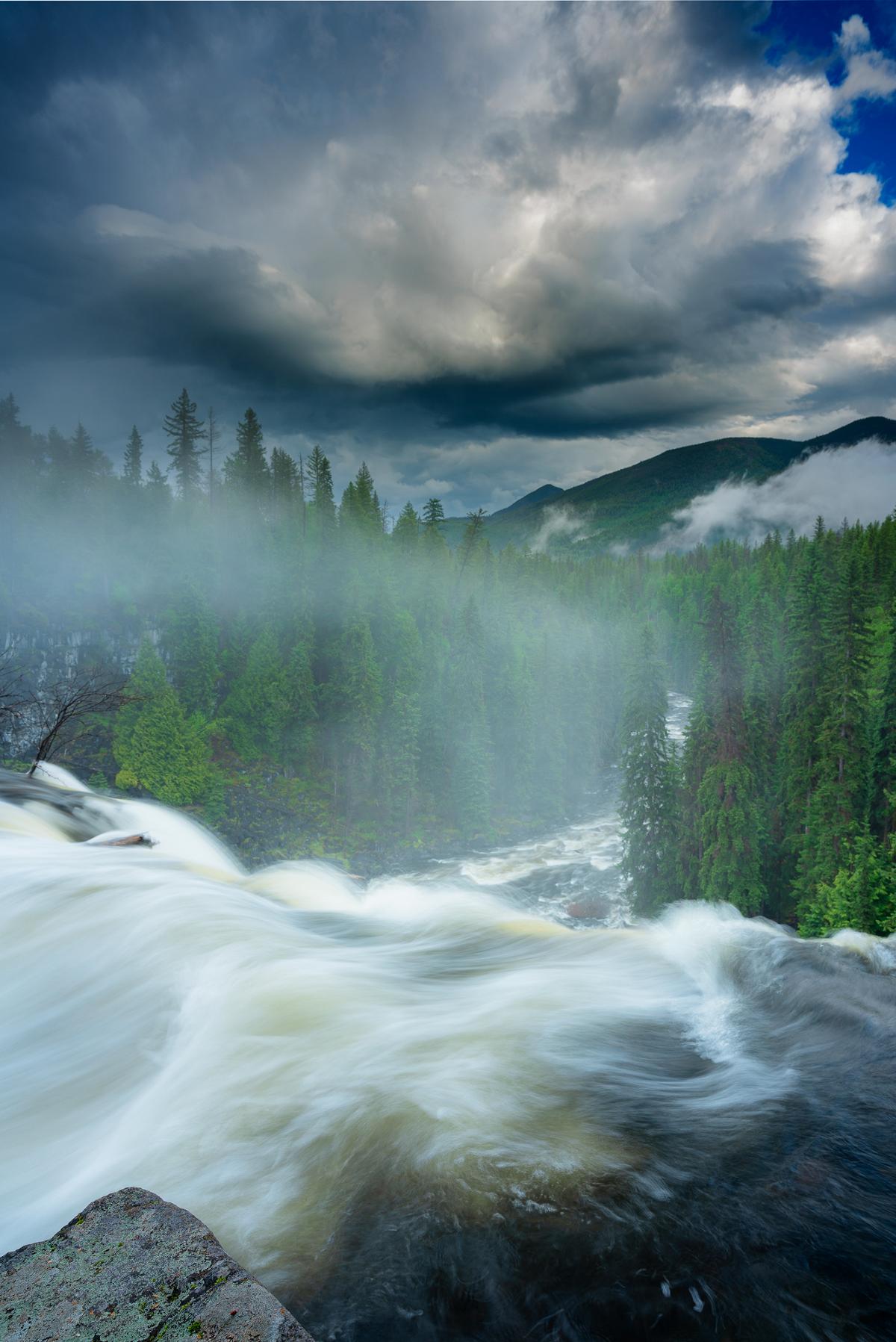 It looked to heading towards an amazing sunset until it started raining and things got drab. I gathered my gear and started walking back towards the car, deciding to shoot some bunchberry flowers along the forest floor. I became immersed in shooting these flowers until from the corner of my eyes I noticed the sun coming back out. "Crap!" I sprinted back towards the falls, cursing my lack of patience.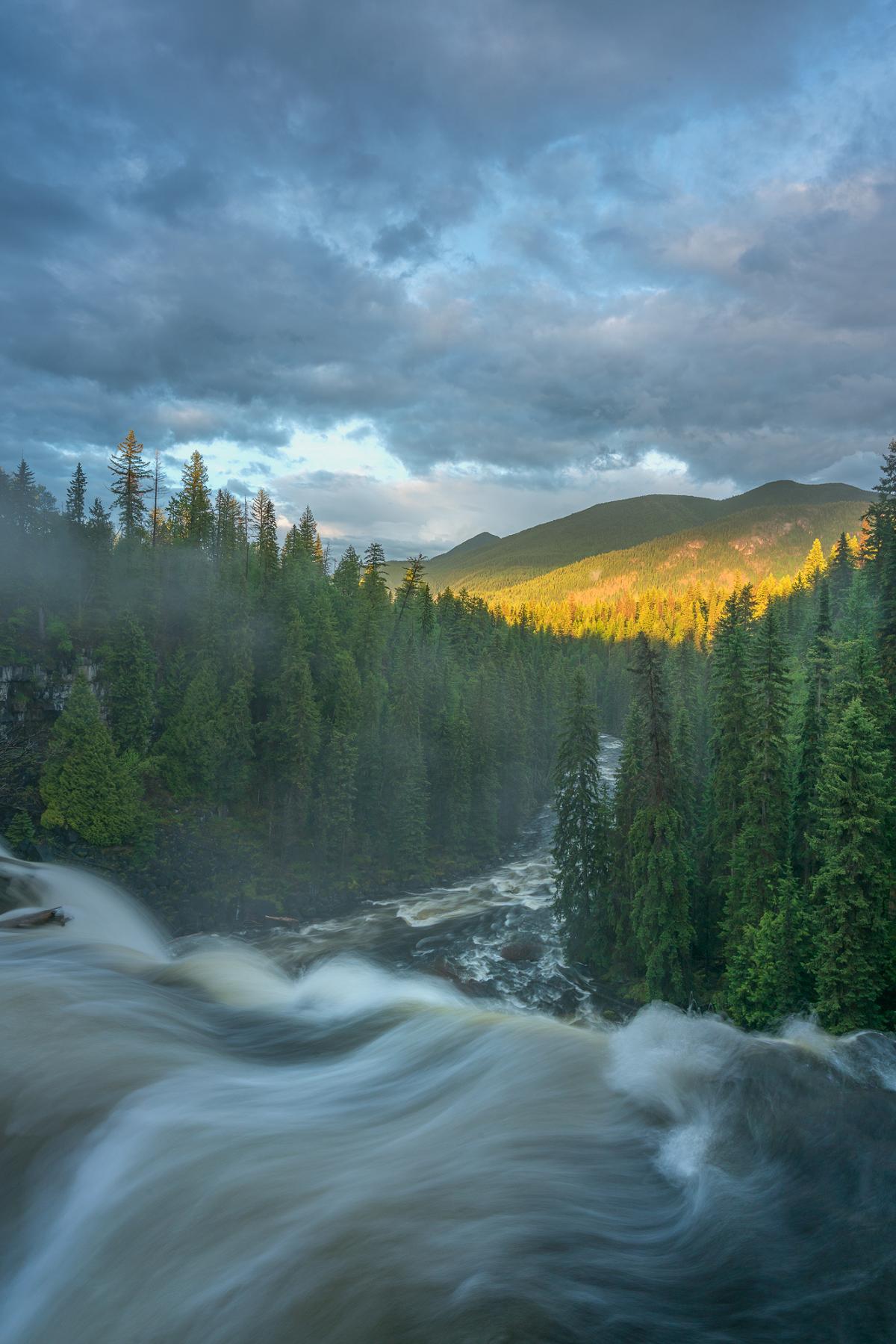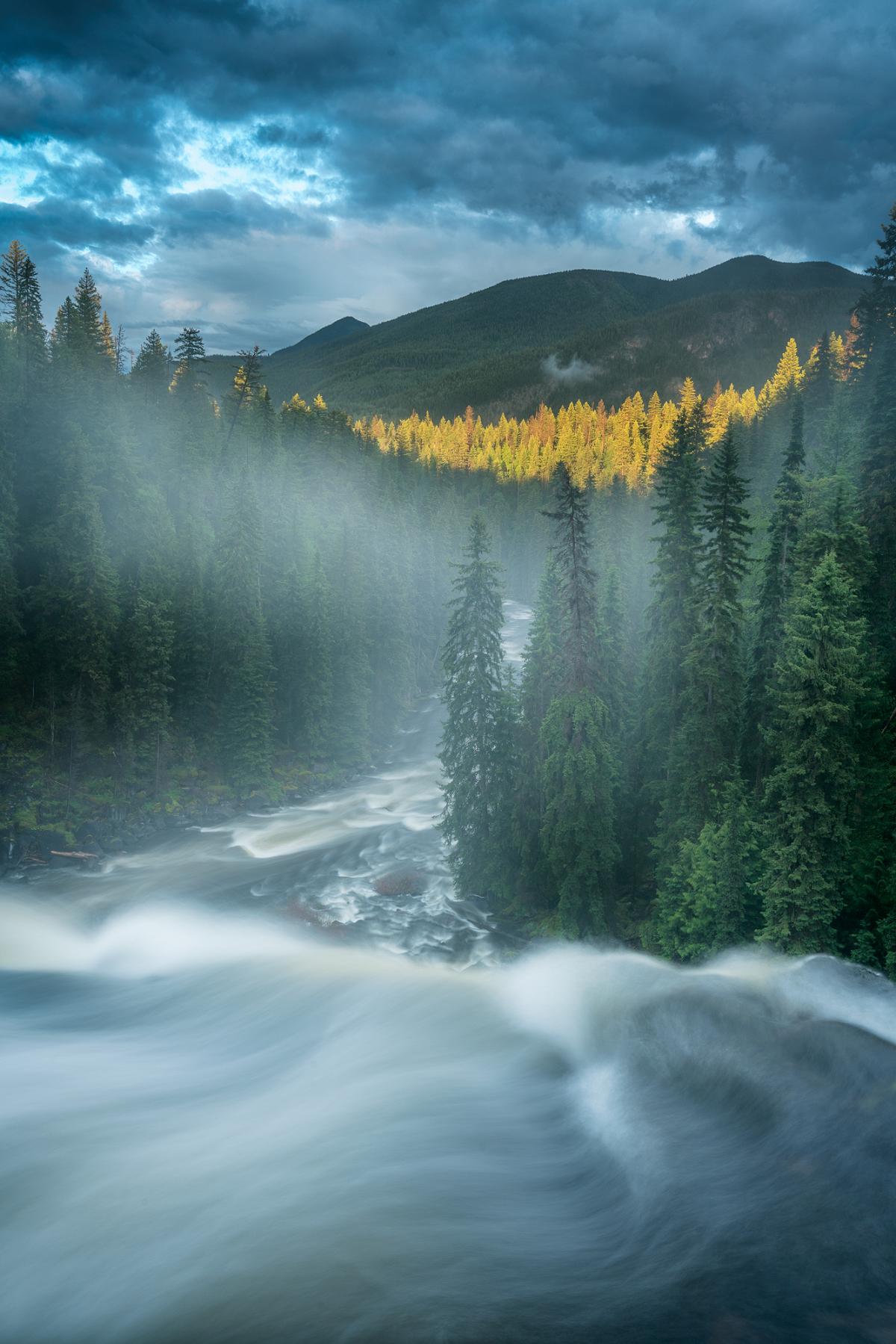 The light kept getting better, the clouds turned purple, the sun illuminated a crescent section of the trees along the river, that grew until the entire mountain was a molten purple.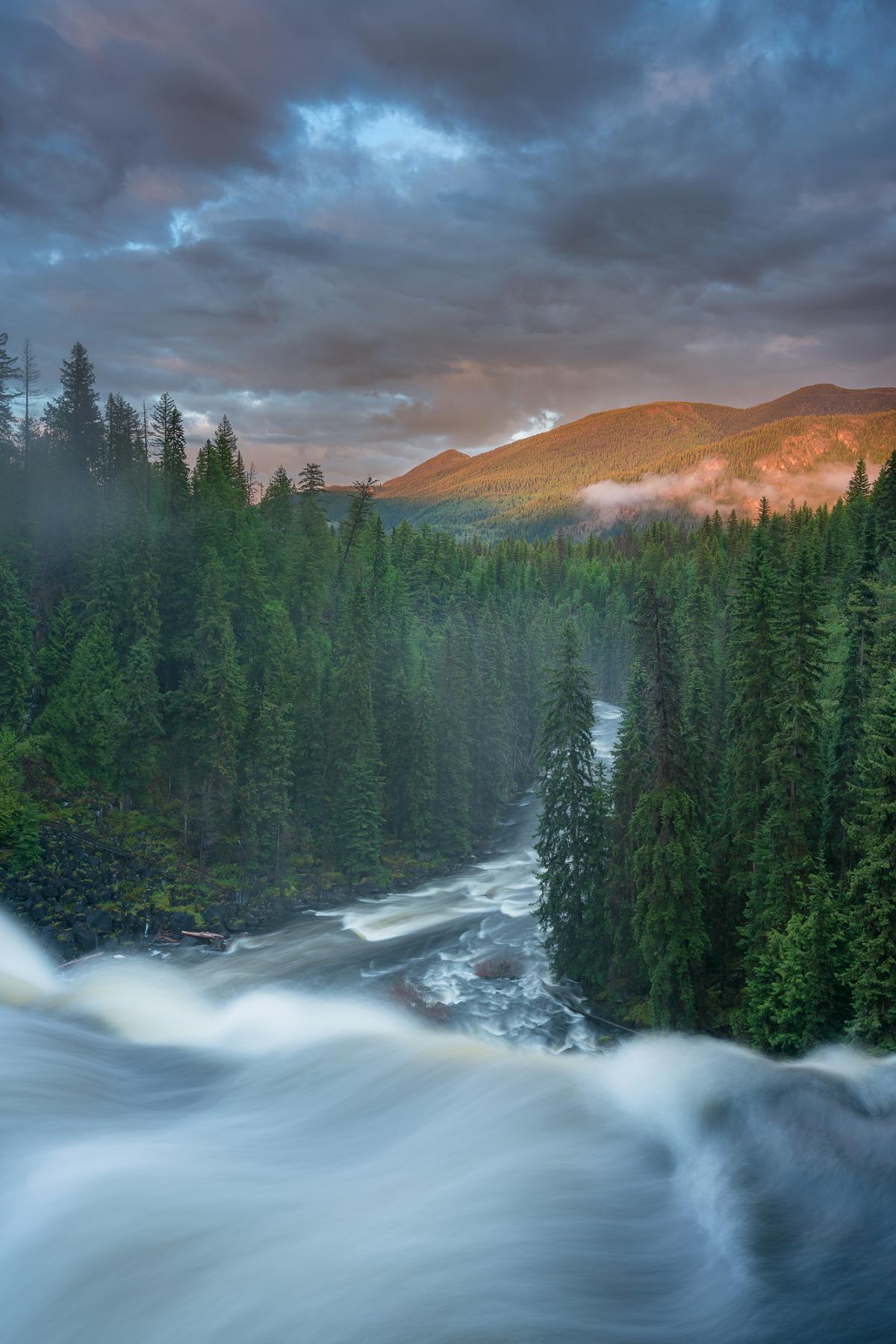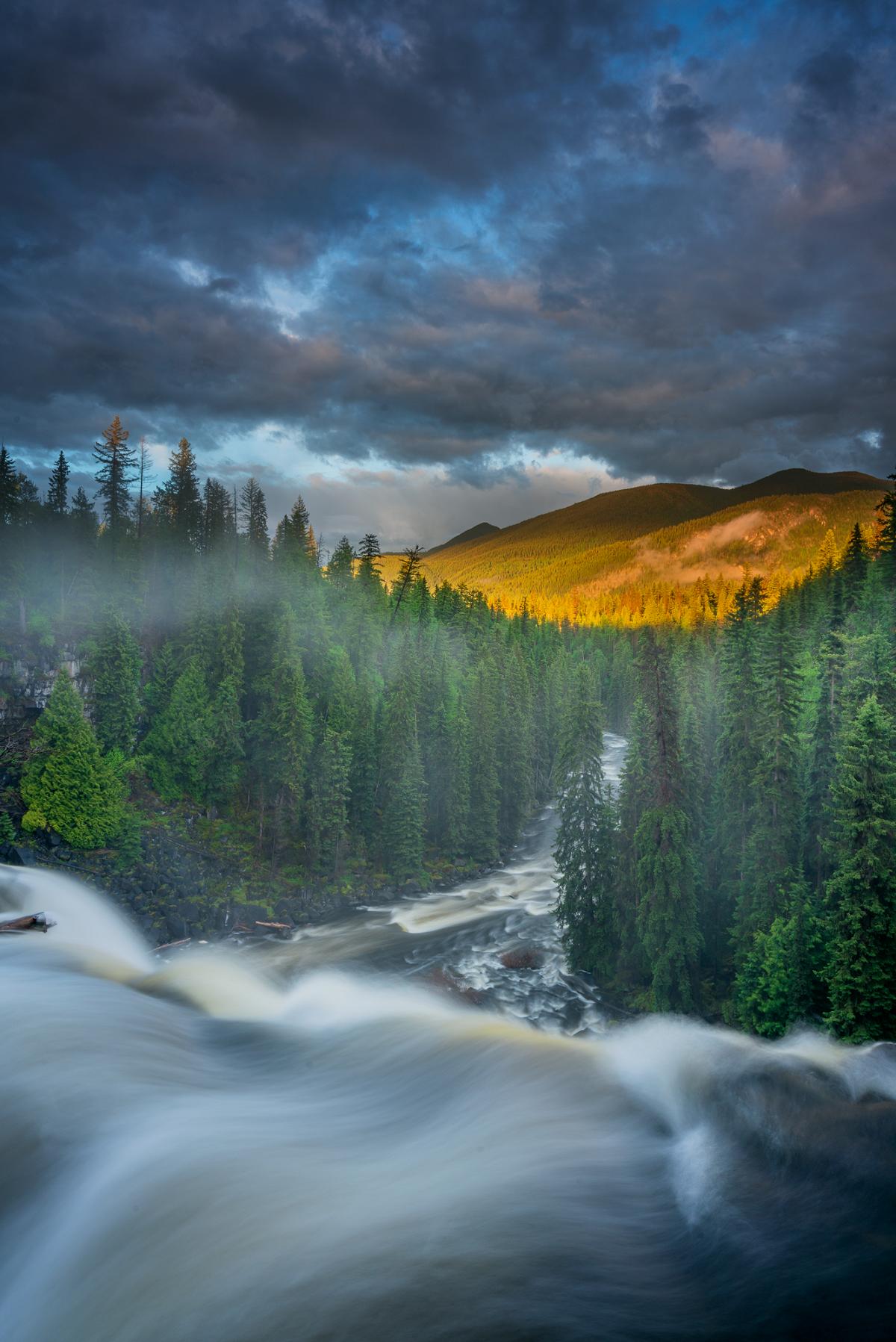 Too many times I have left a scene believing the light was done for the day, only to be in my car driving and notice that the sun had broken through some clouds, or come out the other side of the hill blocking it. Lesson learned, always stick it out til there is guaranteed to be no sun left in the day. 
In the morning I ventured back to the top of the falls in hopes the sunrise would be amazing. It would not be and the only interesting shot would not be the falls, but this rock wall along the trail.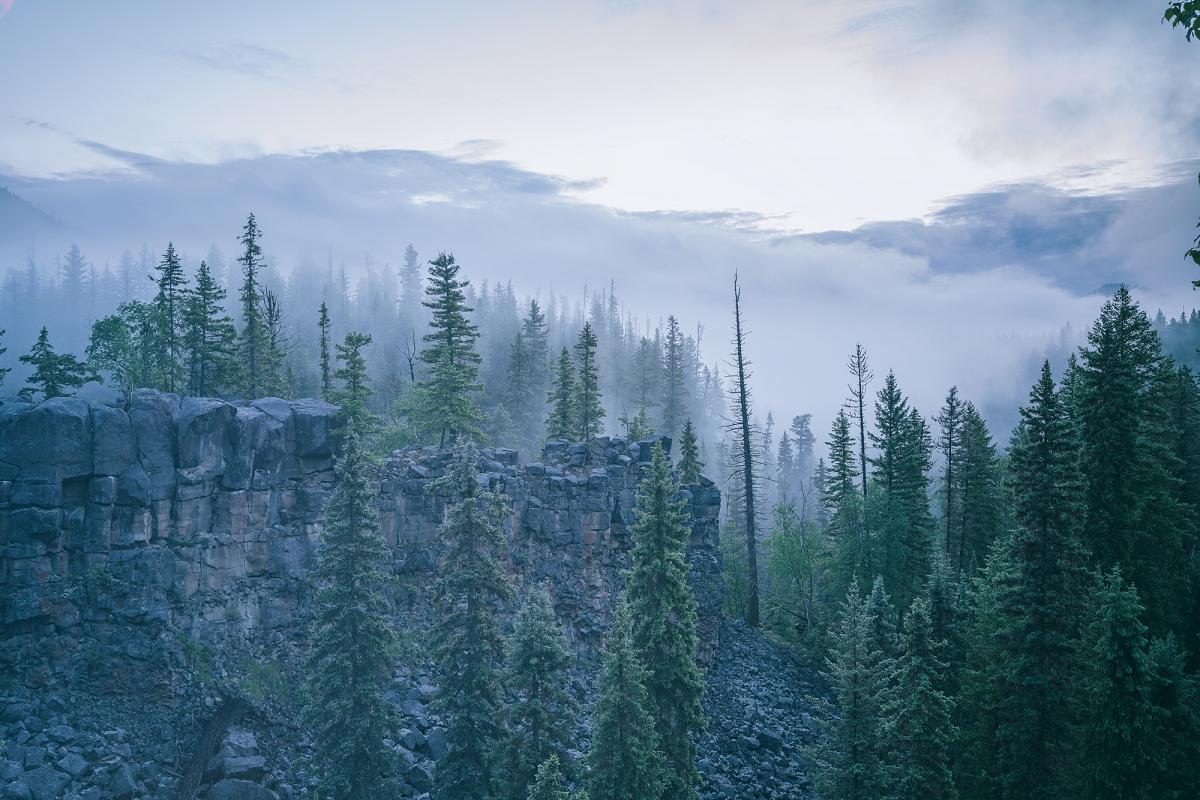 Clearwater River Road
From Clearwater, there are two main options of exploring Wells Gray; Clearwater River road, a rough and narrow gravel road following the Clearwater river for 38.5 km, and Clearwater valley road, 68 Km long and is paved up to Helmcken Falls, where it turns into gravel until the end at Clearwater Lake. I recommend purchasing "exploring Wells Gray park" by Roland Neave, an informative look at the history of wells gray with in-depth descriptions of all the access roads, trails, and waterfalls/viewpoints.
My plan consisted of driving down the Clearwater river road and camping where it ended. With a bit of luck get some excellent pictures of Sylvia and Goodwyn falls. I had tried driving this road last fall only to find it closed 9km in. I would be no luckier this time, coming face to face with a giant tractor in clearing a rock slide.
On my way back, I glimpsed an animal running into the forest. I pulled over and walked in to see what it could be. Finding nothing, I returned to the car. Prowling on the opposite side of the road, a mother fox looked me over. She had swerved around on me. Turns out she had a pup with her. Then 2 more appeared. They got curious and came out onto the gravel road to investigate me, I got back into the car and watched as they chased each other around.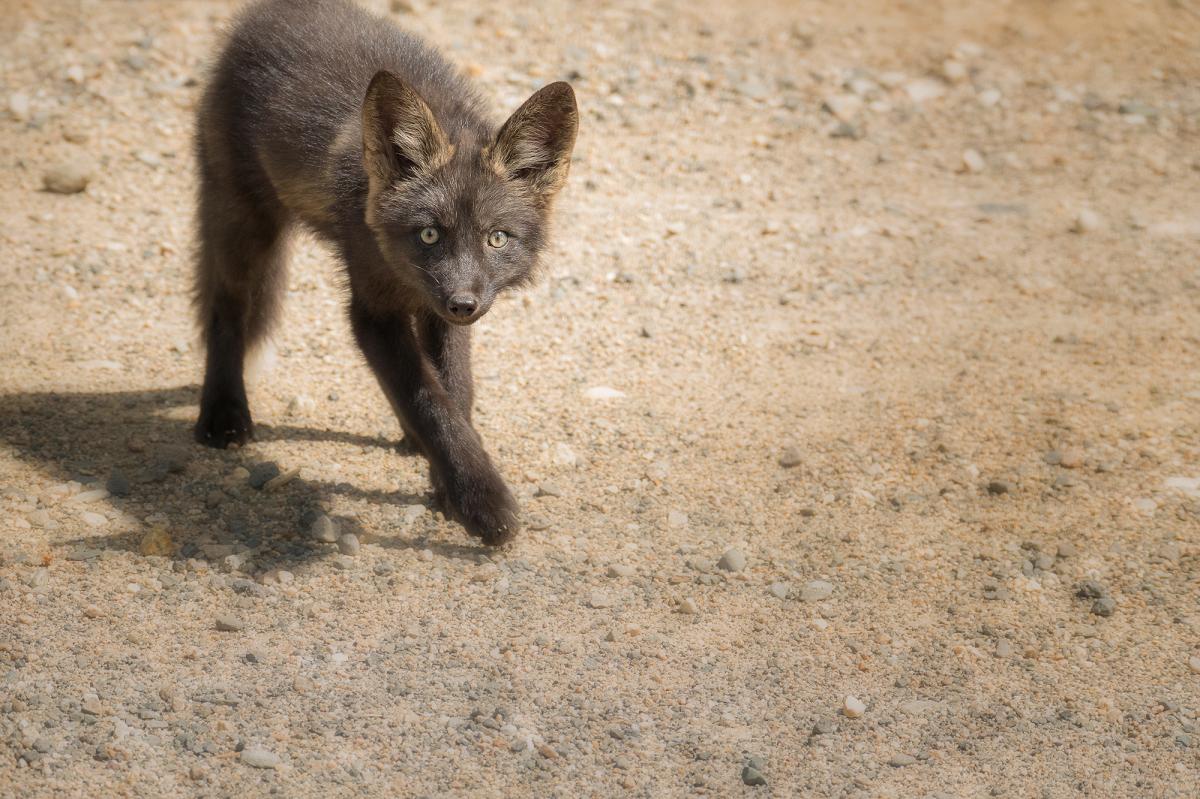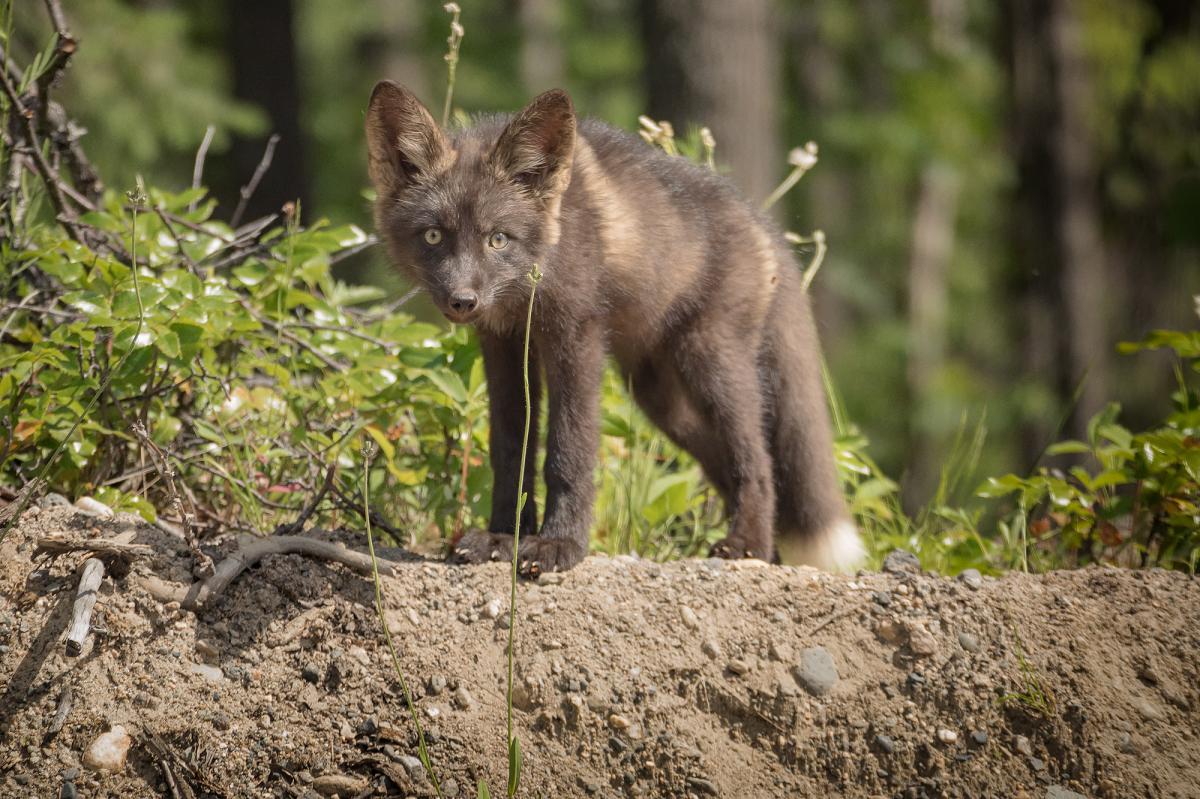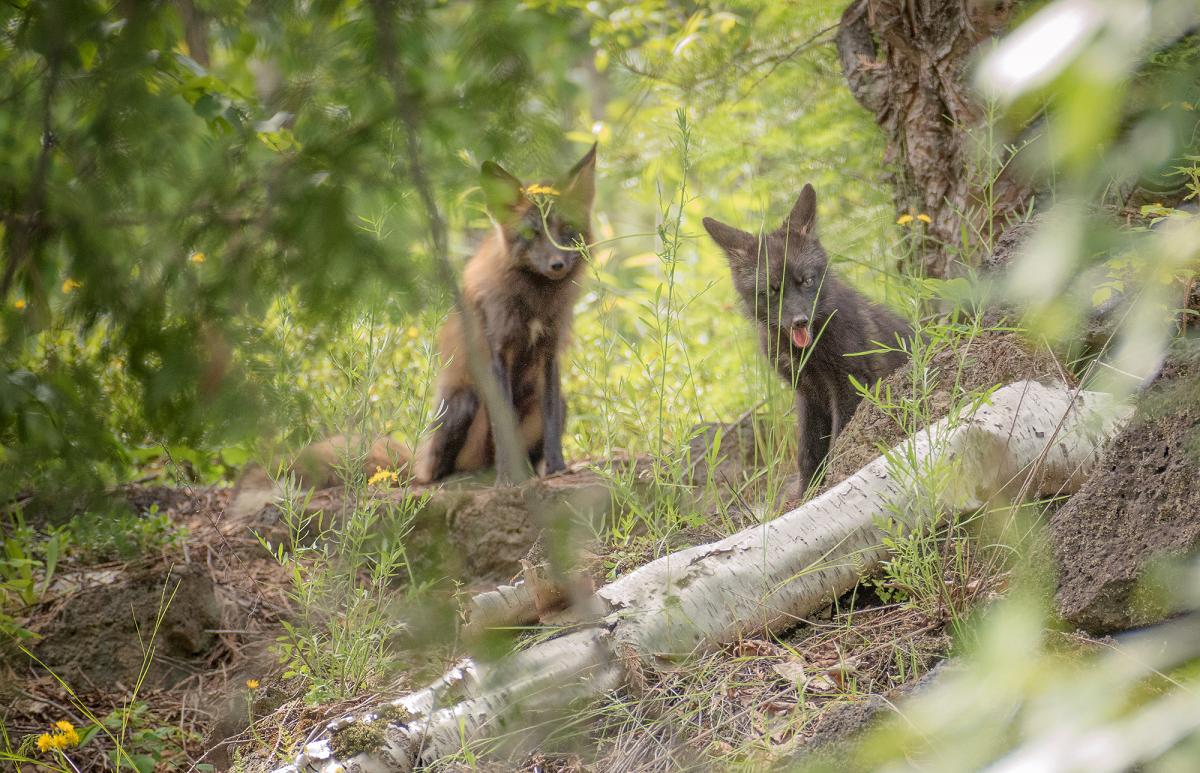 The mom, as you can see by her expression, very unimpressed with the whole situation.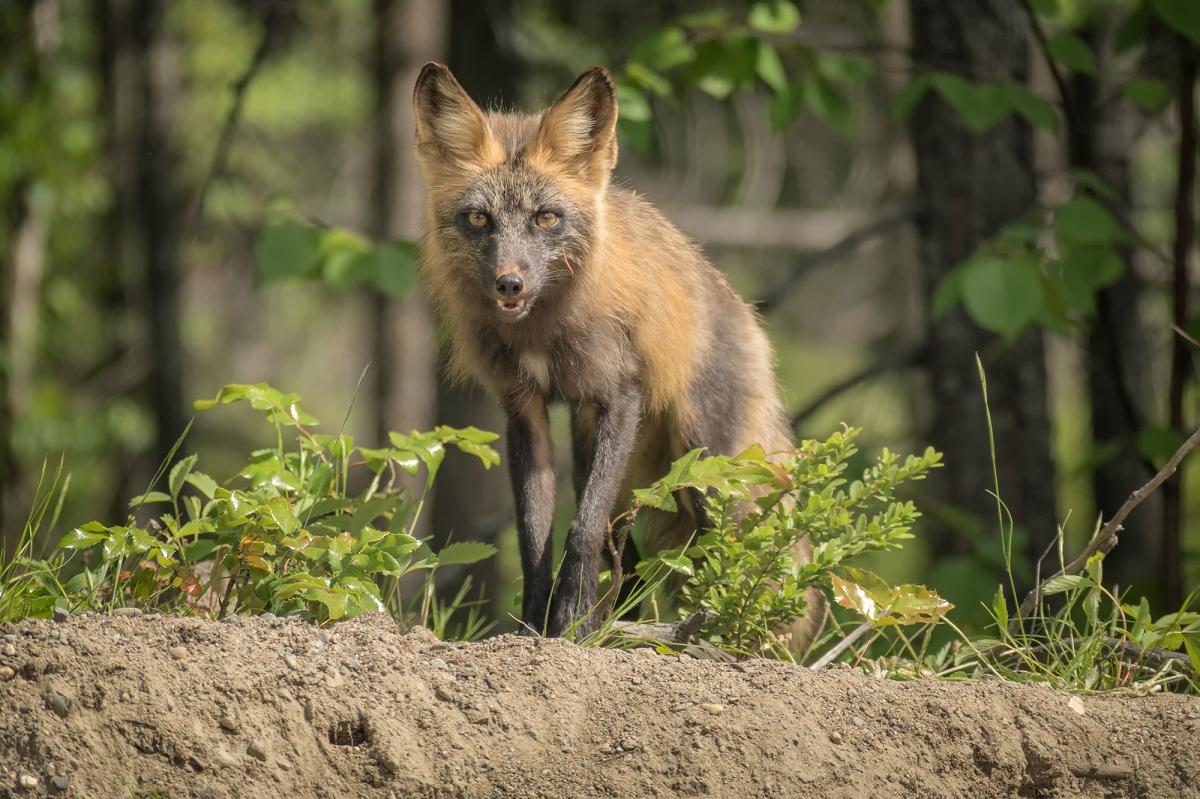 Dawson Falls
I ended up staying at pyramid campground, the campground has self registering, meaning you can put cash in an envelope and choose an empty campground without having to find park staff. There were plenty of open spaces, which surprised me, but after setting up camp I read this passage about Pyramid Campground from Roland Neaves Book: "Pyramid is seldom full, even when Clearwater Lake has an overflow. Many campers only stay one night when they discover the ferocity of the mosquitos" That explained it. I also found fresh bear scatt 50 meters from my tent, so I prepared for a sleepless night.
From Pyramid you can walk a short distance to Dawson Falls. Because of the tremendous amounts of water this year, the falls were egregiously bigger than normal, it made photographing them difficult, my lense would become covered in spray within seconds, I could not convey this through my pictures though, and my only usable shot would be this long exposure of a whirlpool of rapids, below the actual falls.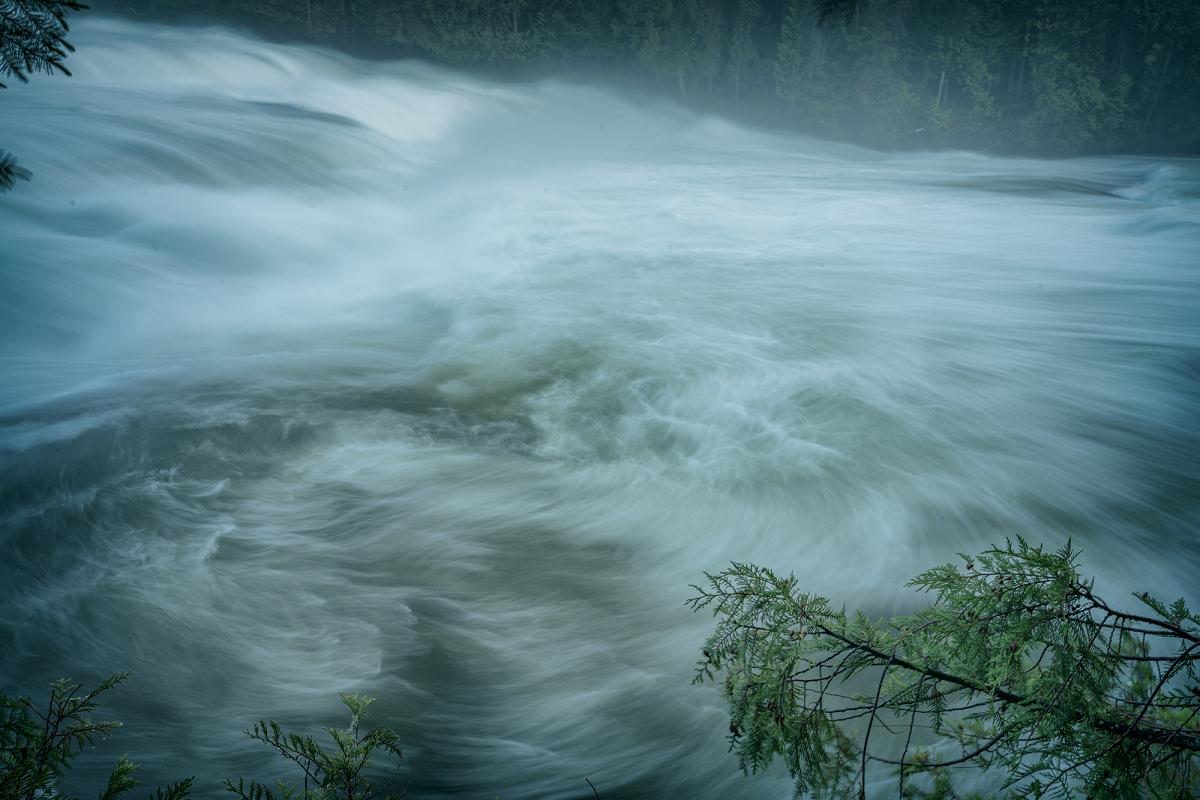 My second attempt at Dawson Falls in the morning accomplished even less. I gave up and made breakfast in the parking lot of Spahats falls, where the mosquitos were milder. Spahats falls are the number two falls in the park in terms of popularity, but they always give me trouble, I have yet to find good compositions in the many times I've visited. Perhaps its wooden barriers and Doug fir trees that get in the way.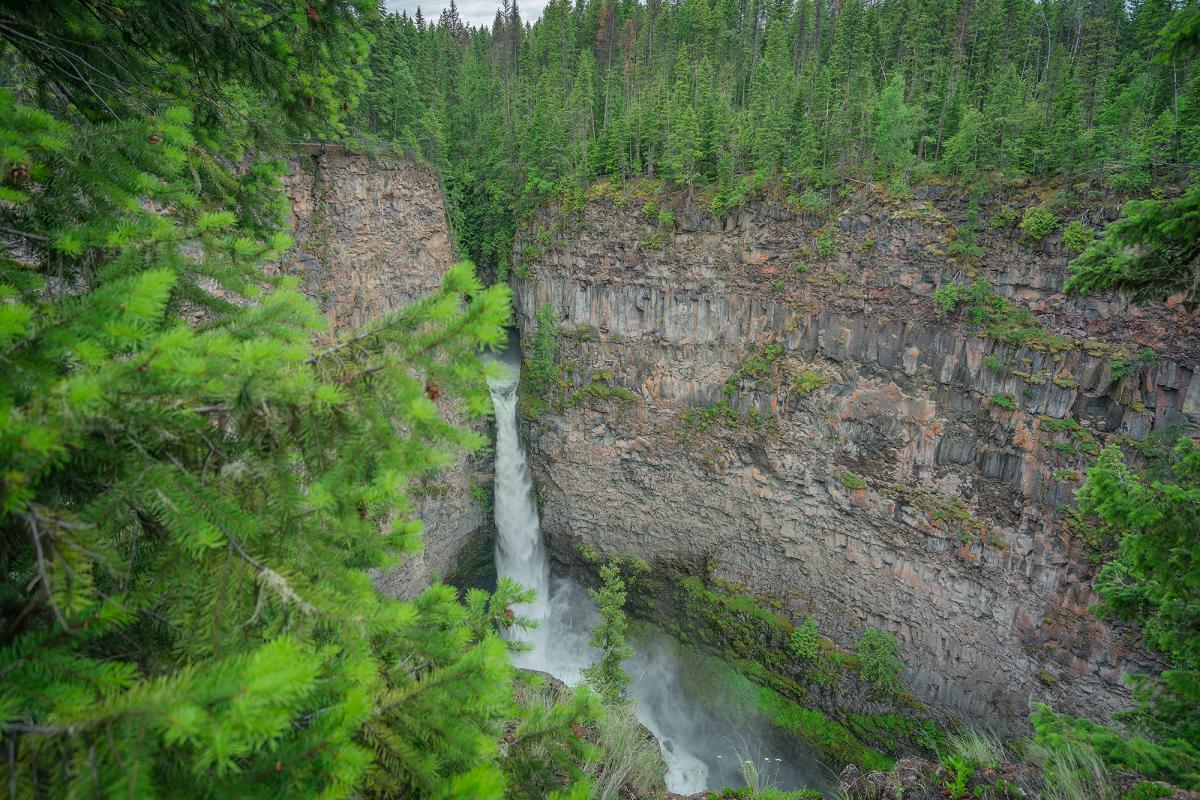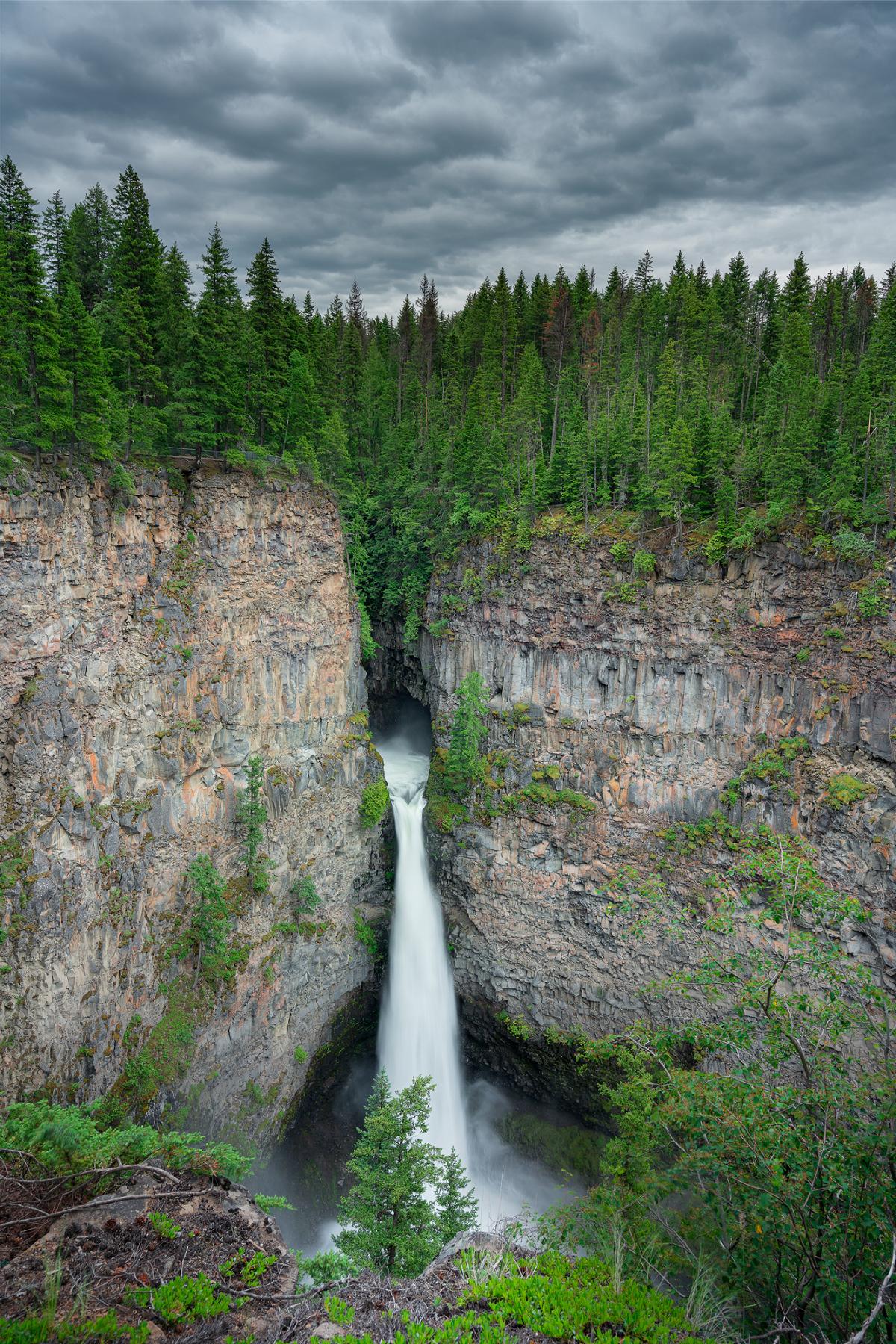 Ray's Farm
Ray's Farm along Clearwater Valley Road is rich in verdant greenery. I love to stop here for the birding. This is the furthest south I have seen both Tennessee and Magnolia warblers. I found both of them this year, along with a host of other species. The old homestead is a gem to photograph in the early summer when you can frame it around Wild Rose and Lupine Flowers.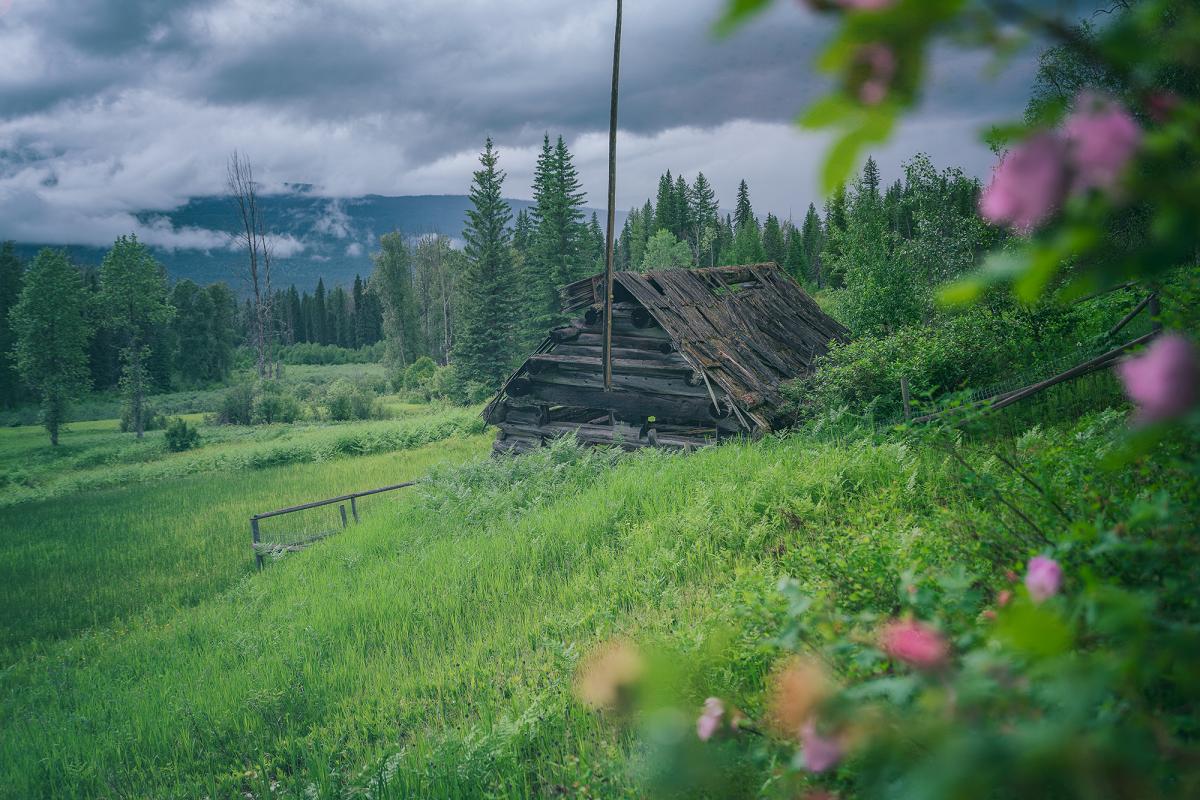 White Horse Bluffs
One hike I wanted to do was White Horse Bluffs. From the pictures I saw it looked like a wonderful opportunity to shoot a sunset overlooking the Clearwater river valley. The hike starts from Green mountain road and is 6km each way along an old 4x4 road through the forest. It didn't seem all that hard, despite the muddy trail and violent mosquitos. About a kilometer in, I recognized the sound of distant thunder. I'm terrified of lightning, it is without fail biggest fear. I have panic attacks from just hearing thunder, so I don't know why I didn't turn back at that moment. Perhaps because I had been getting skunked on photos since Canim Falls.
After another hour of slogging through a trail that seemed to have become a small stream, I reached the bluff. Surveying the valley, everything looked incredible. Perhaps I made the right choice. this would be a lovely sunset! I set up my tripod and got to work, framing the bluff and the valley below.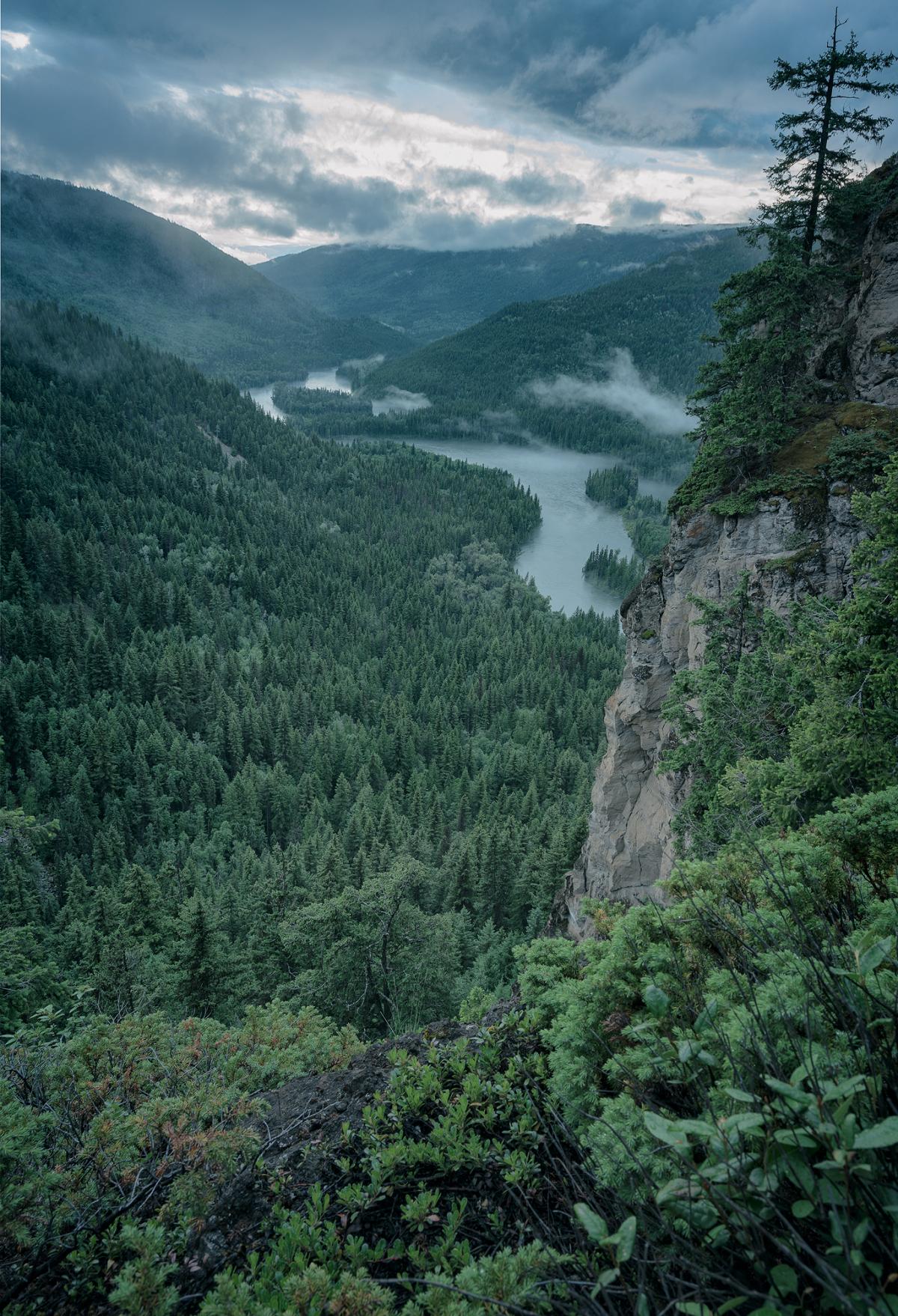 I managed two photos before thunder erupted above my head, shaking me from the inside from its sound. Lightning flashed, the wind started blowing and rain came down. All of this within seconds. I rushed to gather my backpack, I was near highest point for miles around, I needed to get off the bluff. Taken over by panic mode, I ran uphill for what must have been 20 minutes until I fell to the ground gasping. the thunder had gotten louder and it sounded like the sky being ripped apart.
I couldn't run anymore, so I threw my pack off my back and lay in a depression just off the trail, staring up at the sky as I grimaced with every flash of lightning all the time still being rained on, with no cover. I don't know how long it lasted, possibly 30 minutes, but it seemed like hours. After the thunder faded and I heard no more, I got my backpack and started trudging up the trail. Rain and sweat both drenched me. Out of exhaustion I ignored the cloud of mosquitos surrounding my body.
I don't know how dangerous a situation I was in exactly, but I cursed how dumb it was to ignore the thunder at the start of the hike. Afterwards, I started doing a lot of research on lightning to understand what I should have done. Turns out I did the right thing, except instead of laying down I should have been crouching or sitting cross legged.
Trophy Meadows
Everything since the first sunset at Canim Falls had been garbage, brilliant light did not exist. The foggy overcast mornings and rain-drenched evenings were depressing me. Not to mention the lightning storms and mosquitoes. I tried hiking into Trophy Meadows, hoping to find Wildflowers.
The road up was rocky but passable. The parking lot at the trailhead contained only one other vehicle. Still, lots of snow remained at this level. It would get worse. Eventually I was walking through wet snow for long periods of time. I happened upon a male spruce grouse though, displaying for a female. You can see her in the background of this photo.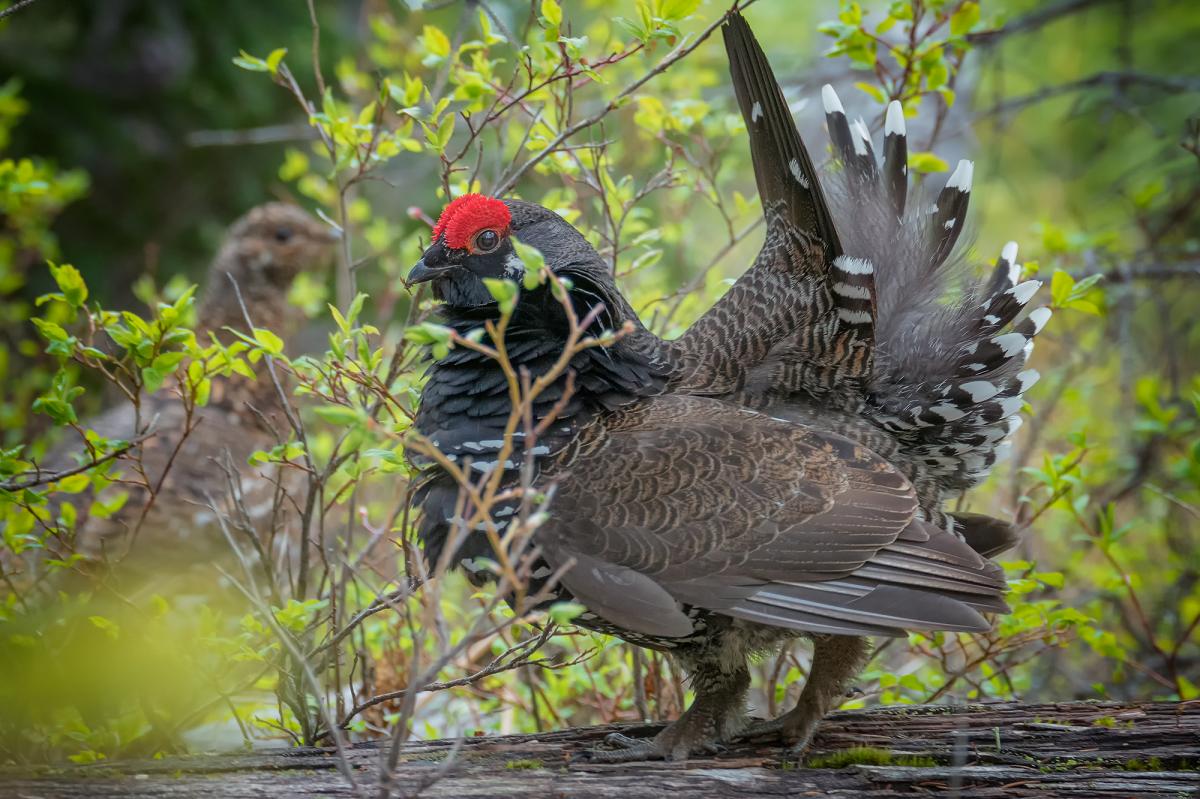 At the meadows it saddened me to see that them still mostly underneath snow, but where it had melted, the ground teemed with Glacier Lilys. The meadows also crawled with all the alpine species of sparrows. Fox, Lincolns, Savannah, White, and Golden-Crowned. From this vantage point, Battle Mountain, the neighbor of Trophy Mountain was visible, coupled with the blanket of Glacier Lilys it made for a nice composition.
So I had been using two tripods, my Manfrotto which was very heavy, and my new one, a very light one for when I went on hikes and was easy to strap to my backpack. Because this was a hike, I brought the small light tripod, here I realized that while I had brought the light tripod, I hadn't switch the plate attached to my camera, that was still the Manfrotto… I didn't choose hapless landscape photographer for nothing.
Dejected, I tried improvising by using higher ISO, so I didn't need a tripod, but I wasn't feeling it. I didn't stay for sunset. Later that evening, on my way to Pyramid Campground, I noticed this old abandoned building just off the road. I had gone by before many times without stopping, but with the sun already down and the fog rising; it looked so creepy I needed to stop.
Here is a 4 image focus-stacked shot, I like.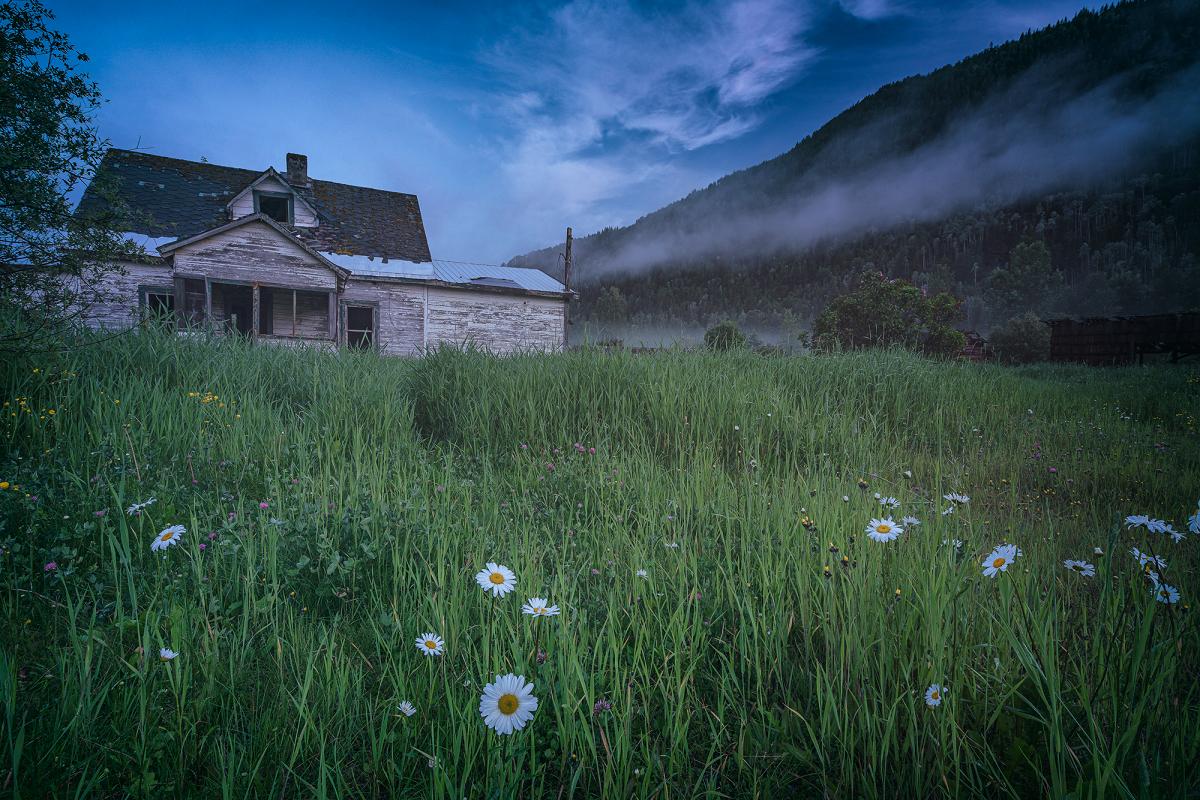 My last night in Wells Gray, I camped at Clearwater Lake Campground. Clearwater Campground almost always requires a reservation, which I had bought less than a month prior. I spent the last hours of daylight walking through the woods at the end of the lake where the boat launch is located. bunchberry flowers blanketed the forest floor, dominated by Cedars. I took my time trying to pick out the best arrangements.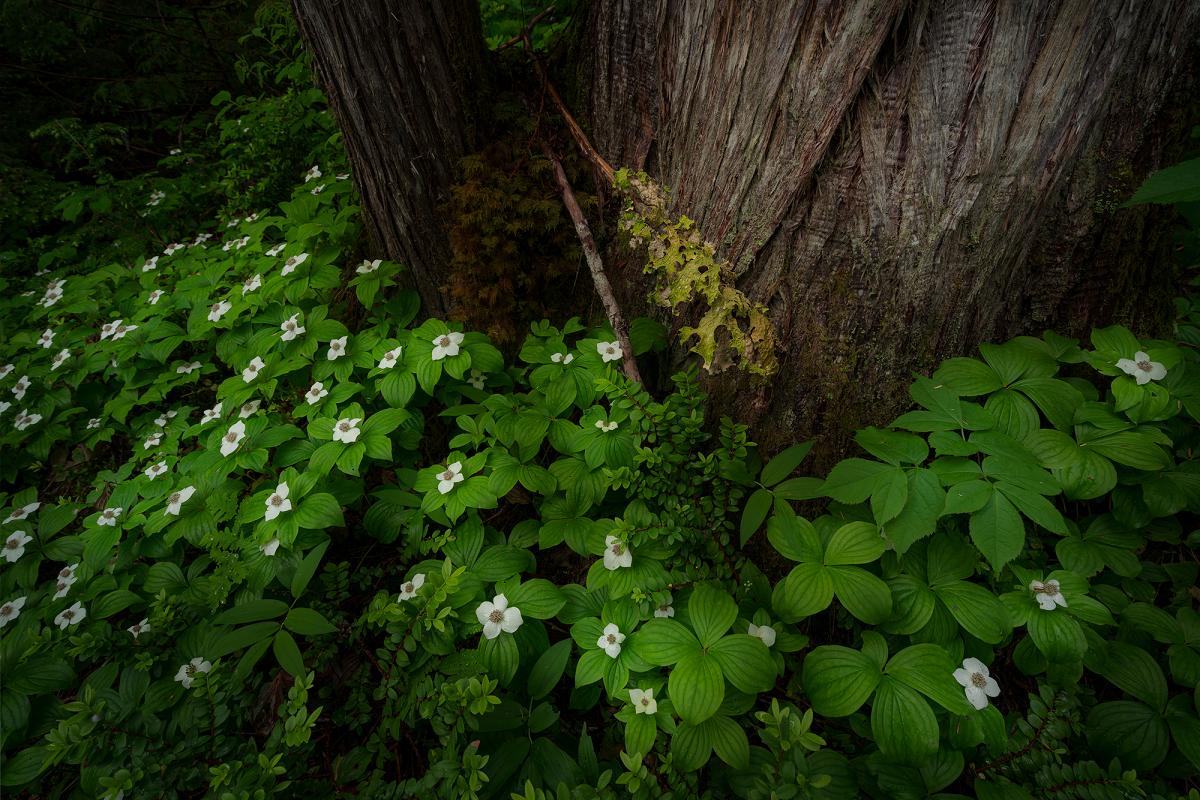 Leaving the forest, I witnessed an amazing cloud formation above Clearwater Lake. They forged what looked almost like an inkblot out of the Rorschach test reflecting upon the lake. Over the next hour the clouds would shift and change colours until they became a dull blue as the sun set. Though the trip had been a tumultuous affair, this was a wonderful way to end things.