I was born in Cranbrook and grew up in the East Kootenays. As a budding birder, I would spend all the time I could, trouncing through the marsh, forest and grasslands. I wasn't much of a landscape photographer while I lived there though, so when I found myself at a union convention for a week in Kimberly, I made the most of my spare time getting to reconnect with my old haunts, this time from the perspective of a Landscape photographer. 
Norbury Lake Provincial Park-Peckhams Lake
Peckham's lake is a day-use site attached to Norbury Lake Provincial Park. Norbury Lake is the lesser of the two lakes, but it does have a nice campground, as most Provincial Parks do. 
Peckham's lake offers an incredible view of the Steeples Mountains, a grouping of several massive rocky mountains. They make for magnificent sunrise and sunset photography, especially if the wind isn't messing with the reflections on the water. Last year I witnessed a gorgeous sunrise on a chilly May morning. This time around it would be a dramatic May sunset. 
I probably spent more Sundays at Peckham's lake than anywhere else as a kid. We all have our lake, the one we mean when we say, "going to the lake" this was mine. My grandparents would take me, the picnic chairs, and the 25-pound, baby blue, retro metal cooler. I would spend the day exploring the forests surrounding the lake, while Ospreys dove into the water after fish and the family of Loons would mournfully cry out.
Upon arriving, I quickly noticed the water levels were unquestionably lower than they had been in my younger years, exposing a layer of rocks covered in dried algae that weren't exactly photogenic. After searching for an interesting foreground, I decided this large rock would be my best bet.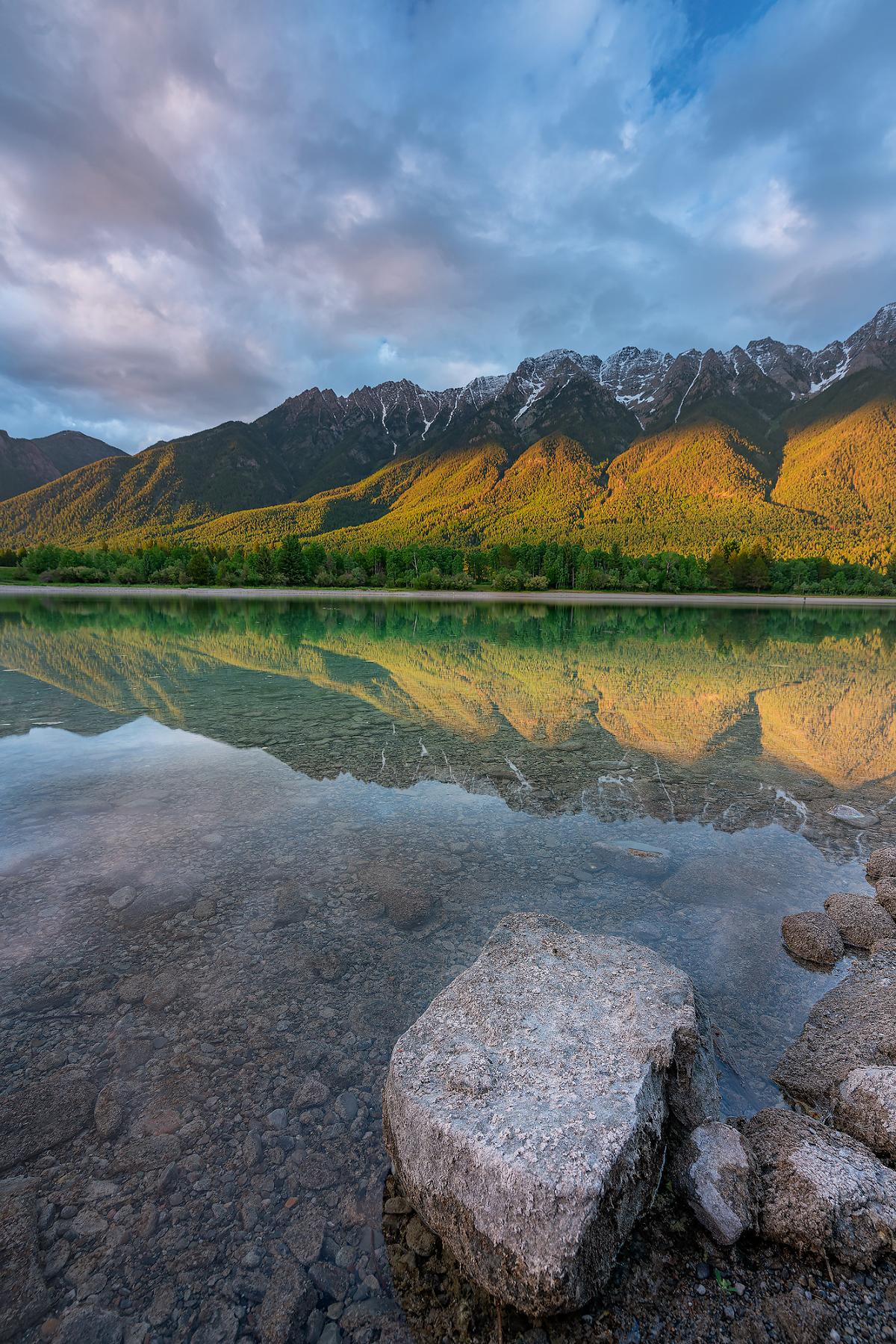 I have had too many experiences where I can't make my mind up on what to frame, so I end up missing the best parts of a sunrise or set. It's better to pick a spot and at least get something than be too indecisive and find nothing. This sort of problem has gotten easier with experience.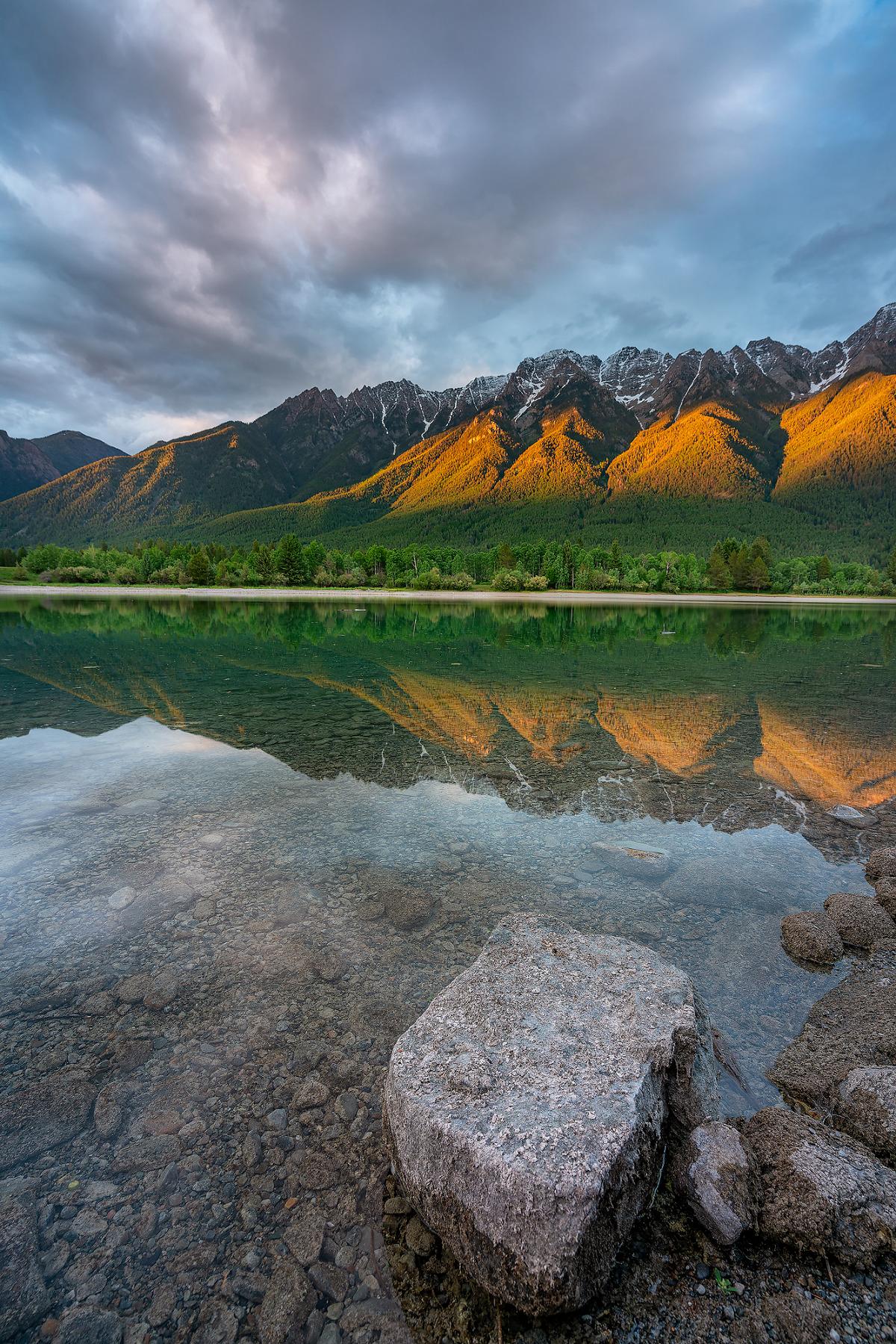 It seemed like the clouds and sun were setting up to make quite a spectacle, but at the last second, the sun got blocked too quickly for the purple clouds I was anticipating. Luckily there were a few moments where a thin streak of light broke through to paint a small orange line across the steeples.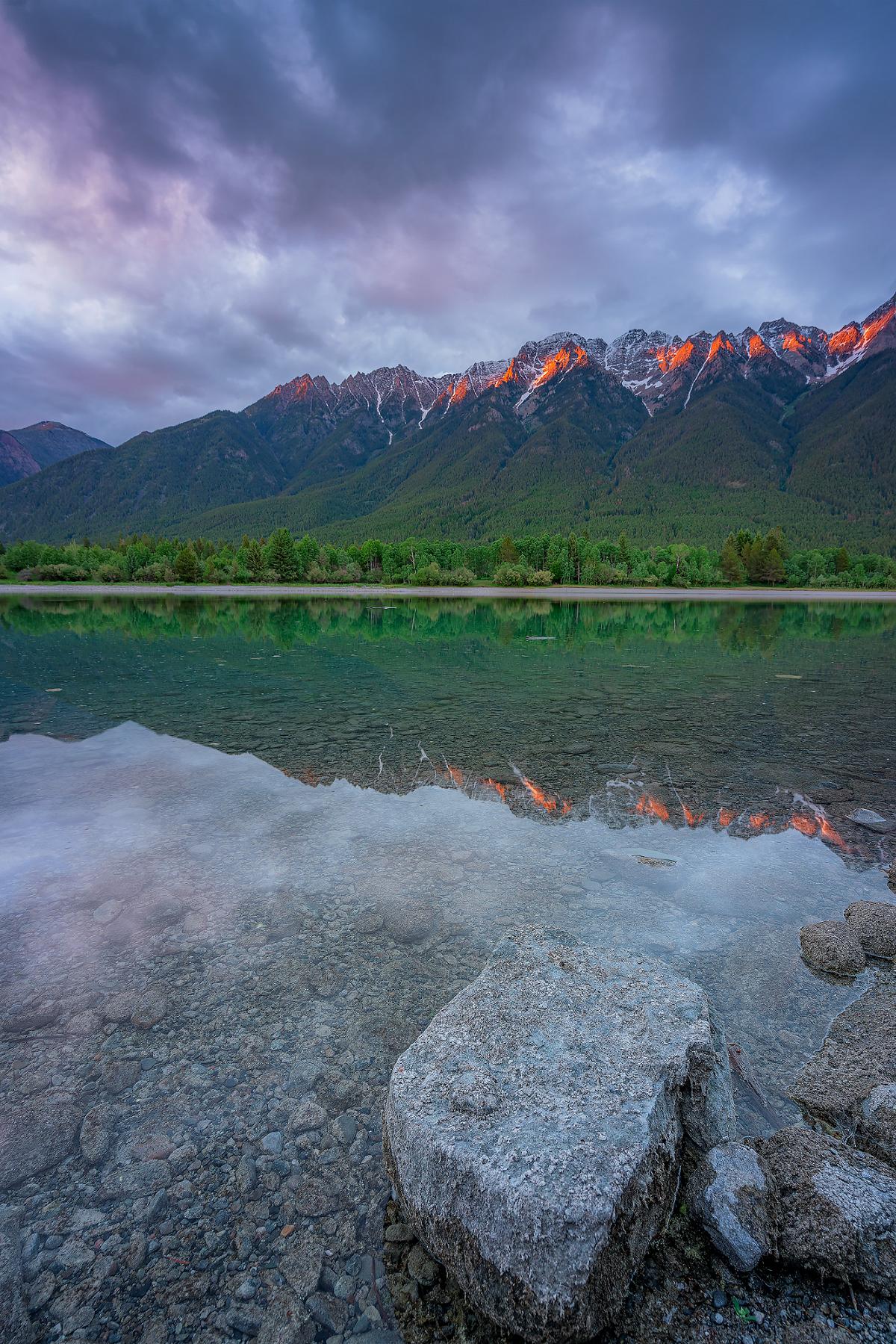 I shot f9 on my 16-35mm F4 lens, keeping everything I could in focus. I feel like the perspective of the mountains do not appear large enough in the background. It is a common problem with wide lenses; if you don't angle the camera correctly, it can turn mountains into molehills. While not quite the case here, I would love to return for another chance. Fall no doubt would be spectacular here, with the bordering foliage creating an epic reflection as the hopefully snow-capped mountains backdrop the scene. 
Premier Lake Provincial Park. 
I didn't spend as much time in my youth at Premier lake, its a much longer drive from Cranbrook than Peckham's, but I do remember specific moments, like finding my first Northern Pygmy-Owl getting harassed by a flock of angry chickadees. 
Premiere lake is a large lake an hour from Kimberly; the park encompasses a decent amount of open ponderosa pine/douglas fir forest, and a significant portion of premiere lake falls within the park. The part also contains five much smaller lakes are also part of a hiking loop that can take as short as 2 hours to complete. 
I didn't have too much light left when I got to the trailhead, so I figured Yankee lake would be about as far as I would go. The hike starts as a moderate incline through what was either logged forest or cleared from forest fires. Until you reach the lake, there isn't much to see. 
The first thing I found when reaching Yankee lake were turtles, many many turtles! The hot weather had brought them out onto the land where they were laying semi-buried in the shale surrounding the water. I ended up finding at least 10 Western Painted Turtles, some more agreeable than others to my presence. I tried not to disturb them the best I could; most would plunge into the stagnant lake water upon detection, this one, however, seemed to be perfectly fine with my presence.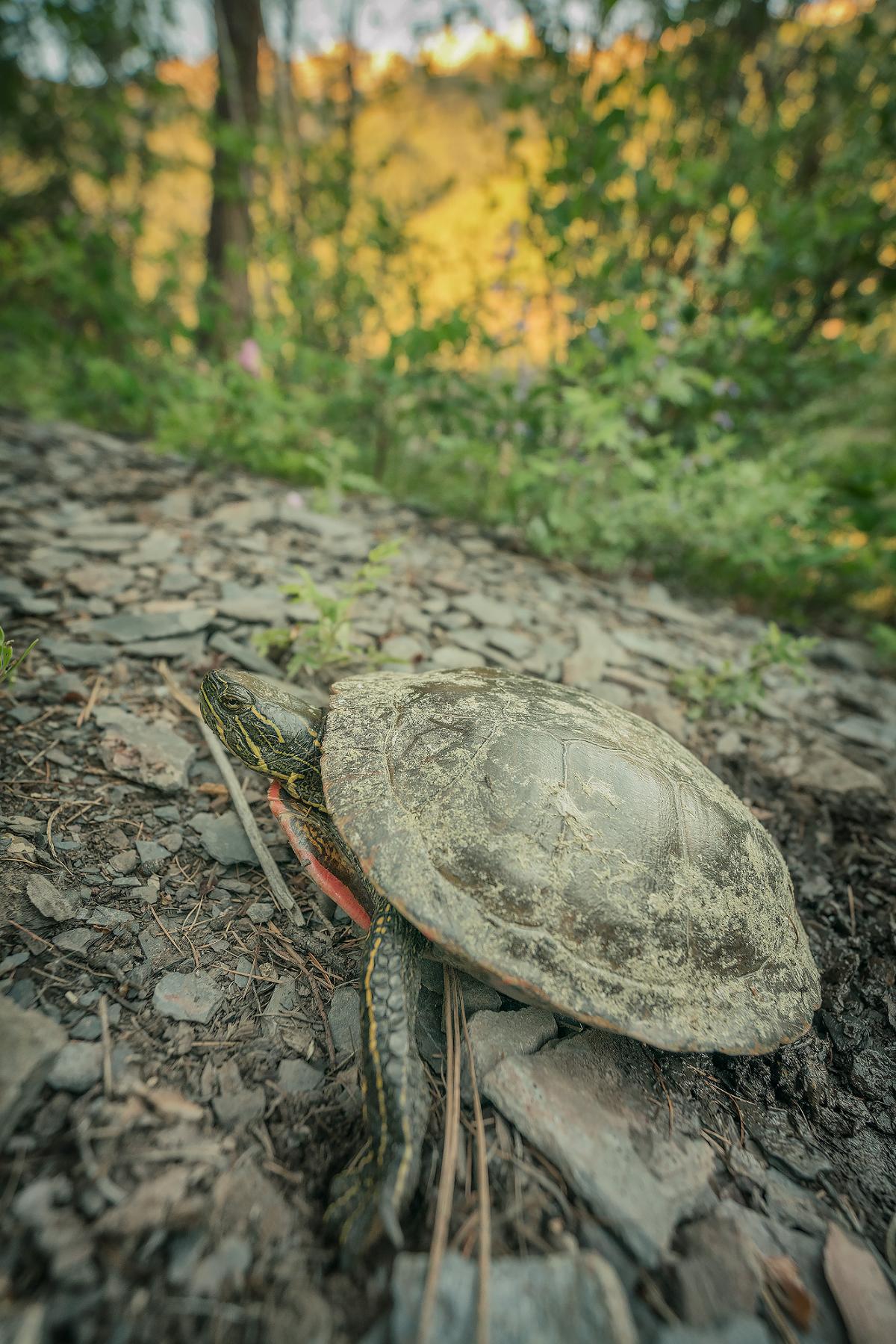 At the end of Yankee lake, fallen logs and waterlilies looked like the best location for sunset, but there didn't seem to be any way to penetrate the dense shrubbery lining the shores, I continued to Canuck Lake, which had some lovely reflections but wasn't as exciting to me as water lilies.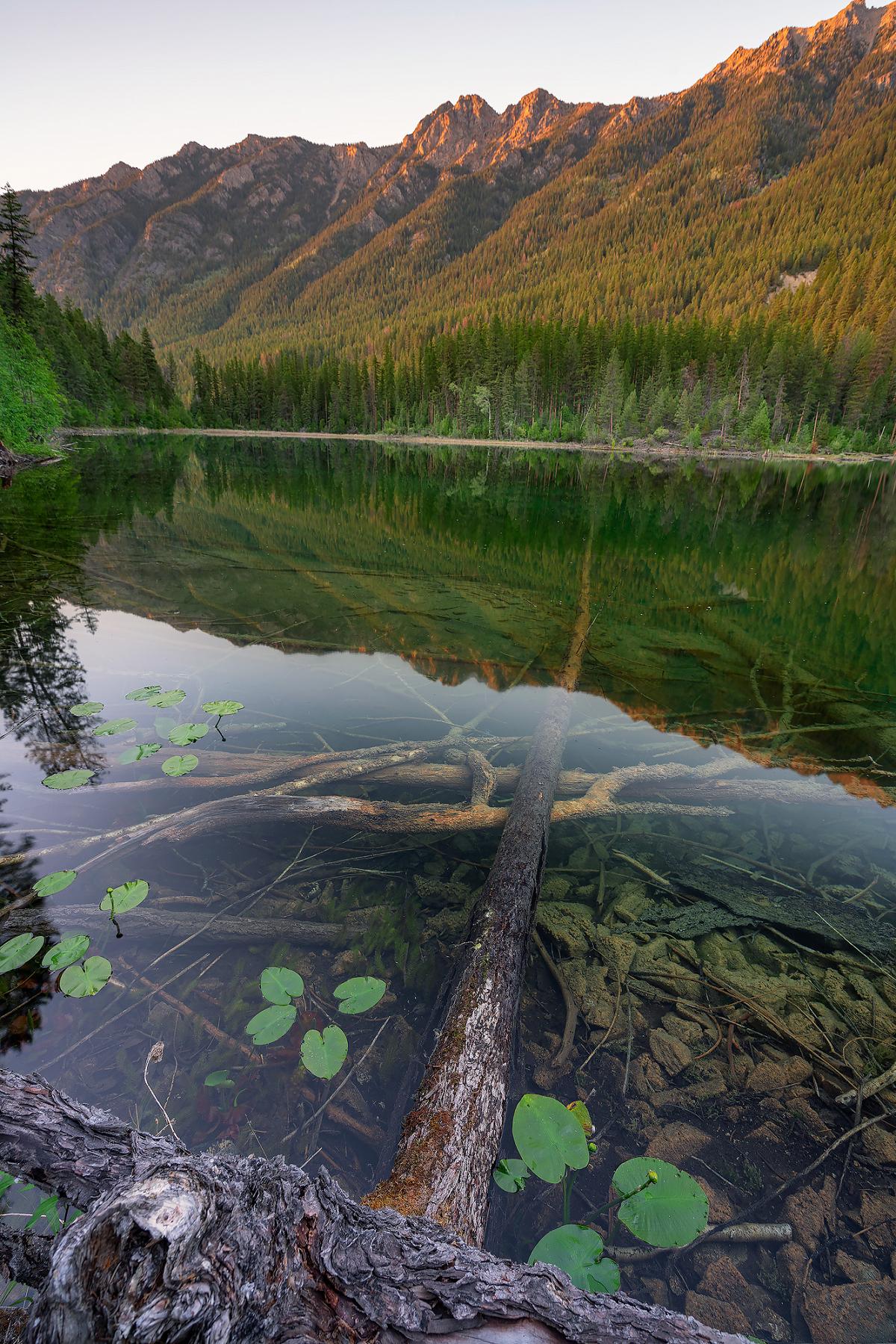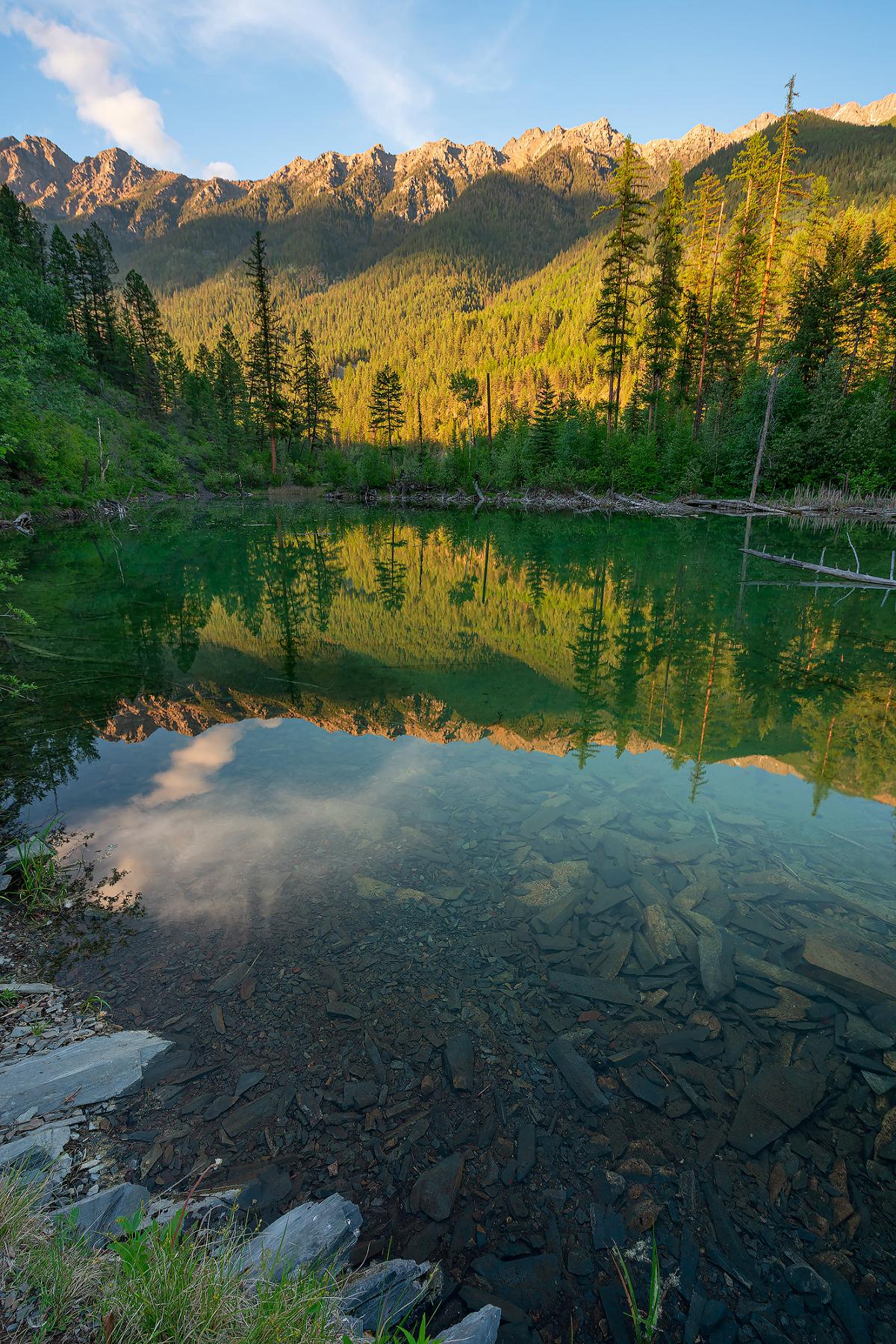 I decided I was going to push my way in somehow, I made my way around the lake looking for any way in, but the dense brush made it impossible. Something crashed in the forest directly behind me, and I froze, I couldn't see what it was, I hoped it was an Elk and not a Bear. I slowly backed out in the opposite direction of whatever was in the forest. 
A nice waterlily/mountain shot seemed hopeless, but when I went back to where I started on the lakeshore, I realized the easiest way to the logs and Lillies had been in front of me all along. There were only a few touchy spots and before I knew it, I was on top of one of the fallen trees, with the mountains and Lillies in the frame. It was one of those moments you live for in photography where everything lines up and you spend a few moments experiencing pure bliss.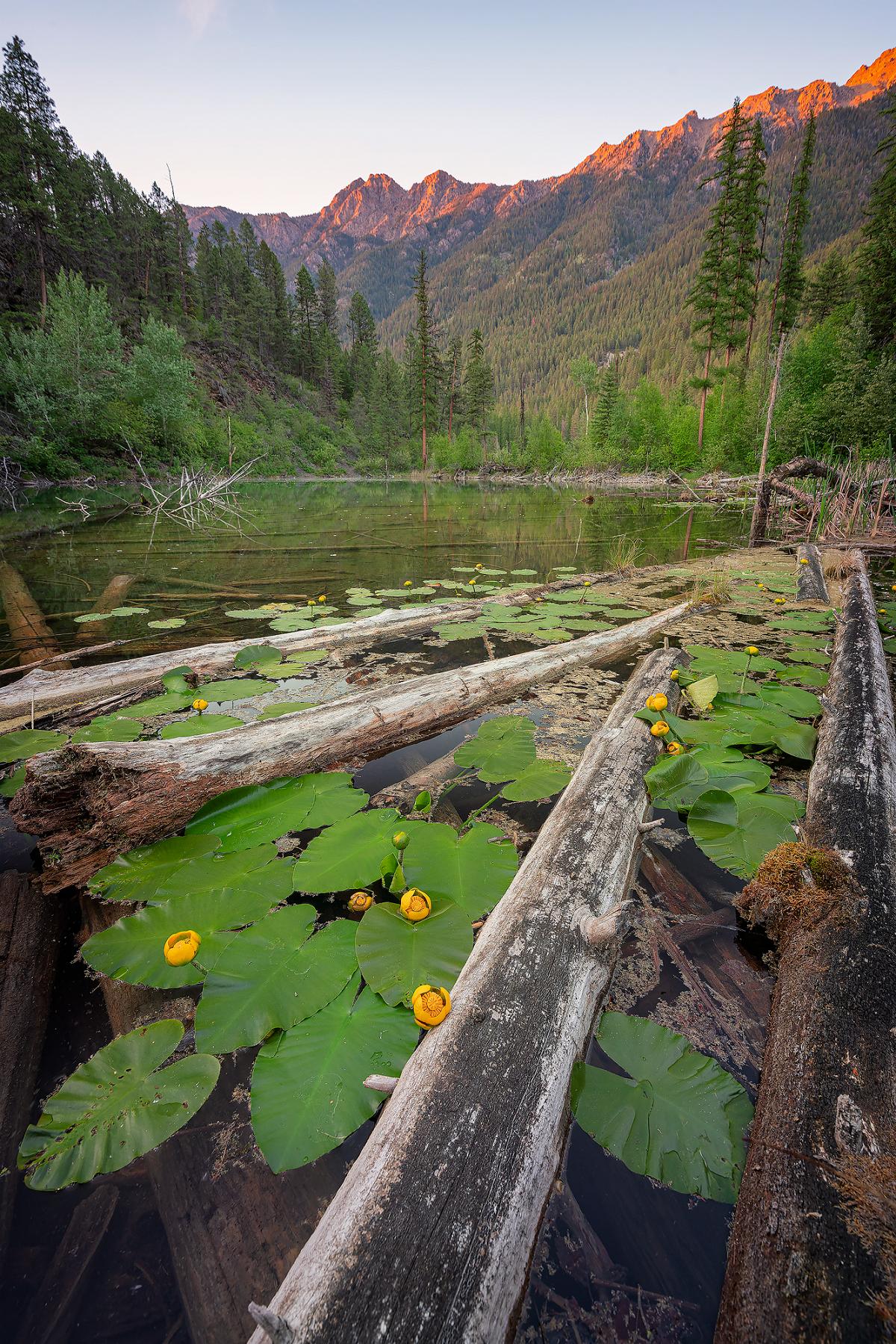 And then..the rotting log breaks and you fall back into stagnant pond water. Yeah, that happened, all so quickly. Amazingly I managed to keep my one arm on the tripod and hold the camera above the water while the rest of me submerged. I did not expect the water to be that deep; surprisingly enough, I didn't manage to ruin any gear as I climbed onto the shore, completely drenched from the waist down. I had about a 45-minute hike back to the car, and I would be doing it in soaked jeans.  Another hapless moment I thought, laughing. A Common Nighthawk announced its presence, the first of the year, a great ending to a great evening of photography. 
The East Kootenays are a recreationists paradise, many many provincial park campgrounds and recreation areas, lakes, and backroads. I am still finding new places every time I return. Thanks for reading until next time. 
Ryan