Last August, I completed an overnight trip to Wedgemount Lake. It wasn't my original destination, but it was the destination destined for me. Garibaldi Lake campground flooded, resulting in my reservations being cancelled by BC Parks. Yet another case of the heat domes and atmospheric rivers ruining my Summer plans. Not to be deterred, I discovered an opening at Wedgemount Lake.

According to "All trails", the hike to Wedgemount was about 6.5 km and an elevation gain of 1300 meters. In other words.."Oh God I'm gonna die".
You see, my hiking legs were still in storage, with the smoke, mudslides, floods, heat domes and other hells that plague us now, I hadn't really been hiking, unless you count getting my steps in on the way to the fancy liquor store in Olympic village.

The beginning isn't so bad, the hike starts in shade and continues until the last few kilometres, so you aren't burning to a crisp while struggling for air. Along the way, there are some nice creeks/rivers for water refills. Even on a weekday, the path was crawling with hikers, most of them(all of them) in better condition than I was.

It took me nearly 5 hours to finish, much longer than the average person, and I didn't even complete the whole trail. I only made it to the camping spots above the lake. From there it's still another kilometre or more to reach the tent pads beside the lake, but there was no way I was walking another step. I dropped my bag and set up camp.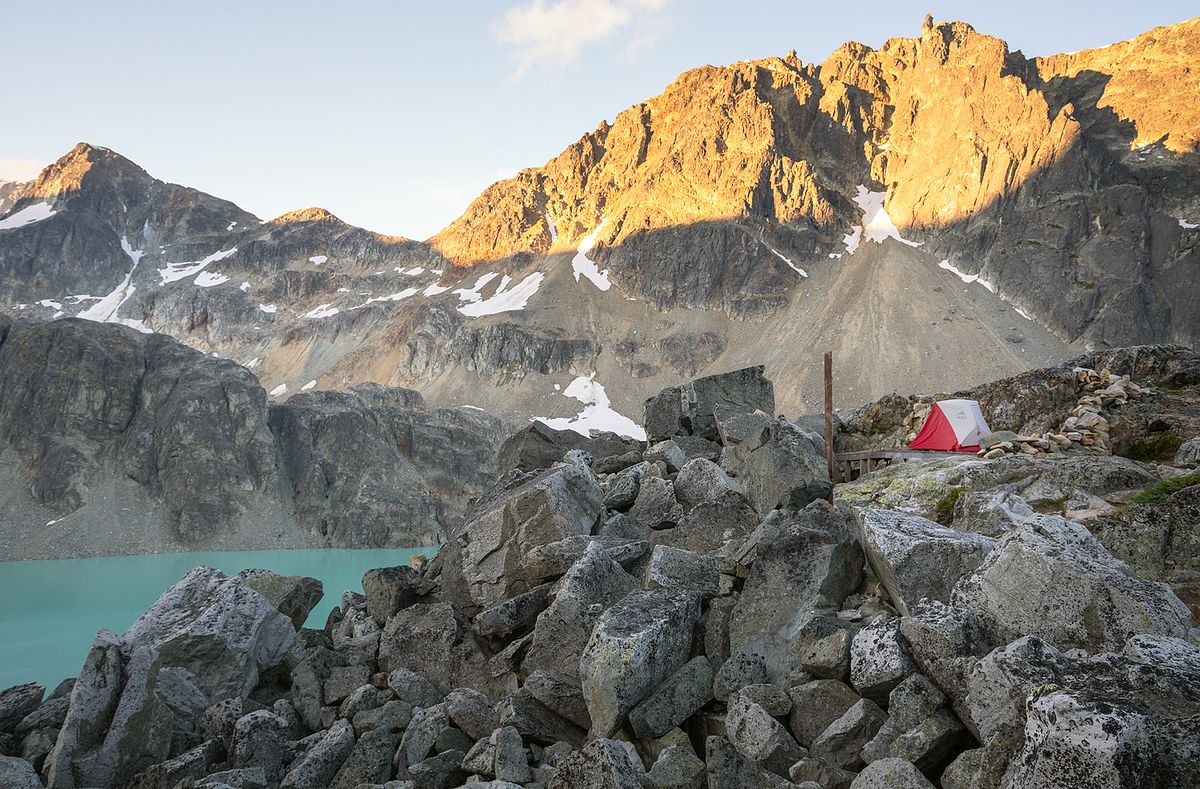 As the sun began setting, it was time to scour the area for good compositions. The lake is mostly surrounded by boulders and rocks, with scattered stunted trees. This can prove difficult for landscape photography, as the foreground may be to monotonous to draw interest. Also when searching while the sun is still high up, it washes a lot of the finer details out, or hides colours you might not notice at golden hour. This is why 2 days in a location gives you a better chance of a winning photo. I always say(to myself) you cant know a location until you see it when the sun's gone down. No really I do. 
I left my camp spot and descended down towards the lake, as the light started getting good. I started on some stunted alpine trees growing up through the rocks.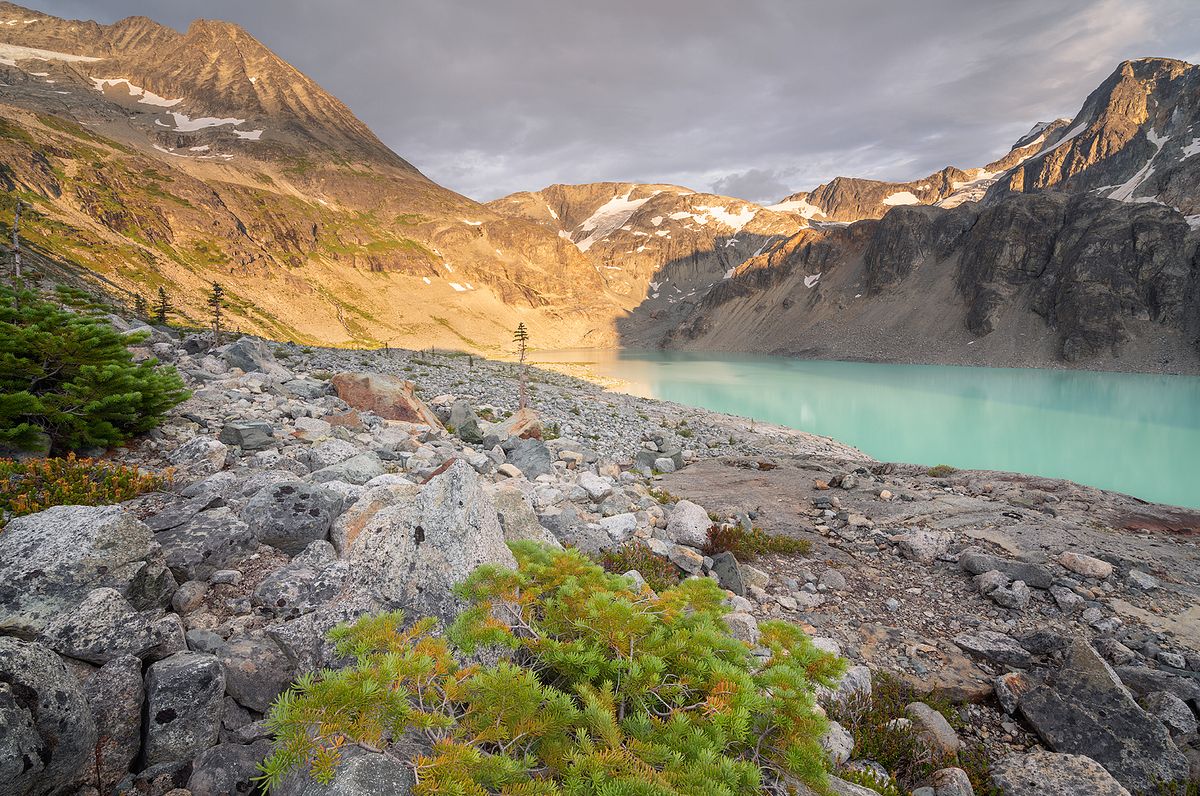 And then some alpine shrubbery, possibly heather?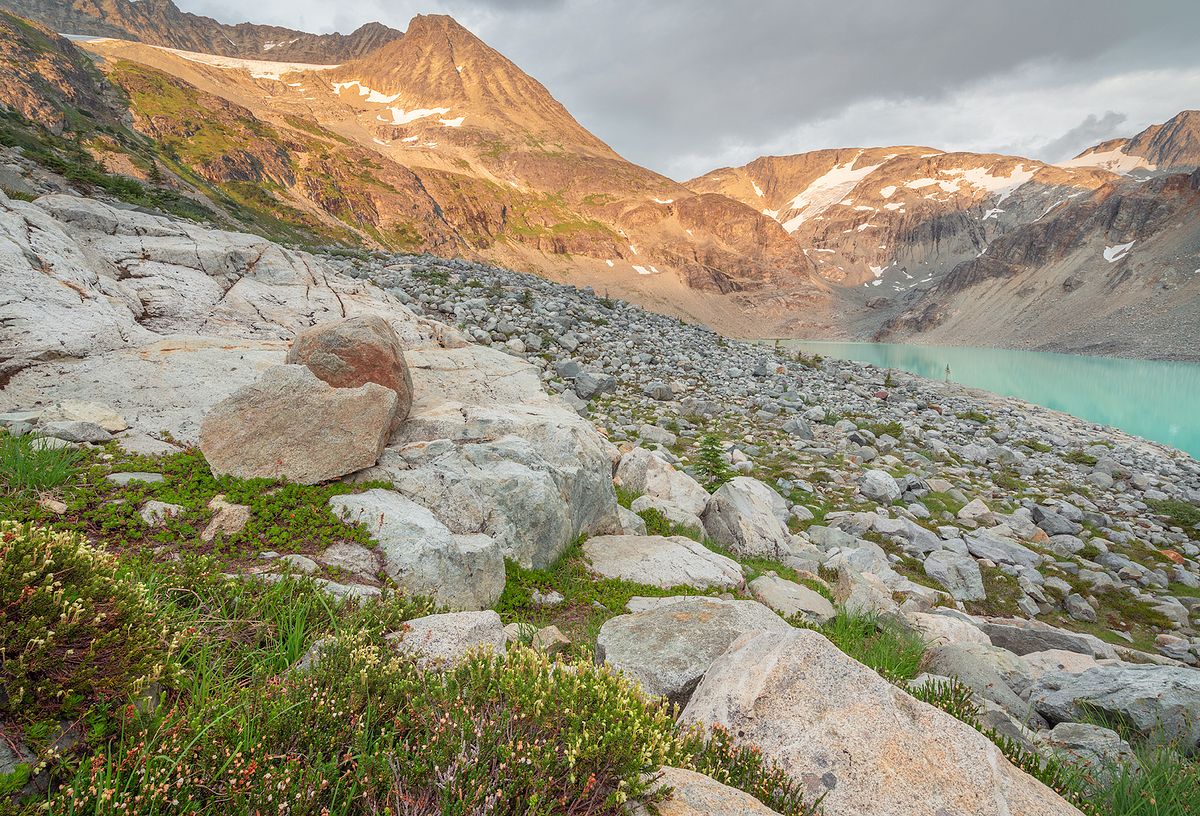 The mountains surrounding the lake soon were emblazoned in a fiery orange glow. I was hoping to find wildflowers but had to settle for lichen covered boulders.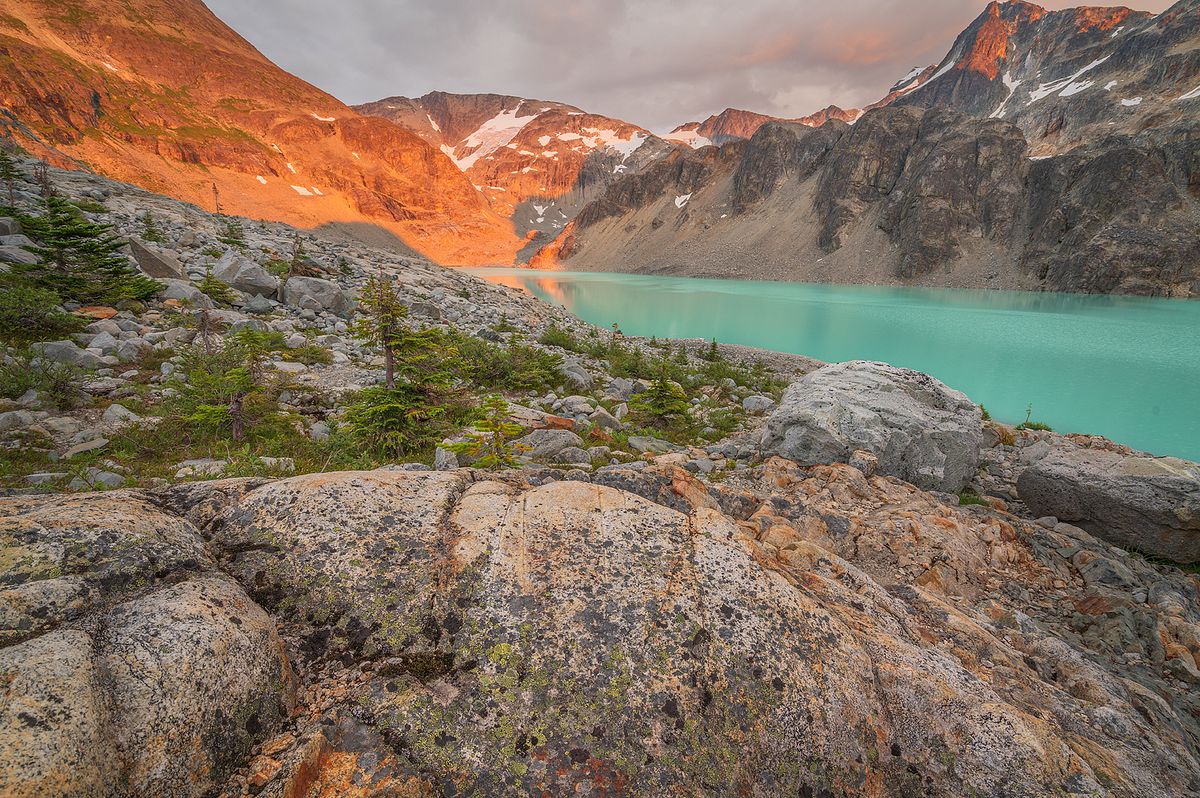 I found these growing out of the crevice, just as the mountains were their brightest red.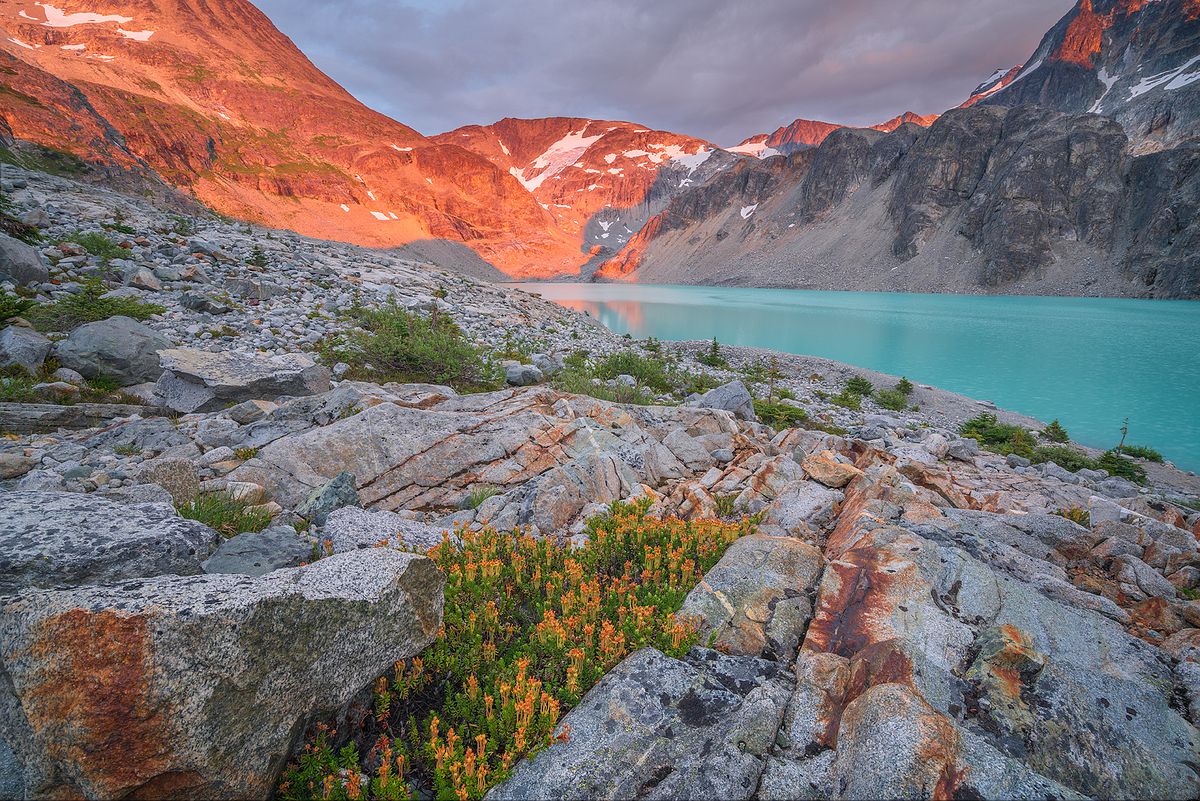 Sadly by the time I found some wildflowers, the light on the mountains had diminished to a faint purple.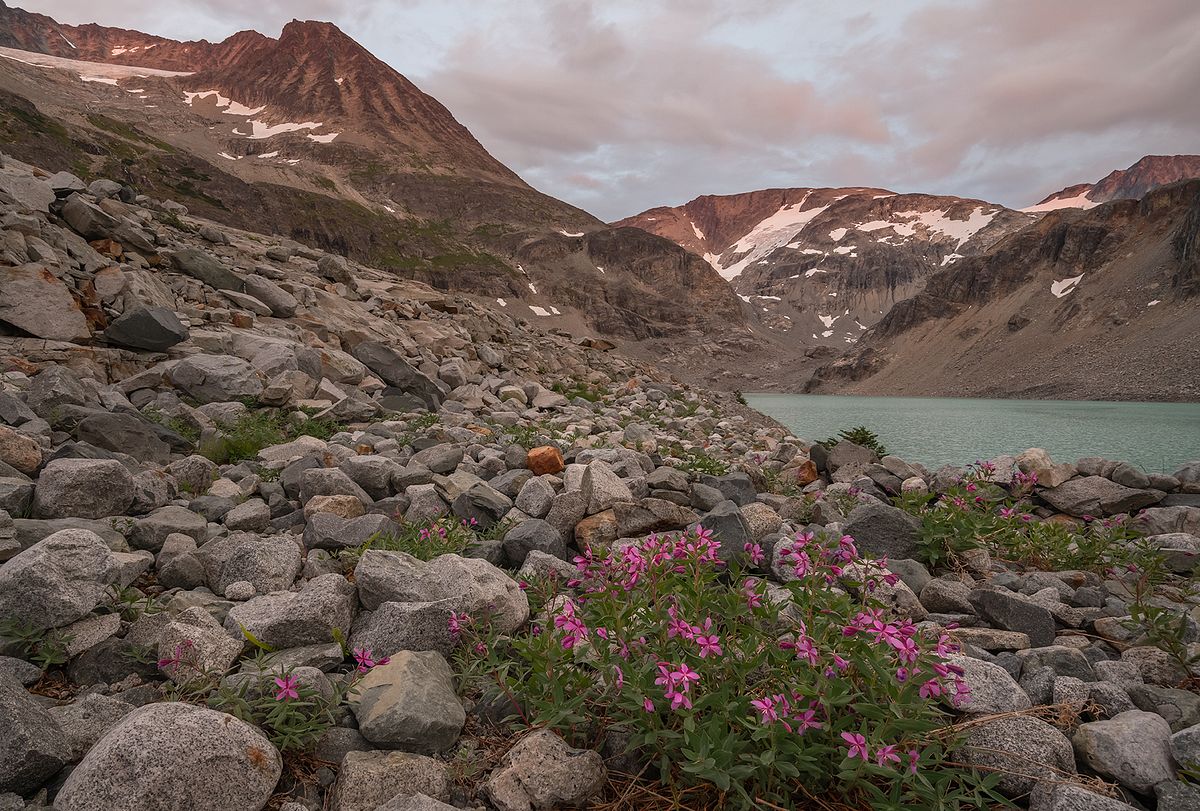 Once the colour had faded from the mountains the wind startedup. Photography time was over and it was time to eat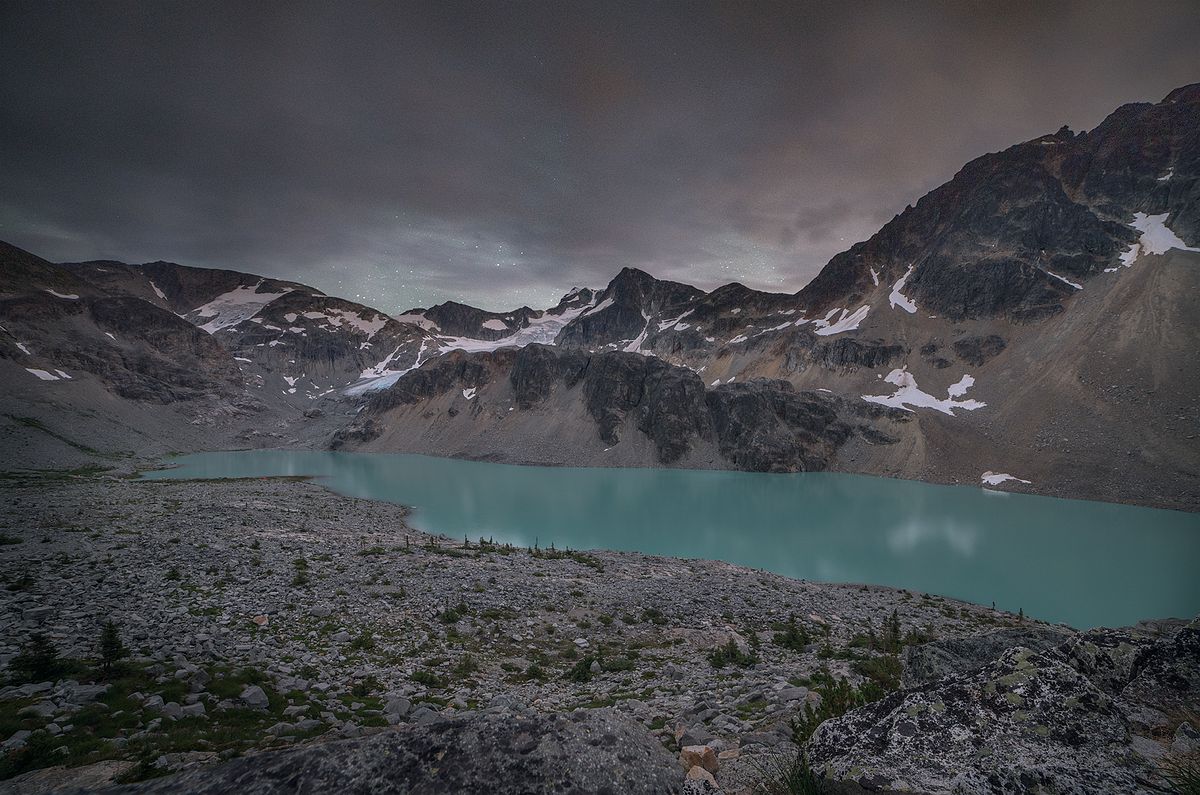 On this trip I took my Rokinon 14mm f2.8 for astrophotography, though in my planning the window of the Milky Way being visible would be extremely narrow. I have been using a premium app for weather this year, its called Windy and its been pretty helpful especially for knowing how clear the skies will be at night for seeing the milky way. I knew there would be a slight opening for about an hour. 
Nothings 100% accurate, the opening was very narrow, and this tent shot was pretty much all i got.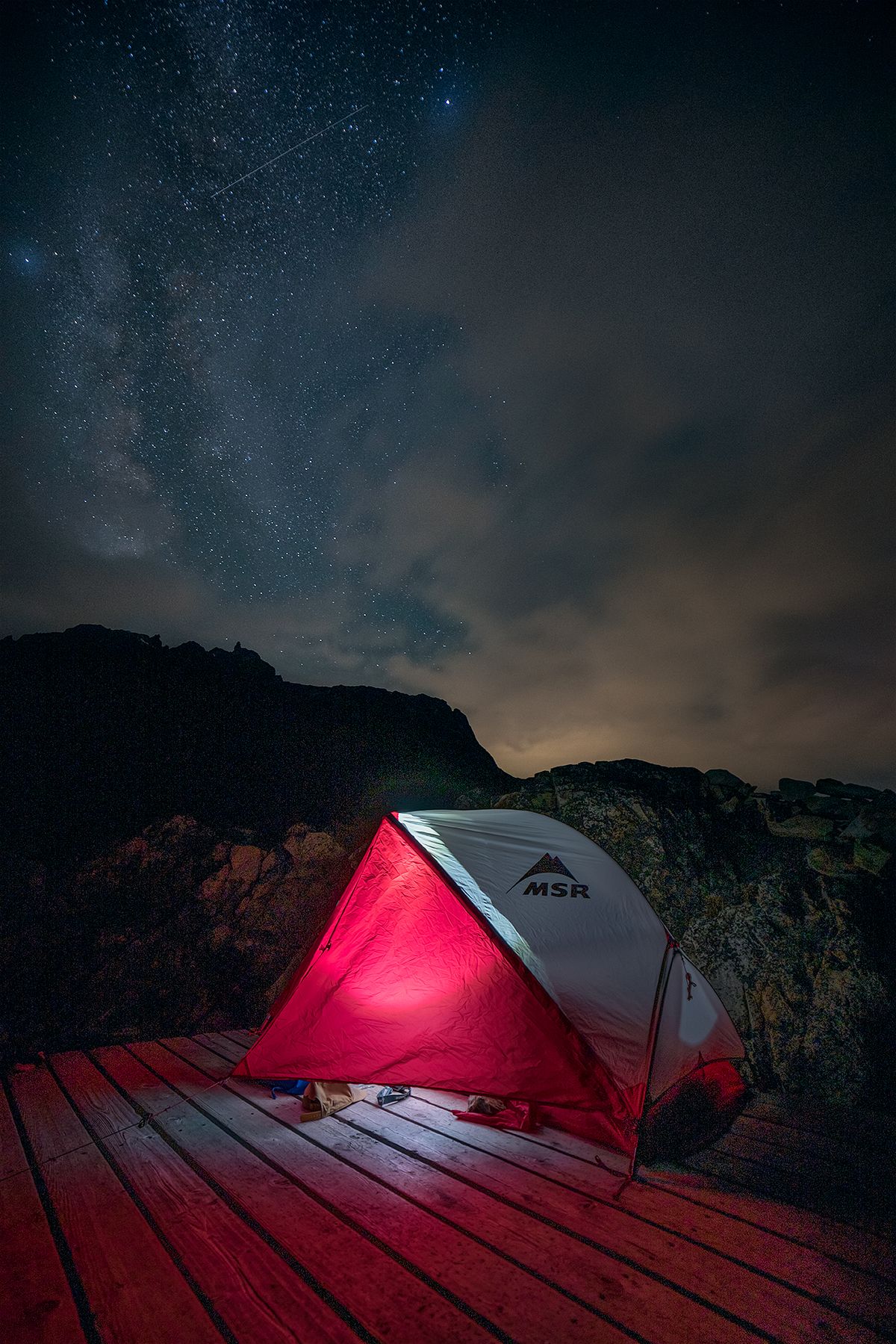 I awoke at dawn, discovering the cloud cover had vanished overnight. This meant the sunrise would not be spectacular, but I would work with what I had.
Instead of going towards the lake, I moved away from the lake, towards the sound of rushing water. It was the right call. I discovered a lovely little creek splashed with wildflowers and deep green moss and grasses.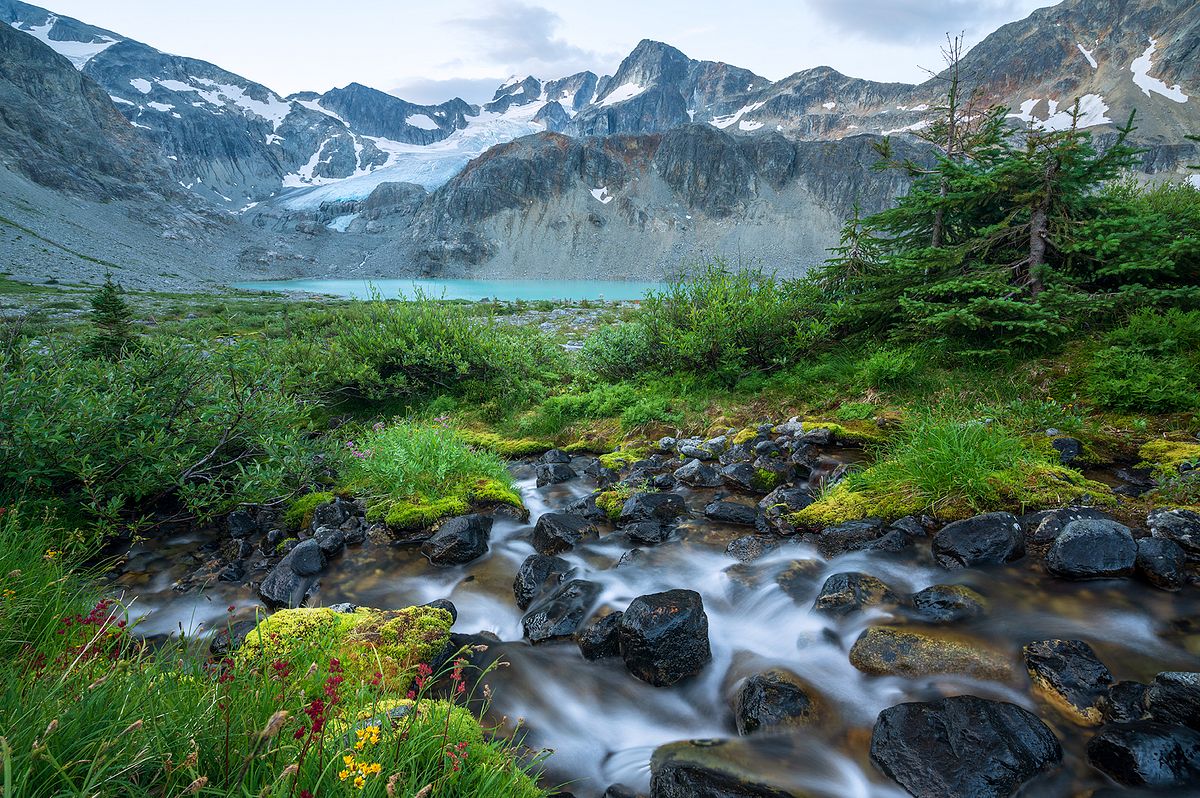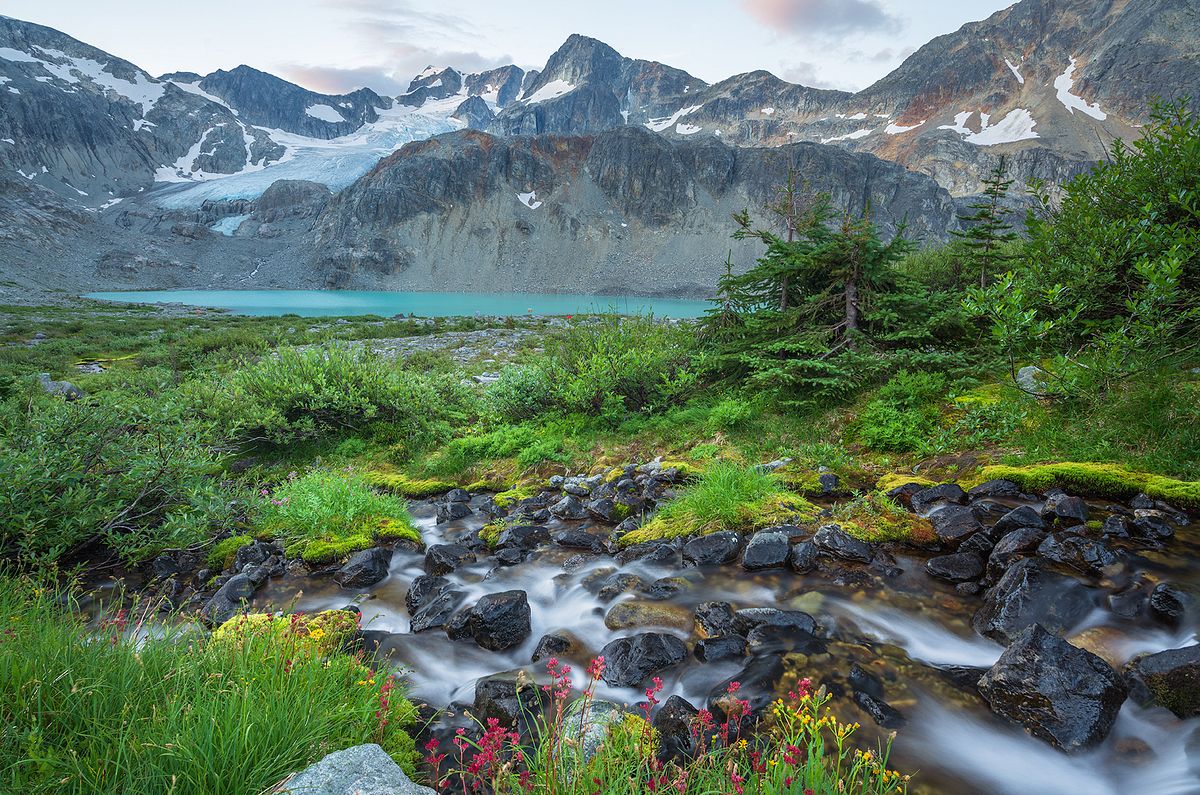 Now these were the scenes I was hoping for. I framed the creek to flow down towards the lake and mountains. Using a slow shutter speed to blur the water, I had to focus-stack to get the flowers in focus, along with the middle and background. Focus Stacking in general can be frustrating, time intensive, and when there are moving flowers with running water behind them, next to impossible to edit. Knowing this, I backed off enough that I could do it in a three image stack. 
I switched to Portrait style, and got closer down to the flowers. Sadly I messed up and the closest red flower is out of focus, though it doesnt look bad enough to ruin this photo completely.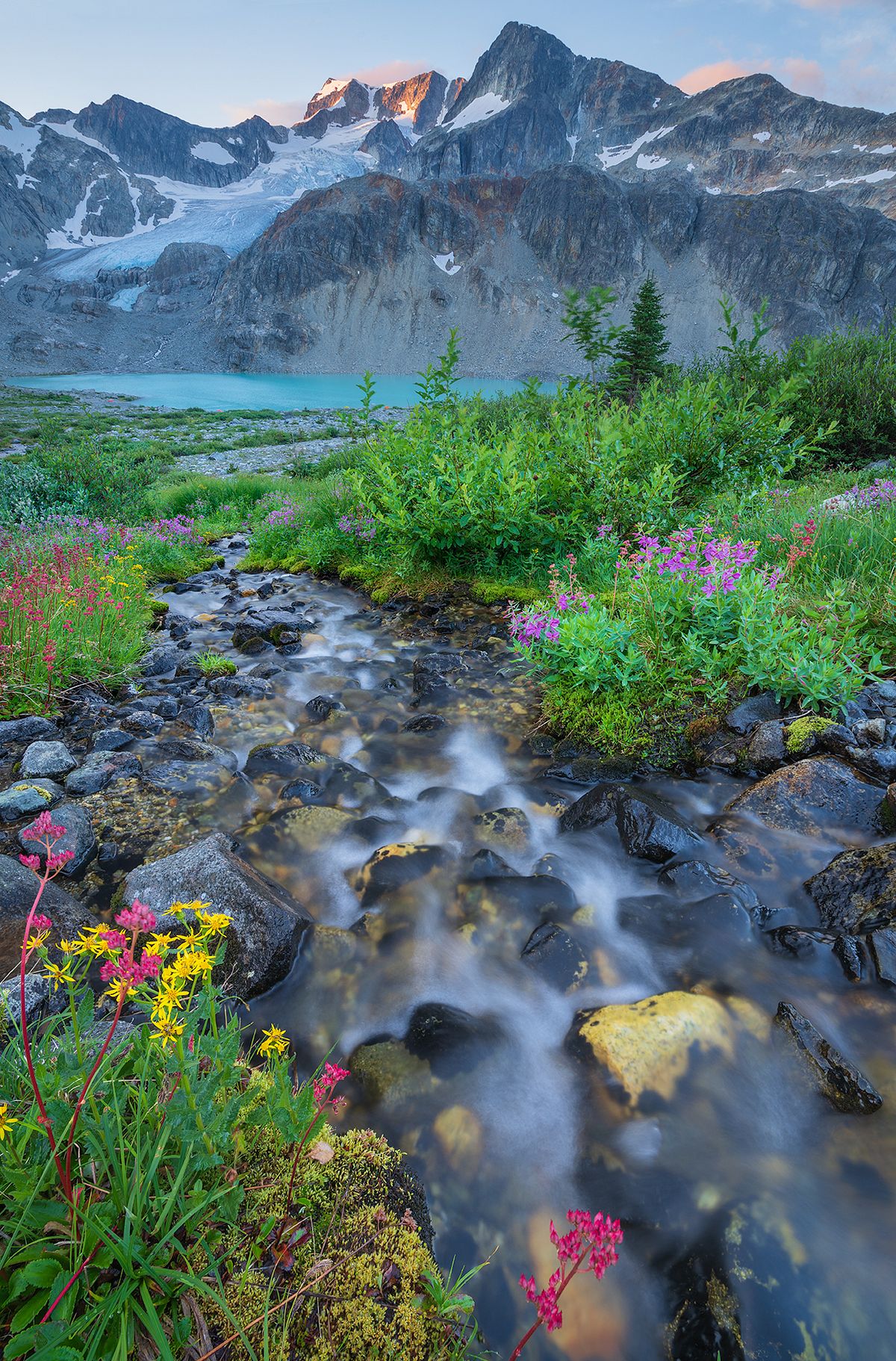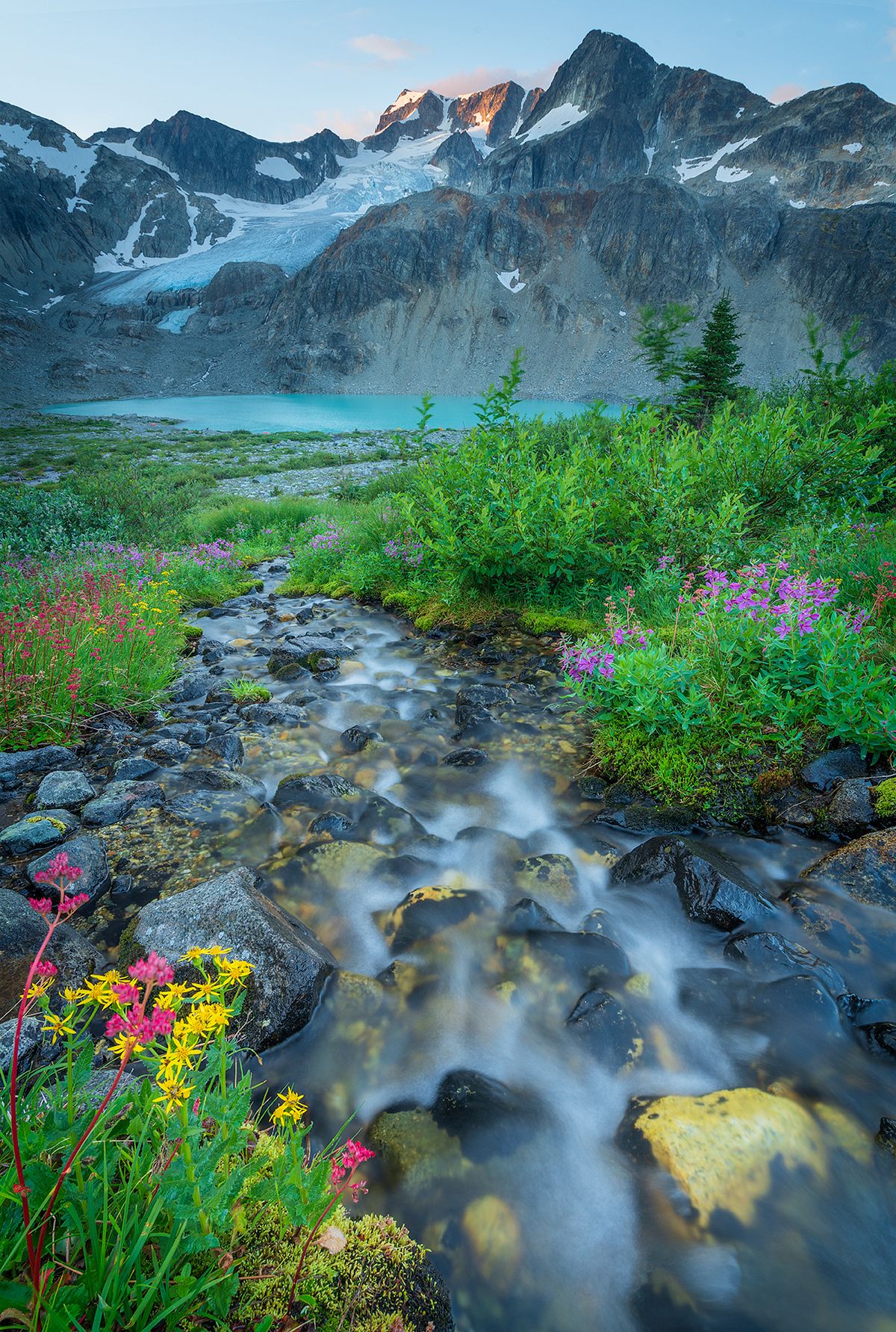 Some nicer clouds above the mountains would've really completed these pictures. I got a few more shots untilt he light got too harsh.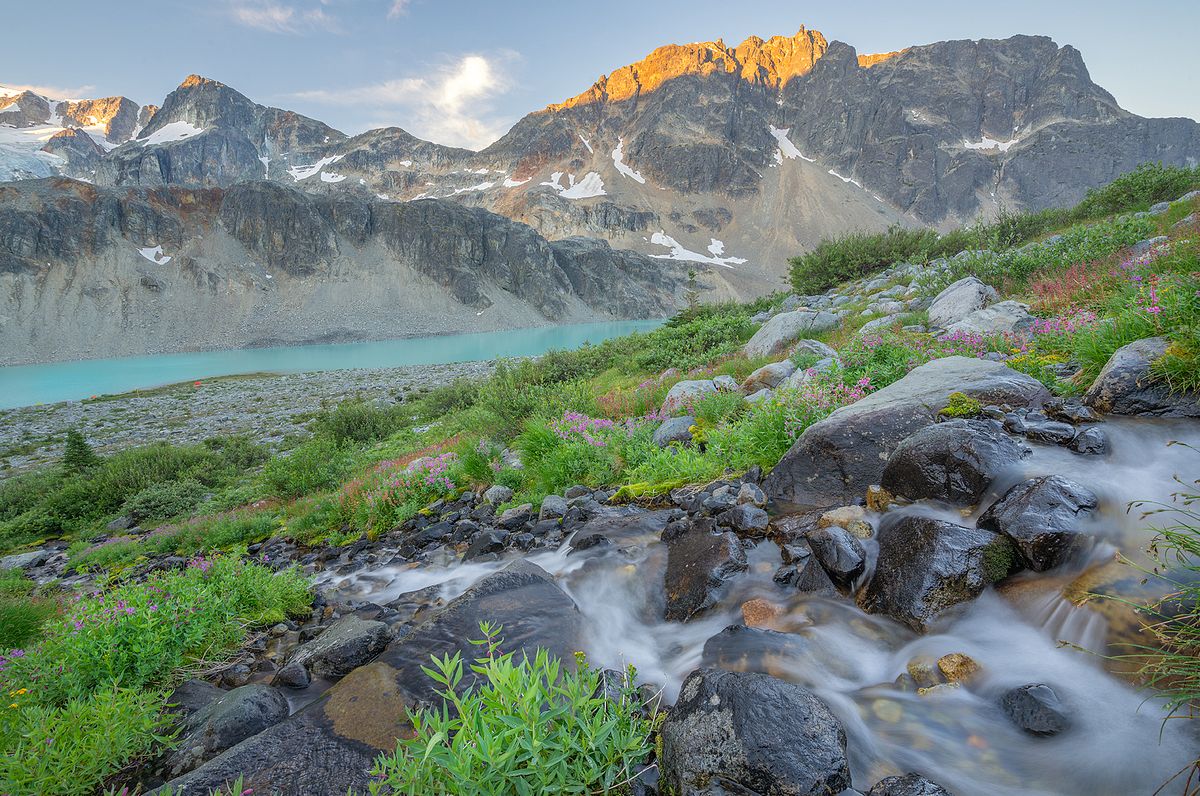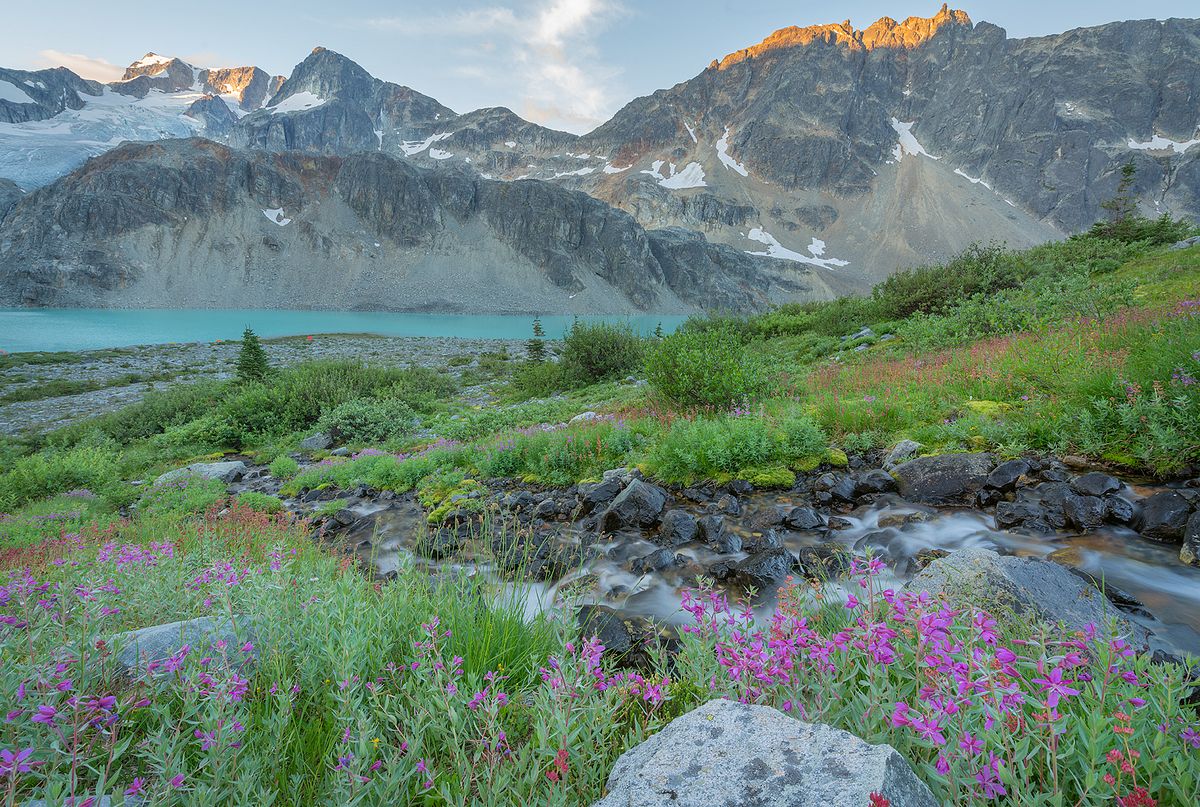 The hike down was a definite knee killer, the thought of visiting Backcountry Brewing afterwards, alleviated some of the pain. 
To summarize the experience for Landscape Photographers, this is a really hard hike that can yield some great photos if the lightning is good. Sunset in August will give you a magnificent sunset facing the mountains. Sunrise has less potential, but that is generally the case in the mountains during summer. The hardest part would put everything together for a grand landscape, but I only barely touched the area. A 2-3 day stay would be more beneficial. I'm hyped to go back next summer, and hopefully will bring my hiking legs this time.
-Ryan