Without a doubt, the Berg Lake Trail is one of the most sought after and popular hikes in British Columbia. I wanted to try backpacking this year, so I guess it was "go big or go home", I went big, from home, spending an infuriatingly mind-numbing four hours trying to book campsites on the bc parks reservation website. I wasn't the only one, the entire province of British Columbia was online at the same time, causing the system to crash. 
 I had a list of campsites I wanted to get, unfortunately for me; it didn't turn out how I envisioned. All my desired campgrounds appeared unavailable for the nights I was looking at, so my final bookings ended up being: Kinney lake, Whitehorn, Berg Lake, and then Kinney lake again. What kills me now is, I saw plenty of empty sites going unused in my campgrounds when I was told they were booked. I was also never once asked by a park ranger to show any proof of my reservation.
The Day Before
You are allowed to check-in at the mount Robson visitor center the day before you begin the hike. Because of COVID, there was no going inside the building; instead, they had an outside kiosk and socially distanced lineup markers. Because of the website crashes, I had to book each campsite as a separate transaction, when generally you can book them all in a single go. Luckily it was easy enough for the parks staff to locate all of my reference numbers, good thing I printed it all out. 
I got my tag, and checked out the area west of the Robson river campground, driving over the bridge on the way to the visitor centre I noticed a wash of pink flowers growing on the islands in the middle of the river. 
Upon close inspection, most of them were isolated by deep rushing water so that I couldn't get too close, but I found some smaller clusters that I could reach on the edge of the water. I decided to focus on the cloud covered mount Robson, and blur the flowers to frame it.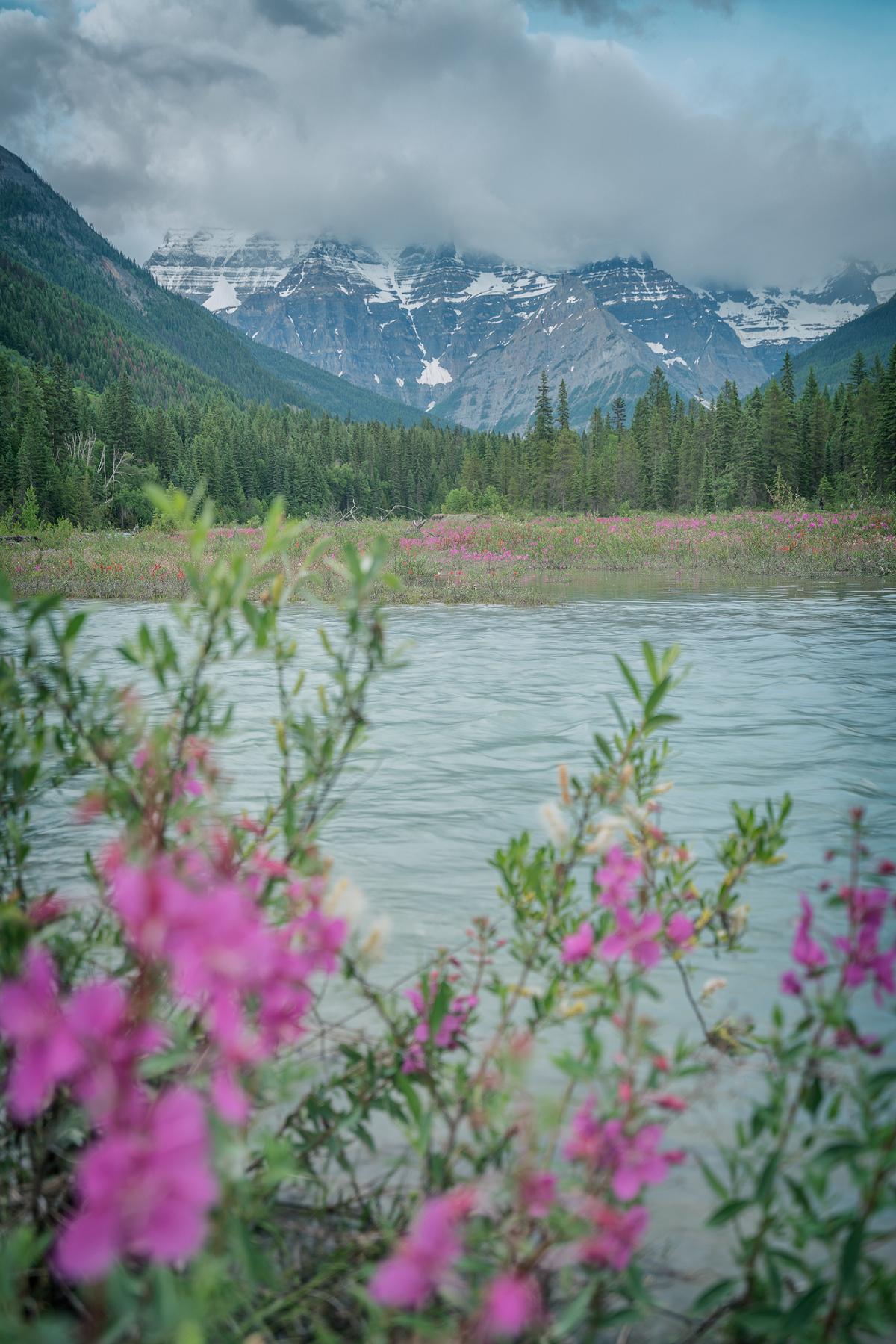 I also tried my hand at focus stacking, a method I have been trying to implement in my photos to varying degrees of success. In this one of Paintbrush, there are some blurred petals due to slight movements of the flower, and me not getting enough focus points. These photos were all at f8, and after studying some video tutorials, I think using a smaller aperture like f11 and more focus points may have helped achieve an all-around sharper image.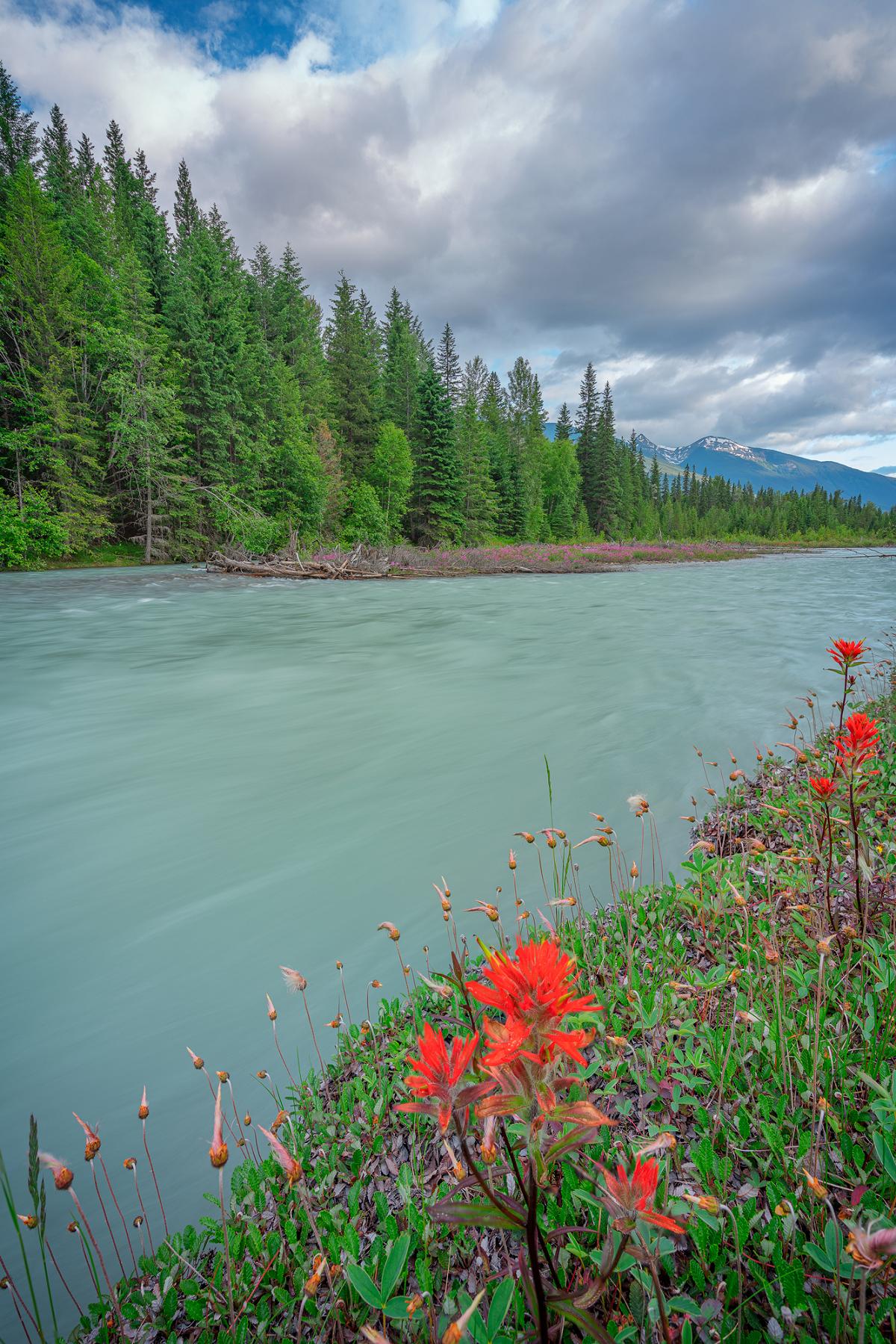 Day one
I started around 11 am. I made sure to sleep in because I figured I wouldn't be getting much over the next several days. I don't know how heavy my pack was; I'm going to guess 40 pounds, definitely, more weight than I had ever carried on my back before. I figured the hike to Kinney would be an easy first day, still, as a hiking rookie, I was feeling every marginal incline to the maximum. The weather was becoming bleak and cloudy by the time I reached Kinney lake.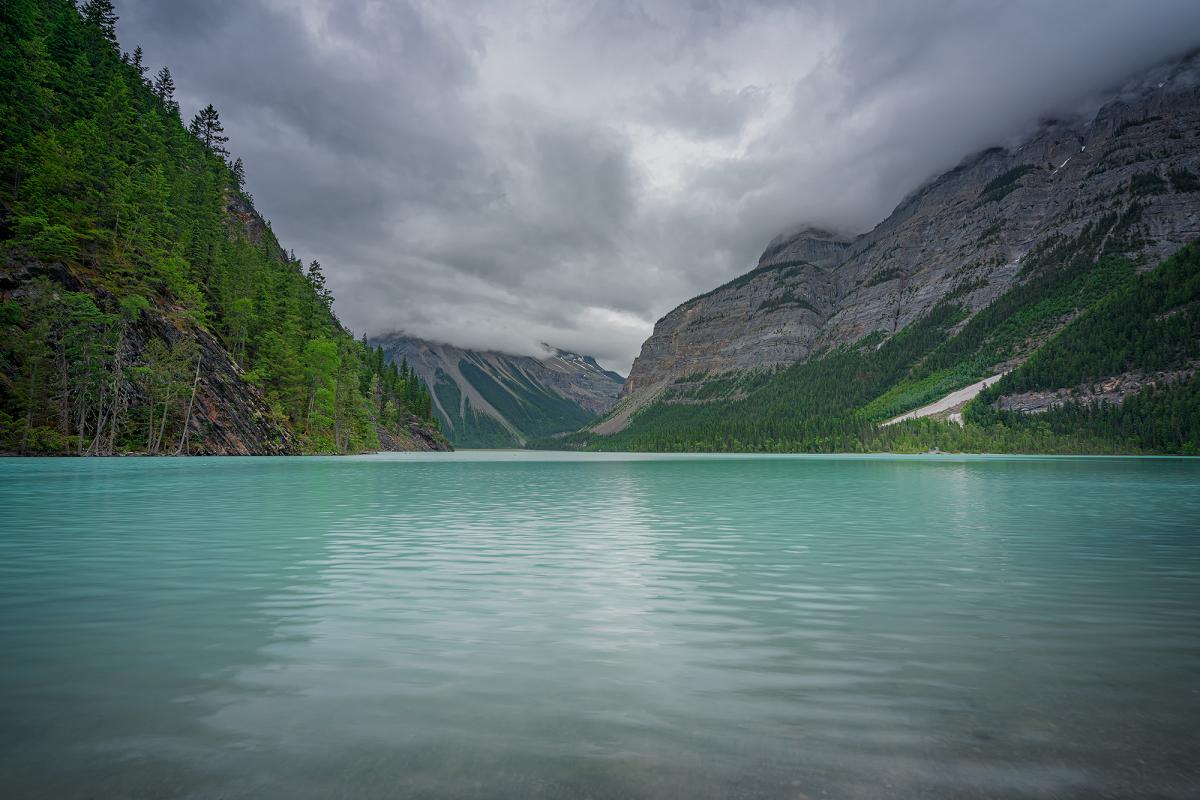 Arriving at the campground I hastily set up my tent right before the rain started coming down. It would not let up for the next three days, and after making a few attempts at taking photos around Kinney lake, I decided to give up and avoid risking water damage to my camera and lens.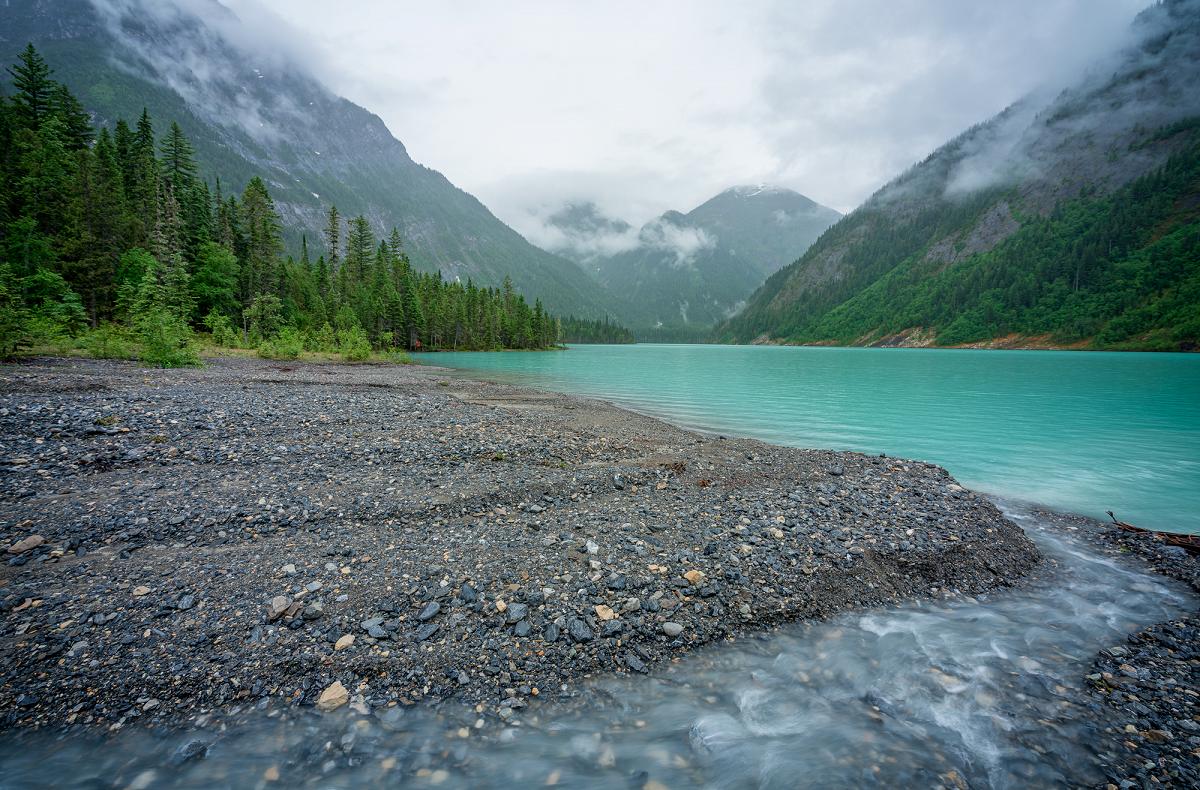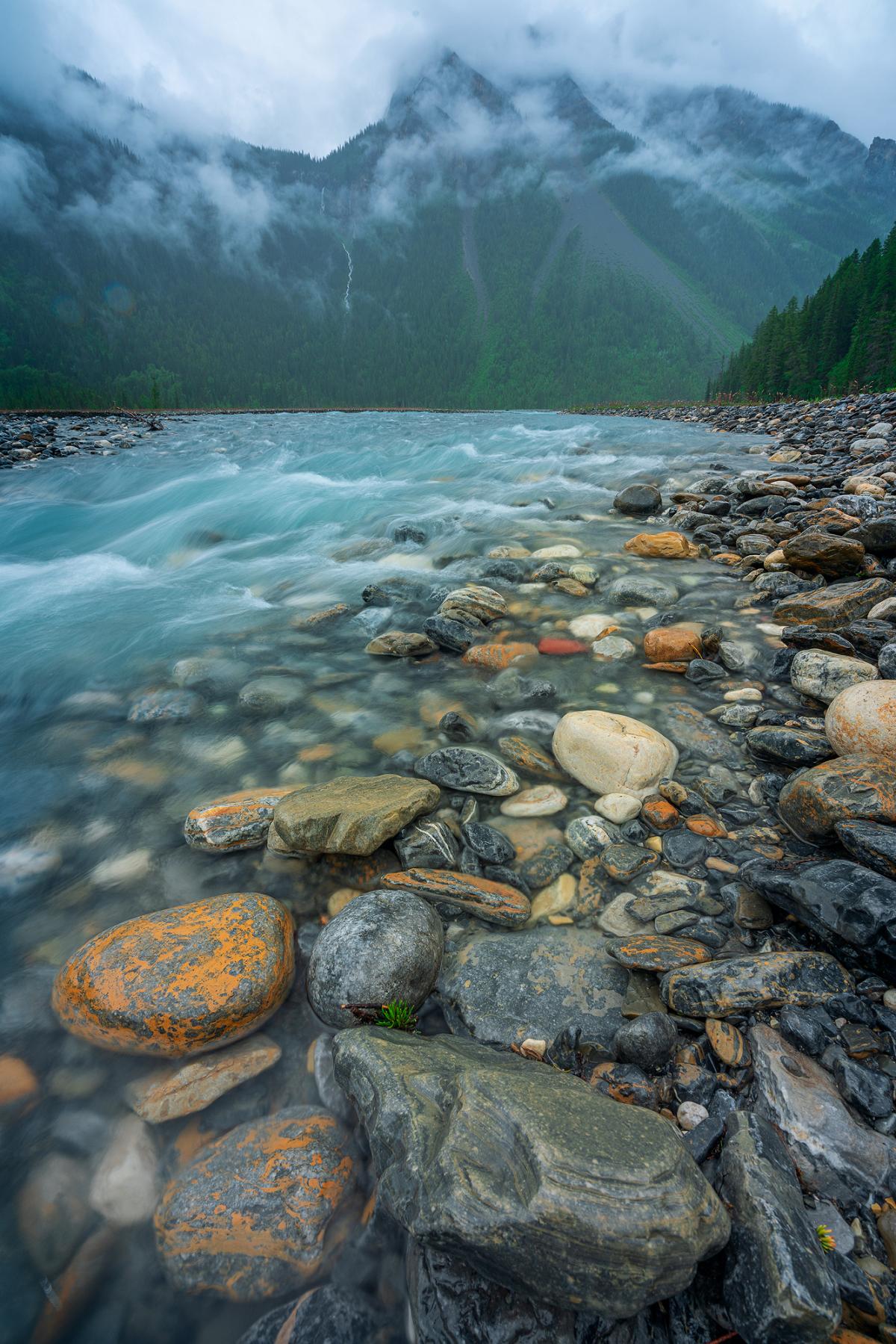 The rest of the day, I spent hanging out in the shelter, where I met other friendly hikers. Technically the wooden structure was closed off with caution tape, but the cold and wet weather likely drove people to ignore it. At first, I was reluctant to use it but gave in after realizing I didn't want to cook in the pouring rain. 
Day two
 I had gone to bed with the sound of rain pelting my tent, and woke up to the same, resulting in the easy choice to forgo any sunrise photography and continue to sleep. When I finally decided to get up, my main concern was how to avoid packing up a soggy tent and soaking the rest of my backpack. I decided to put everything inside the tent in my bag, then carry the still set up tent to the group shelter once everyone had moved on, allowing me to shake as much water as I could off and let it dry a bit before packing. The plan went off without a hitch. 
It was still raining when I set forth to Whitehorn, and for the most part, I focused on the trail and my heavy pack, my A7R2 covered in a ziplock bag, but I hardly made an effort, only stopping to take a couple of shots of the river crossings.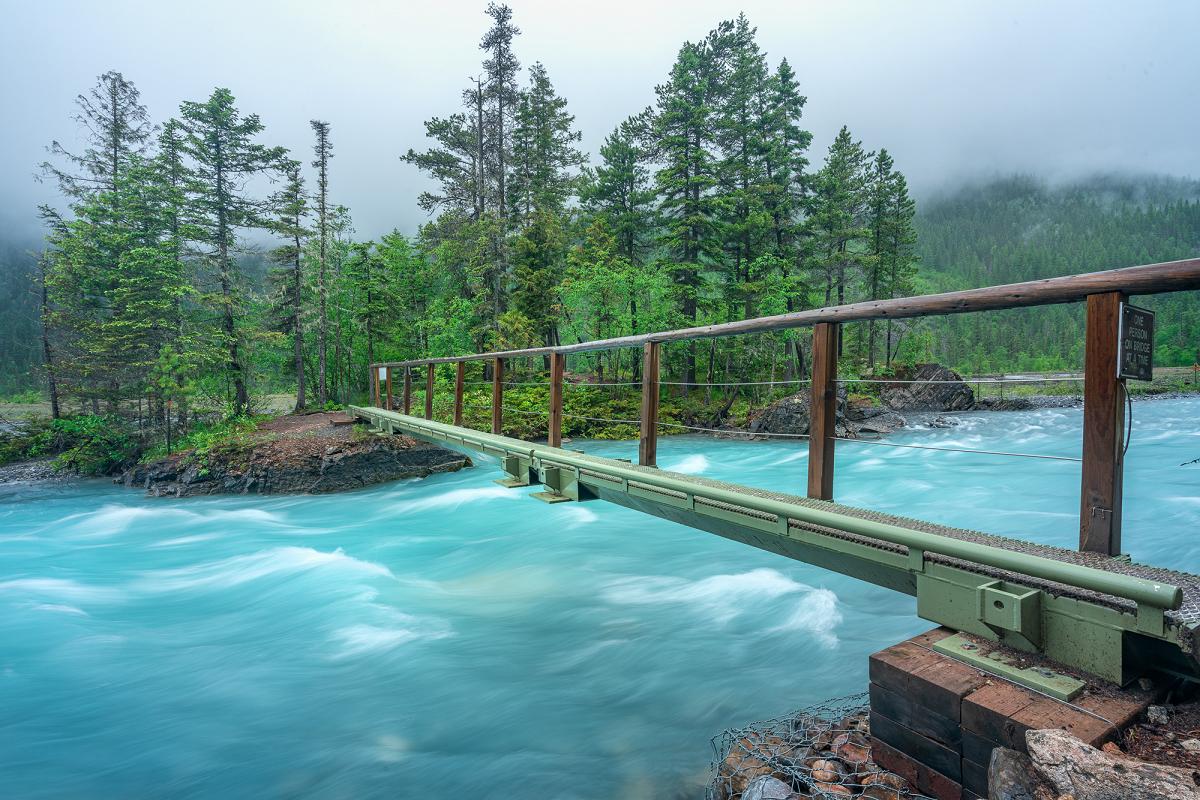 The rain kept coming down as I trudged through the switchbacks to Whitehorn, upon reaching the campground you must cross a cute little suspension bridge.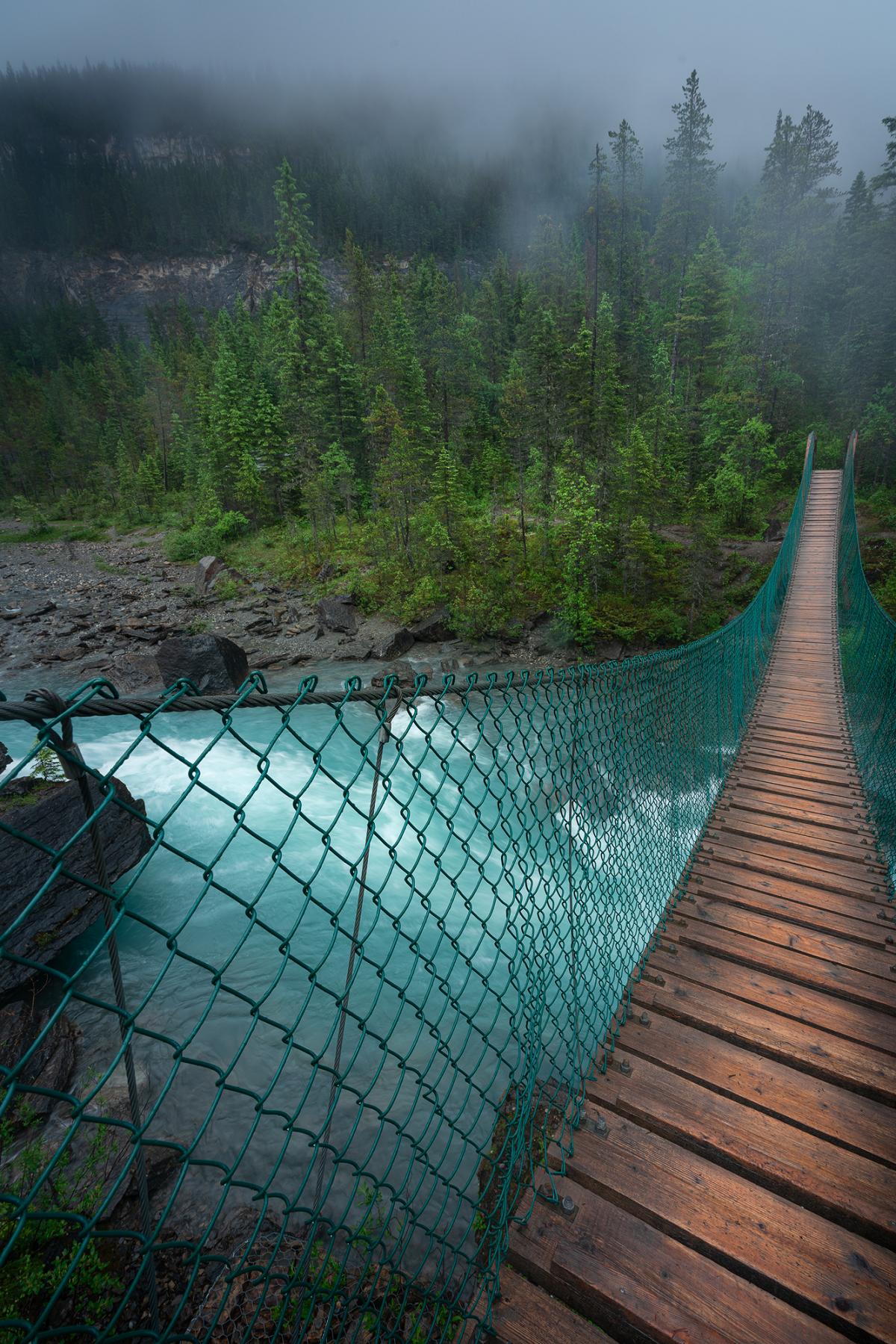 So because of what was available on the reservations website and my general ineptitude, I had booked my second-night stay at Whitehorn campsite, only 4 km from Kinney lake, not really a full days hike, but I can tell you after the several kilometers of steady incline,  wasnt exactly sad to already be arriving at camp.

The group shelter at Whitehorn was a sight for sore eyes, especially since someone had lit the woodstove, I could at least dry my rain jacket. There were more people than I felt comfortable within the shelter, but at this point, I was resigned to taking such risks, sad as it is to say. I spent the rest of the day in the shelter talking to hikers, more and more people would show up soaked, happy to find a warm stove going. It was miserable, but without the rain shelter and stove, I can only imagine how much worse it could have been.
Day three
Day three from Whitehorn to Berg Lake Campground would be the most challenging. Just after leaving Whitehorn the trail climbs for four km and carries through forest and meadow for another six til Berg Lake Campground. Again, I woke up to the rain.  
I made my breakfast of oatmeal and two cups of coffee, hanging out talking to other hikers, dragging my feet, not ready to leave. Eventually, I forced myself to lift the heavy pack onto my sore shoulders and start the long trudge. There are some incredible waterfalls along this section, and I made a few attempts at photos. It's hard to tell where the real fog ends, and the mist on my lense begins.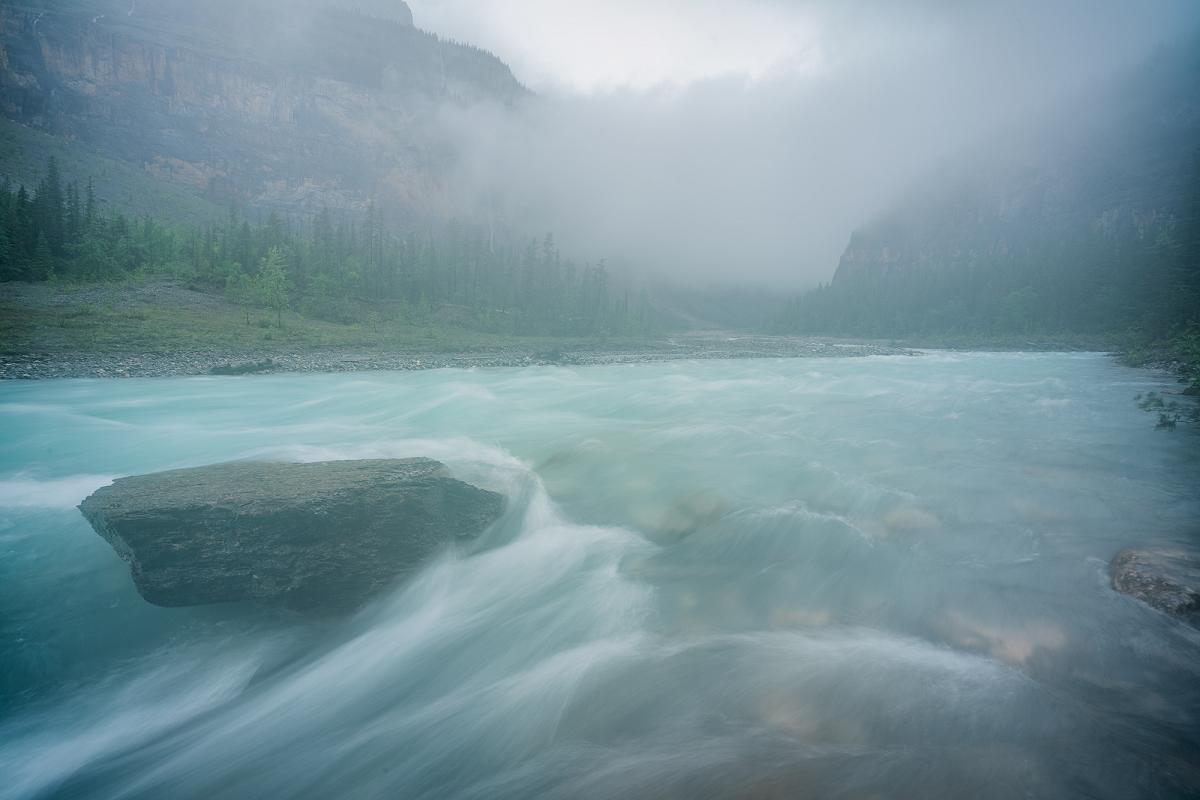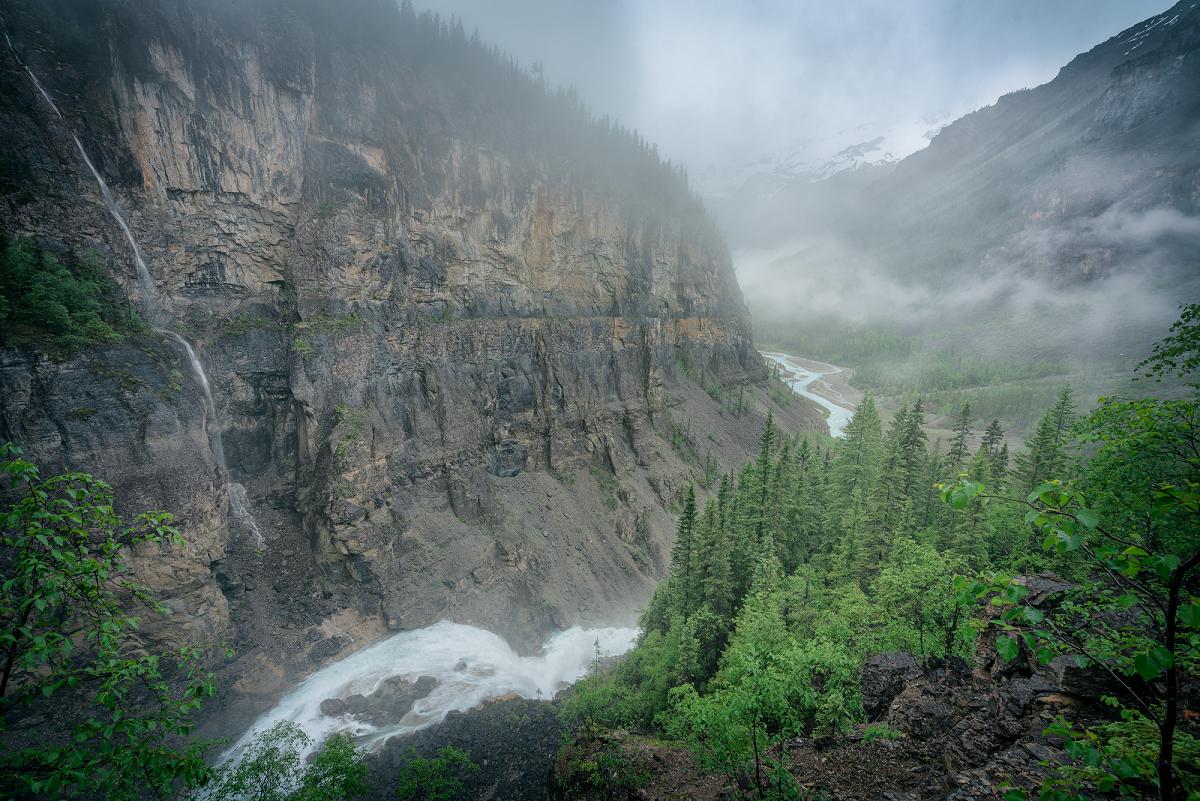 I didn't stop at Emperor falls; I felt adding the spray of a massive waterfall at this time was not worth the blurred pictures and extra risk of water damage to my camera. Not going to lie I had a rough time going up that 4k of switchbacks. 
Once I made it up the trail flattened out, passing through a spruce forest until finally entering an open valley. Mount Robson, mostly obscured by low clouds came somewhat into view. Here the wind started blowing fierce, freezing my hands. Another two kilometers and I was at Berg lake; I didn't even go to find a campsite; I just went straight for the large cabin.
The day before I was told the cabin was boarded up, so I was pretty happy to find that was no longer the case. A couple of hikers, who saw how soaked I was, made sure to mention to me it was now open. How it came to be open was not big mystery, people had pried the boards nailed across the door off after three  straight days of cold and rain, and I don't blame them, and everyone using the cabin made sure to mention how glad they were someone had gone and done it so they didn't have to.
Inside was a soggy humid mess of humanity. Any available spot you could hang an article of wet clothing, was, for the most part, being used to do just that. I found what open hanging space was still available to dry my rain jacket. The stove was going, but not very well; the warmth inside the cabin was more from the people stacked inside than anything else. 
Moving out to the porch I lit my pocket rocket stove to boil water for a coffee and a black bean and rice meal. It looked like things might be opening up, some of the clouds appeared to be lifting, and I could even see Mount Robson resembling the iconic postcard images I had seen all my life, but was witnessing now for the first time in person.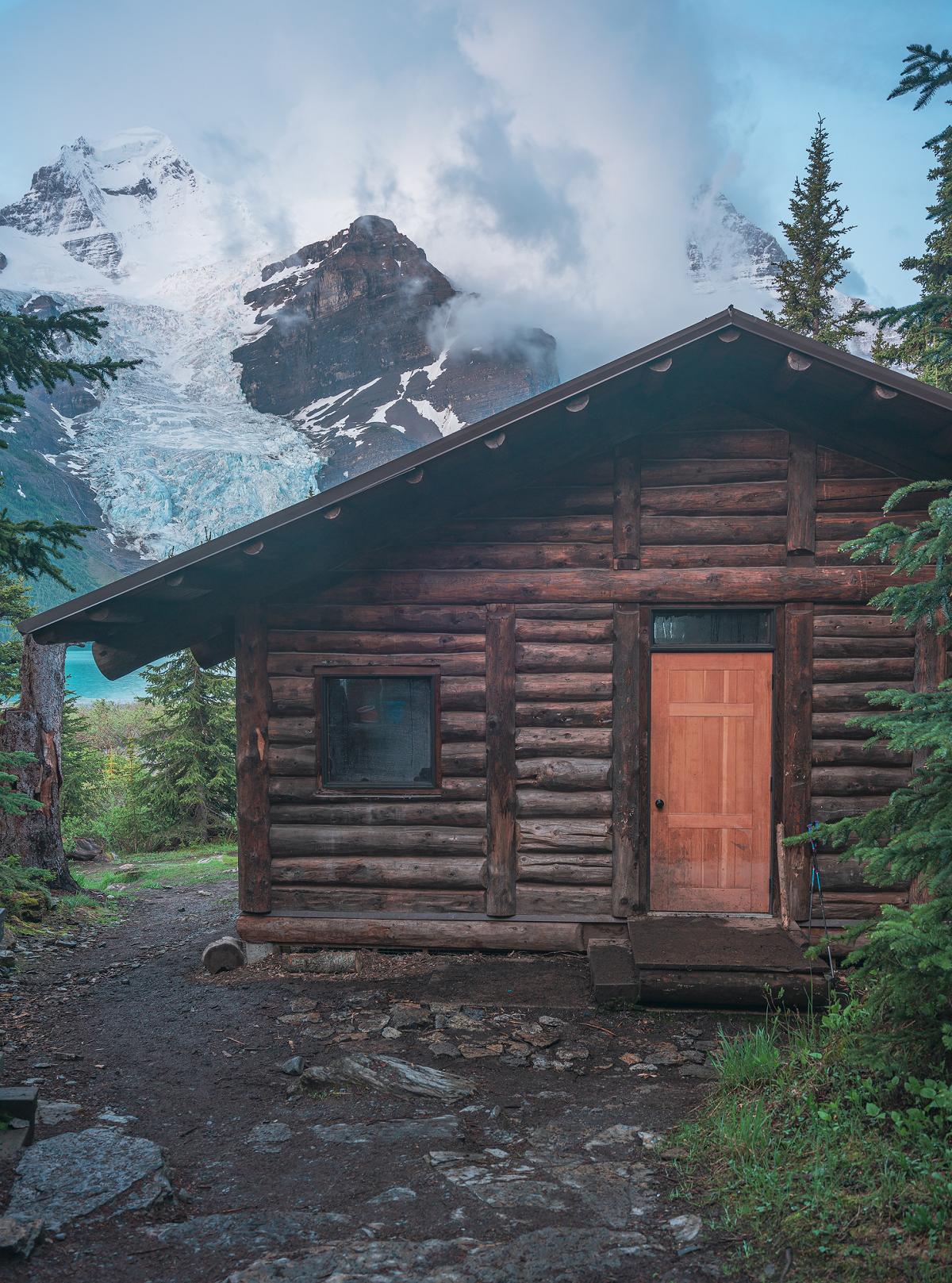 About an hour later, someone noted that the rain had actually 100% stopped. Finally, an opportunity to take photos! People started shouting and cheering. It was the first time in what felt like forever I was not being splattered with raindrops. I grabbed my camera gear and leapt into action, working along the lake, trying to find an interesting foreground to use with Mount Robson and Berg Lake as a backdrop. Sadly there weren't many flowers, though I found a small patch of "mountain avens", and focus stacked this image: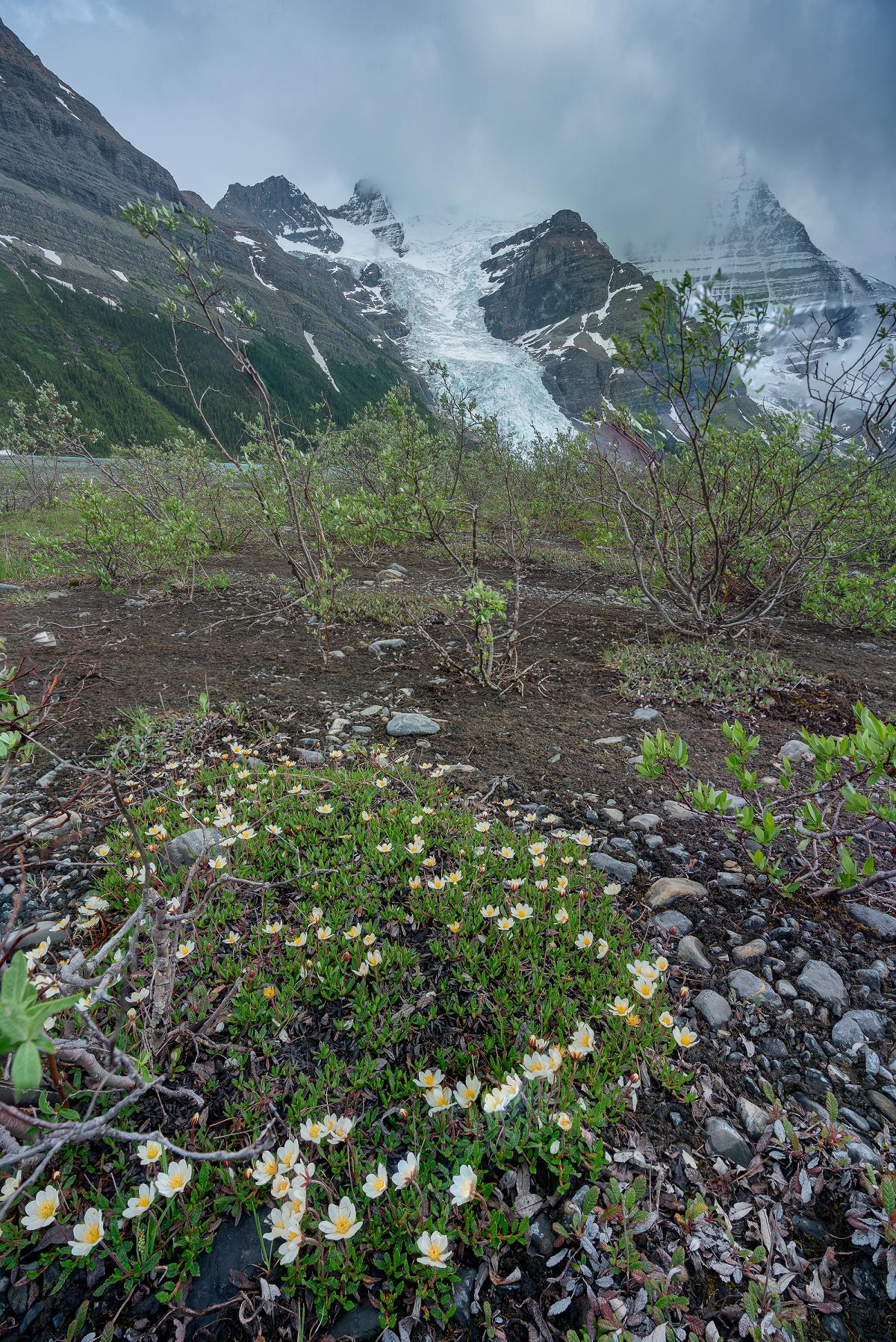 I wish I had an ND filter as the wind was creating some nice waves on the lake. I was unable to slow the shutter down enough to get a decent blur.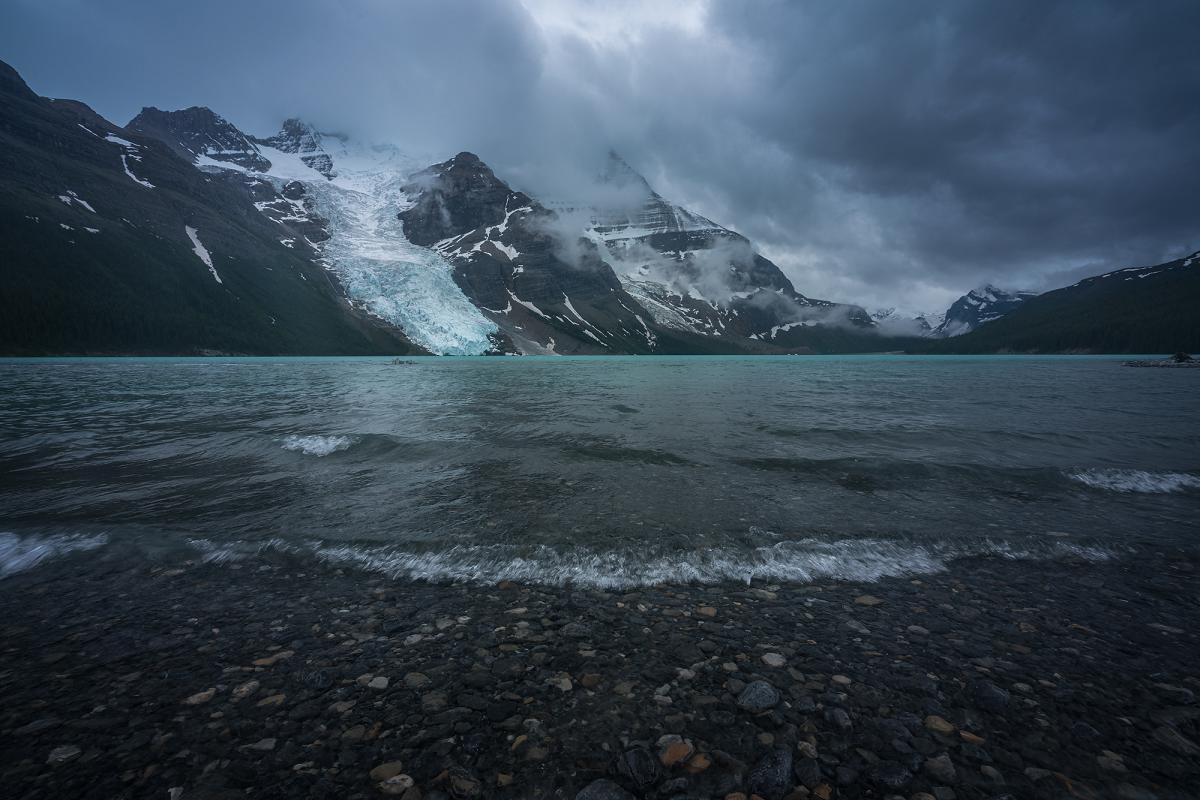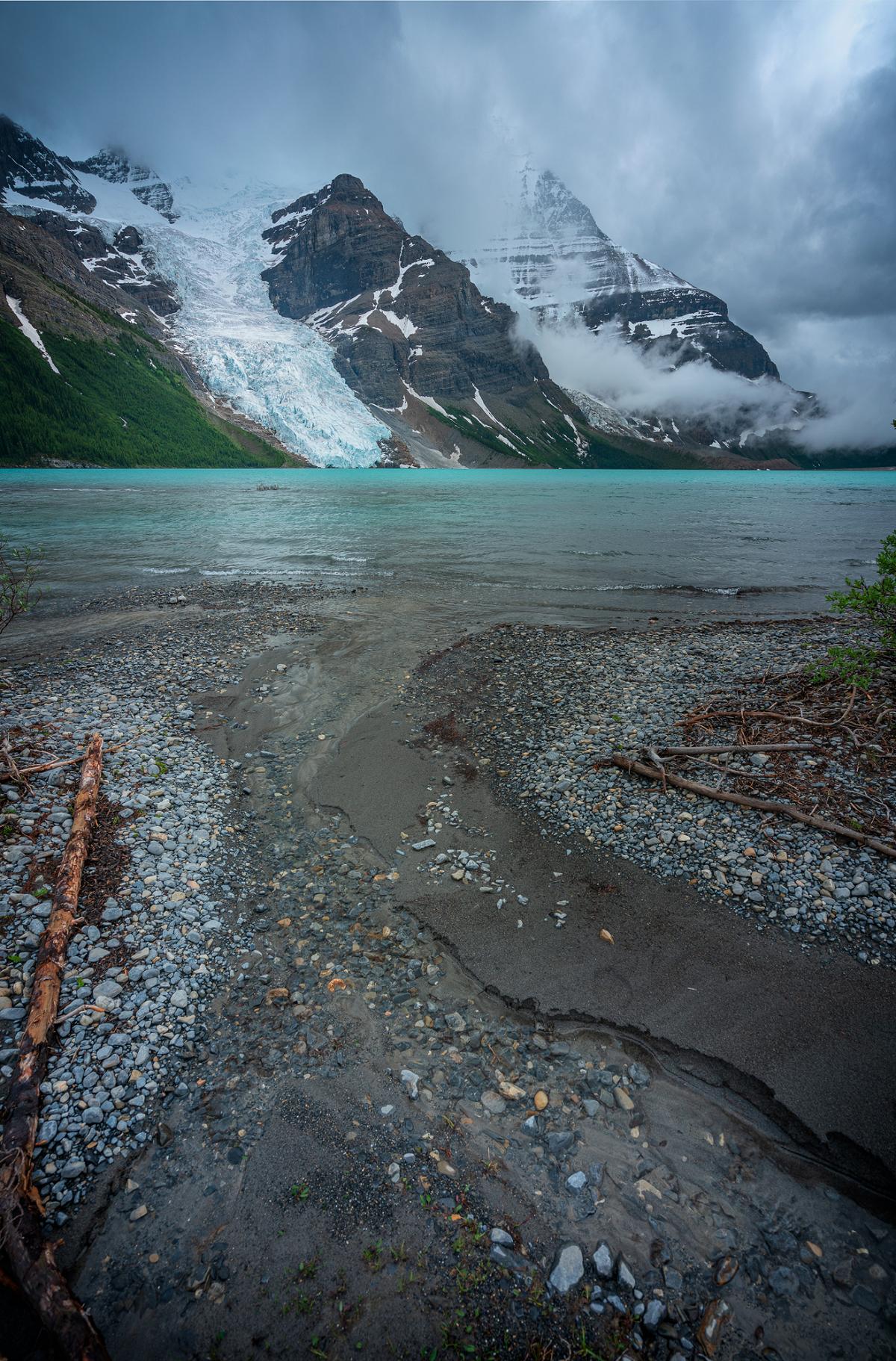 I loved how the greens of these Willow Shrubs looked against the Icy blue lake and glacier; the subdued lighting made them stand out.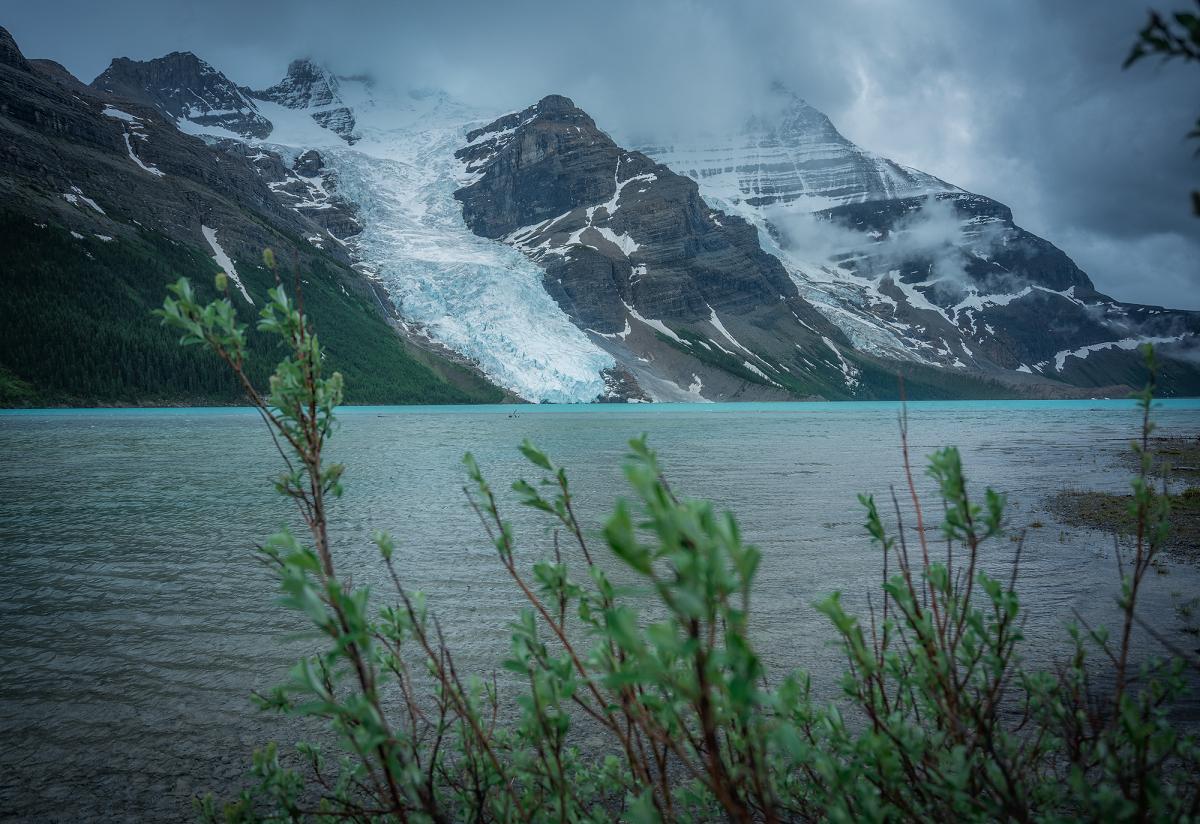 After an hour, I realized I had better start setting up my tent in case it began raining again. I ran back to get my pack in the shelter and proceeded with unpacking the soggy mess at my tent pad. I made the dismal discovery that I was missing a pole, not the main poles that formed the structure of the tent, but the small rod that widened the top so the rain layer could stretch over, allowing rain to funnel off the sides. I managed to rig up something functional with rope. That helped a little, but I was miffed that I had already lost two pieces from my new tent. 
After the tent erected, I set off to photograph in the last few hours of light. I hustled towards the south side of Berg Lake, looking for interesting compositions, like this small stream flowing into the lake.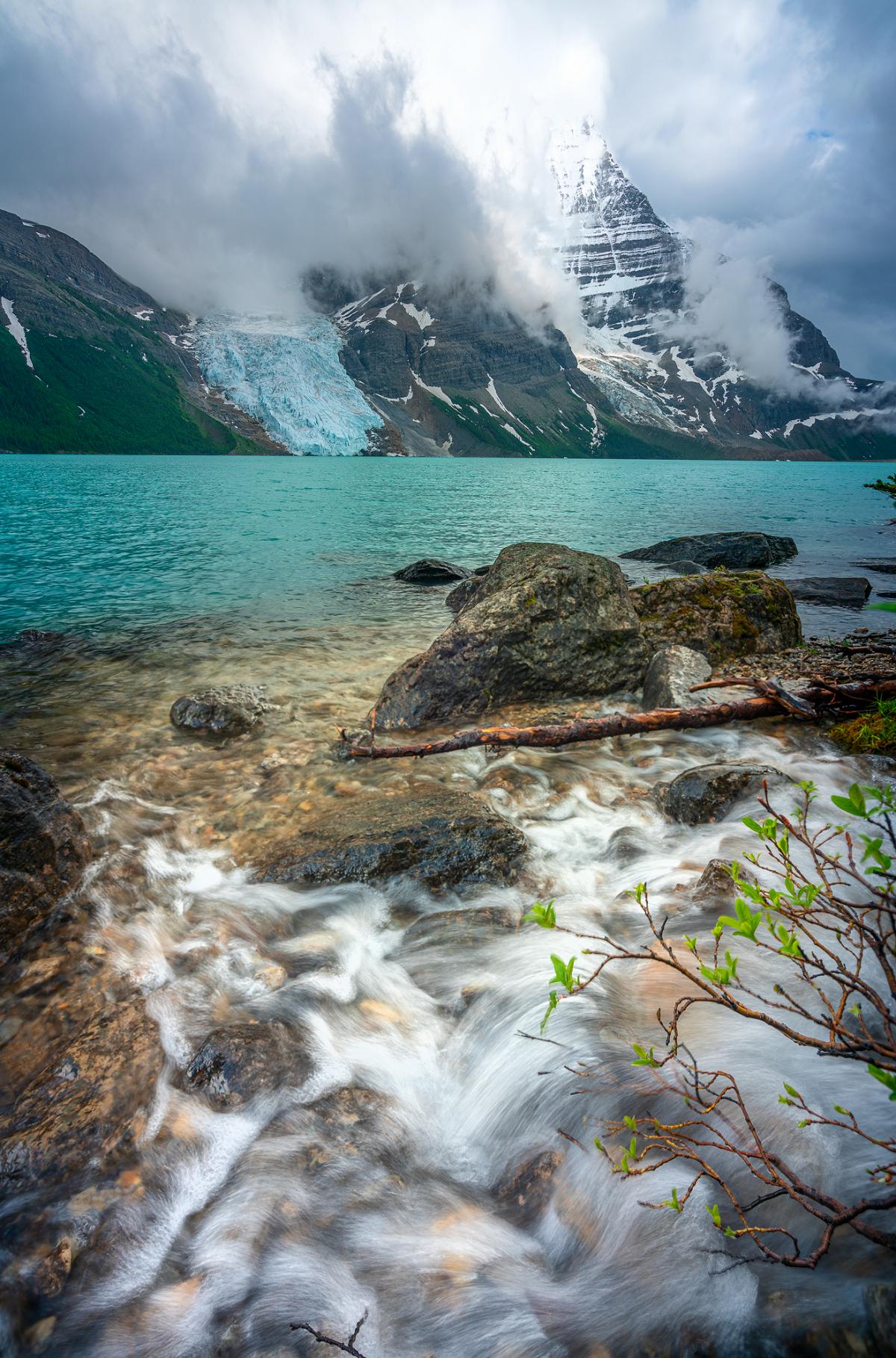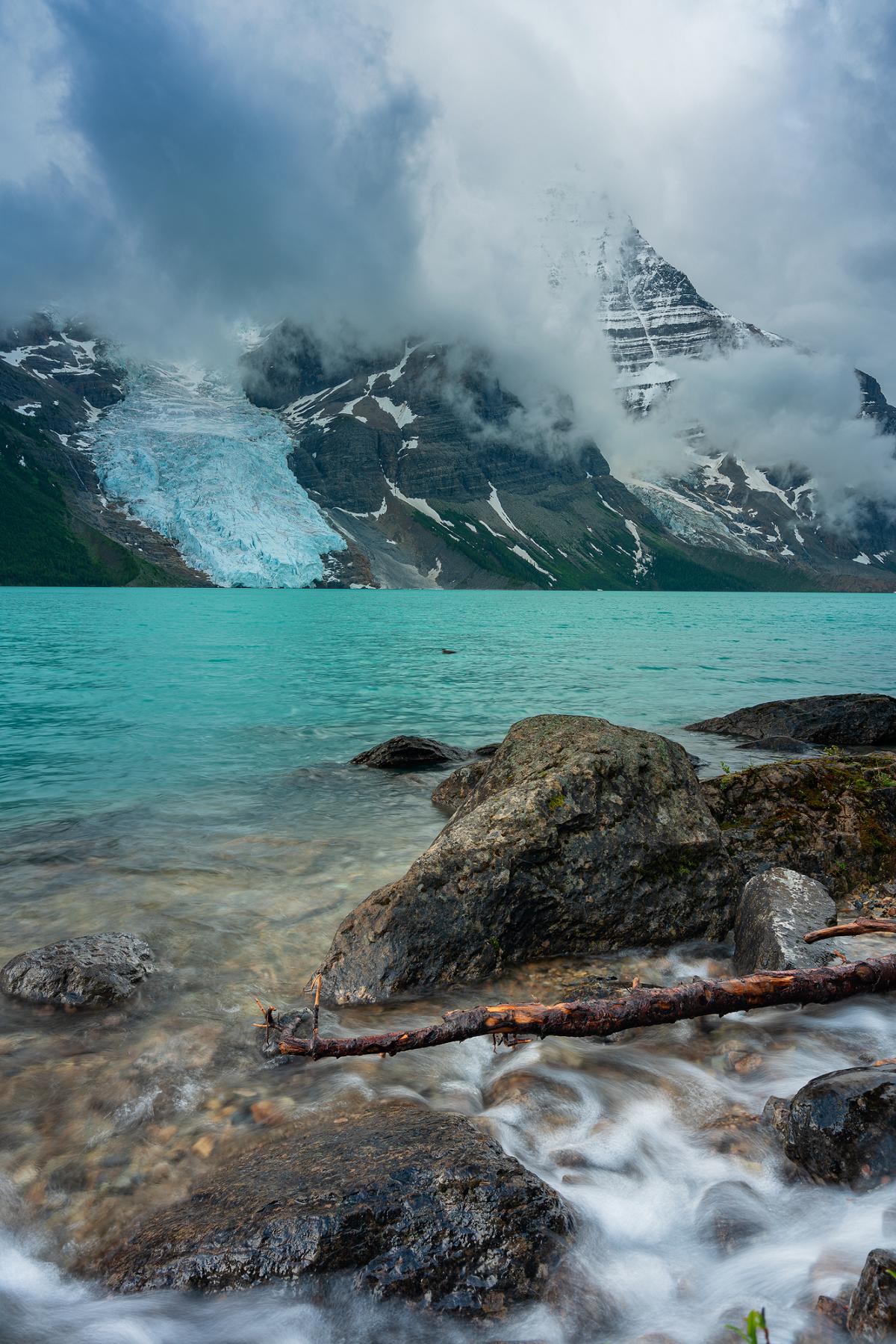 My hopes for any inspiring sunset were being dashed by more grey clouds above. But it did give the icy blue lake extra pop, especially when combined with these brown rocks.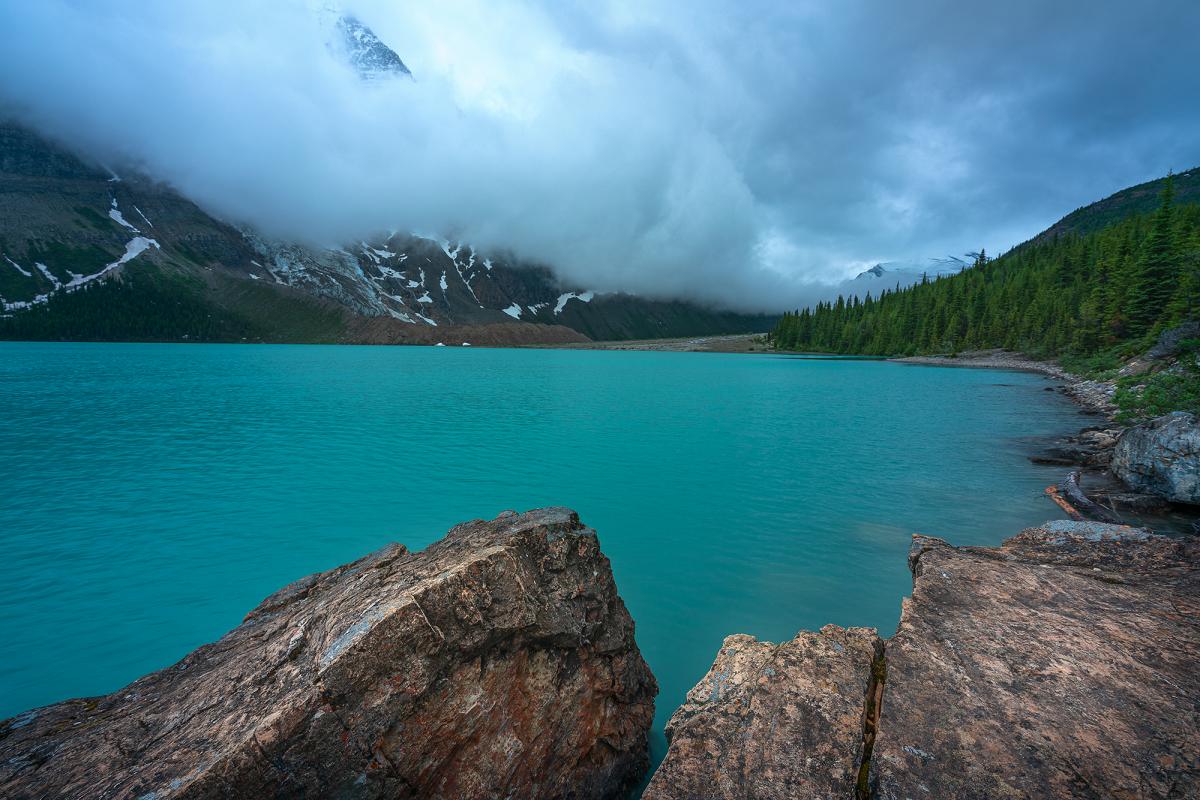 Along the trail I stumbled upon a porcupine, and of course, I didn't have my FZ1000 with me, you know the camera I got just for these types of situations when I ran into wildlife. 
I followed the  porcupine along the trail, he didn't seem to wanna move off to the side, so I just kept walking an waiting, until to my amazement, another porcupine was plodding along the trail from the opposite direction, and I exclaimed, my god there's two of them! 

The rain soon started again, guaranteeing there would be no epic sunset. By this time, it was pretty cold, and the temperature was only going to drop. I was wet; the sleeping bag was moist, some of my clothes I had left in the shelter were damp, I put on any relatively dry clothing I had left, zipped up my bag and tried to sleep. 
I woke up around 4 am, there was a bit of light, the sun would be rising around 5, I was shivering but managed to drag myself from the tent. It was nice out, freezing, few clouds, dark blue. I shook the cobwebs from my mind and raced to berg lake. 
The evening before I had found an interesting shot that I thought would work for sunrise, there was still a large cloud hiding the top of Mount Robson, yet it was still the most I had seen of the mountain yet. 
Using the motion of the water, and the stump as a midpoint, I framed this shot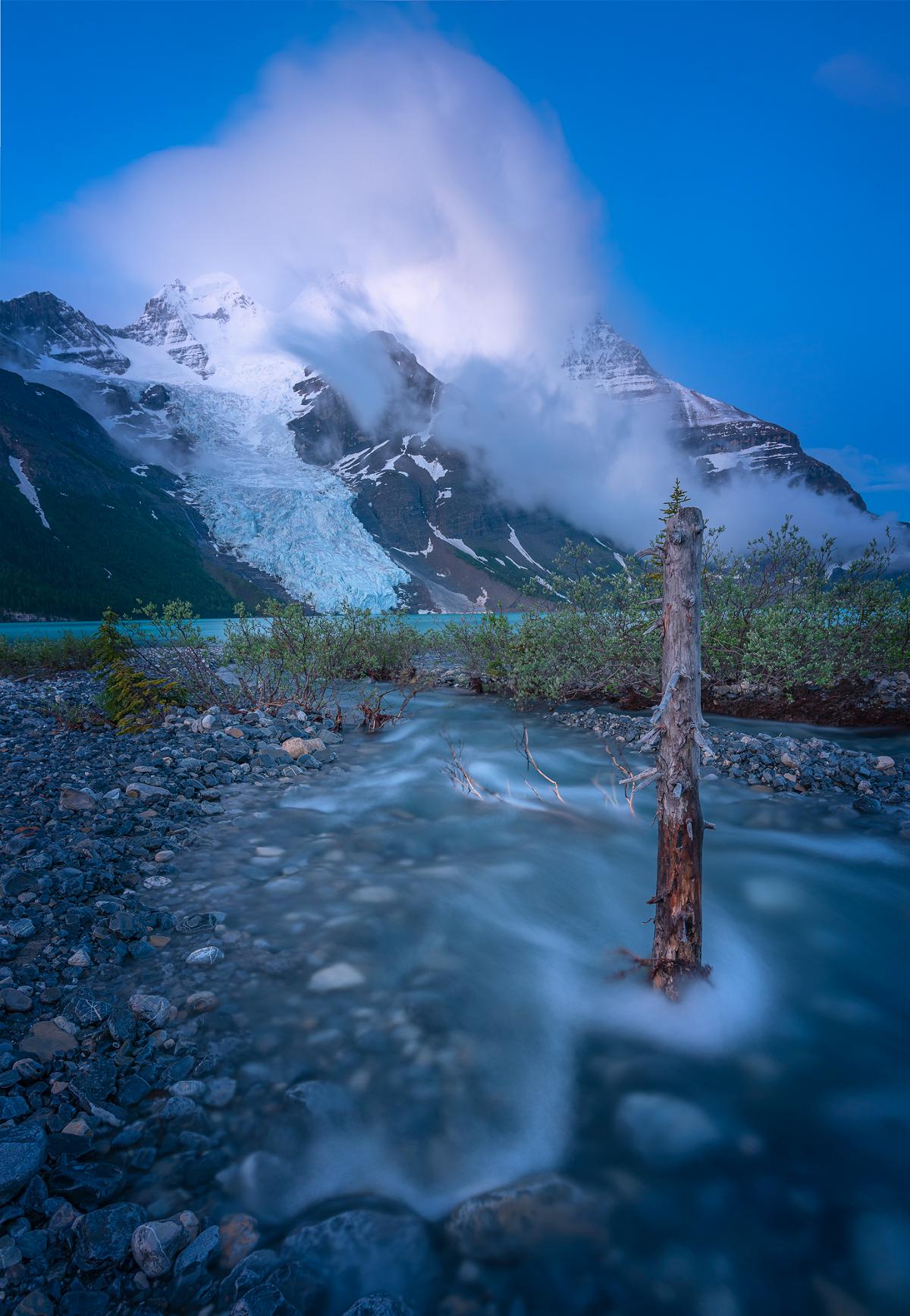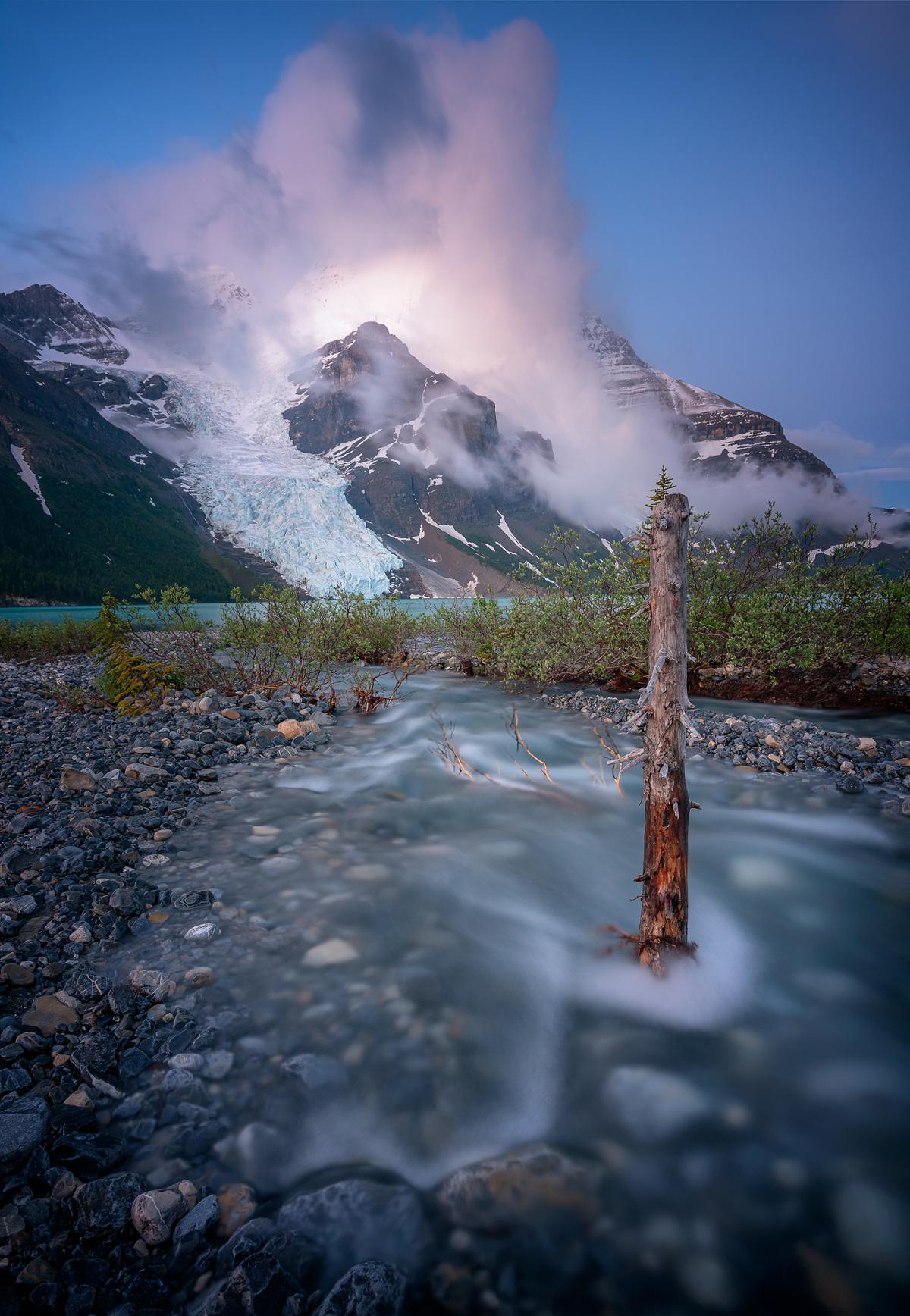 I knew that the sun would be rising in the opposite direction of Mt. Robson, meaning I could only hope fore some nice pink light to paint the peak. I moved on trying find interesting vantage points. I ended up back at the the small stream, and again got up close and personal with the willow shrubs.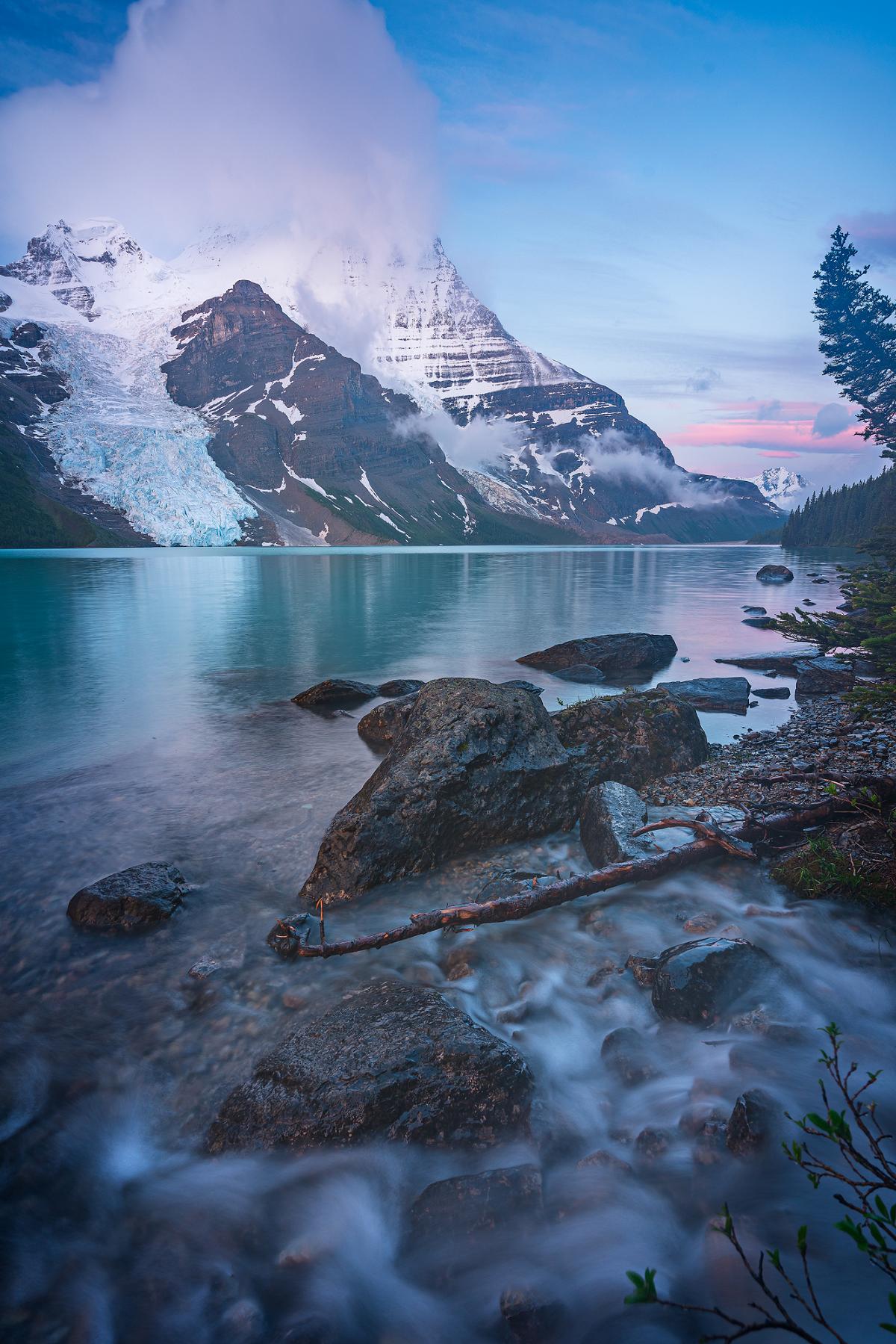 Turning back towards the sunrise, I framed the small stream and rearguard mountain as the sun began to ascend the morning sky. I met some other photographers, and they mentioned how it was terrific light, just in the wrong direction, I agreed, however, it was still a mesmerizing experience that lasted all too briefly.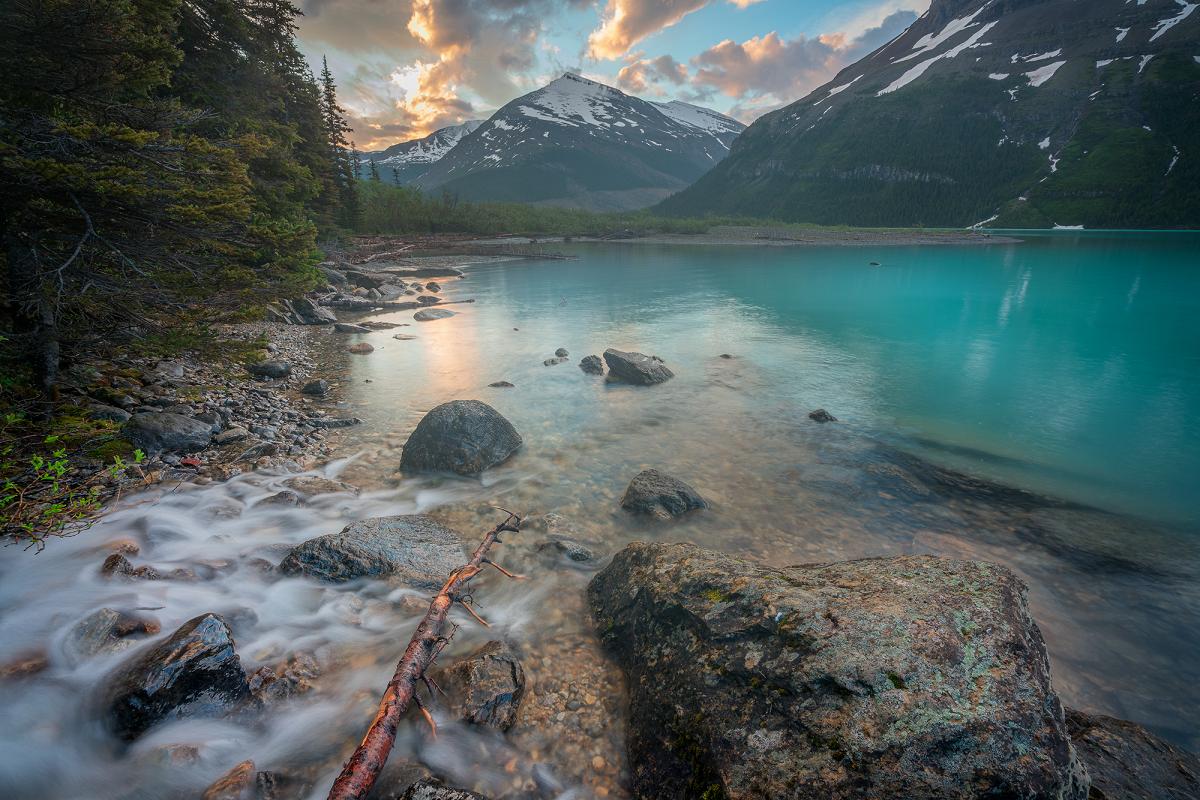 The Sunrise lasted all too briefly, but I was starting to get hungry anyways. Back at the shelter I made coffee and, realized I had eaten all my food other than two oatmeal packs and one more dehydrated dinner. I decided I would hike the entire 21 km back to the car instead of just the 14 to Kinney lake for my final night. I ate my lasagna right there at 7AM, hoping it would give me the energy i needed to hike back. 
It's amazing how different everything looked with the sun out. I hadn't noticed half of these mountains walking in being pelted by the rain and chilled by the wind. I used my FZ1000 primarily on the way back, getting some of my favorite shots of the hike.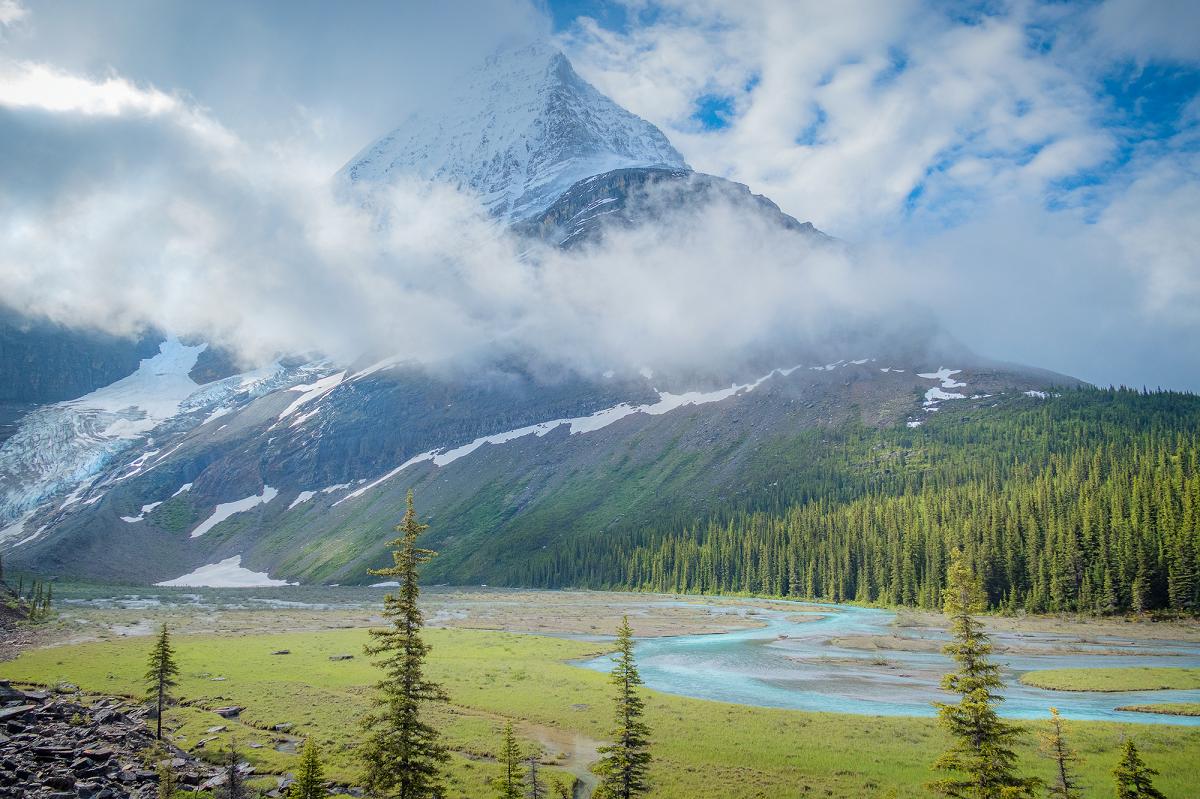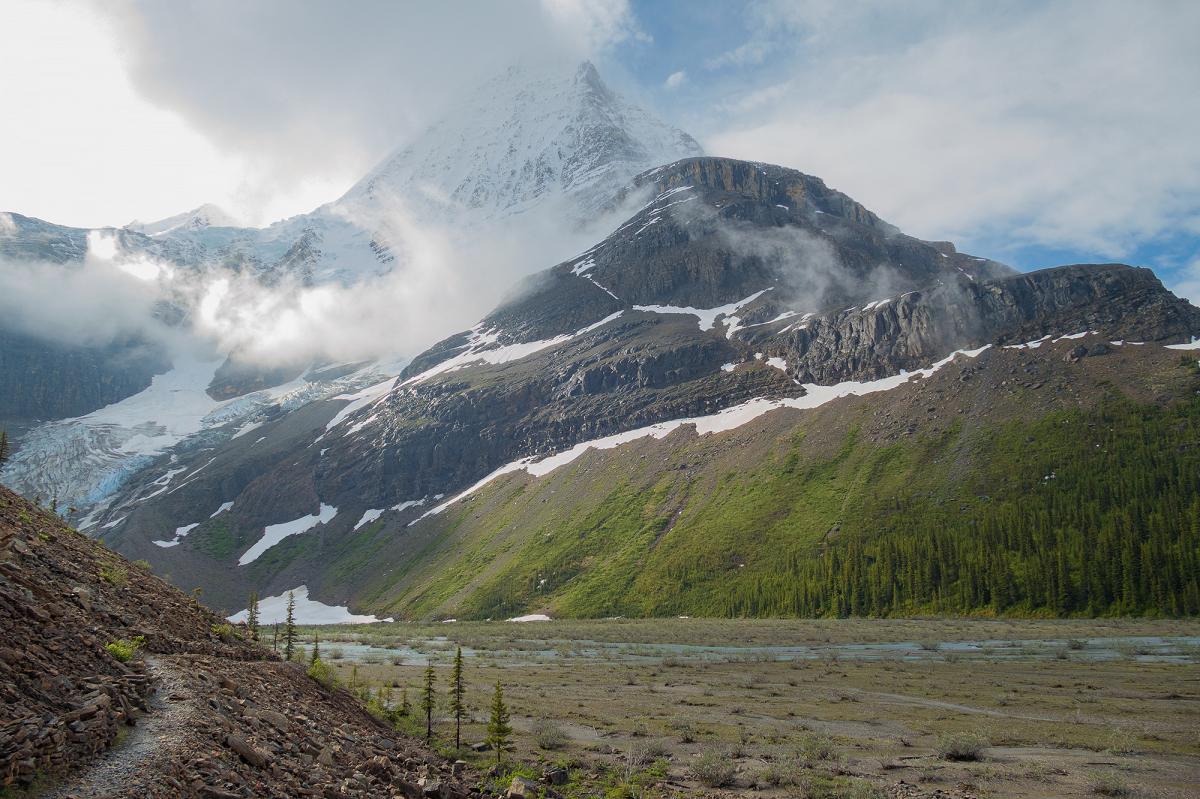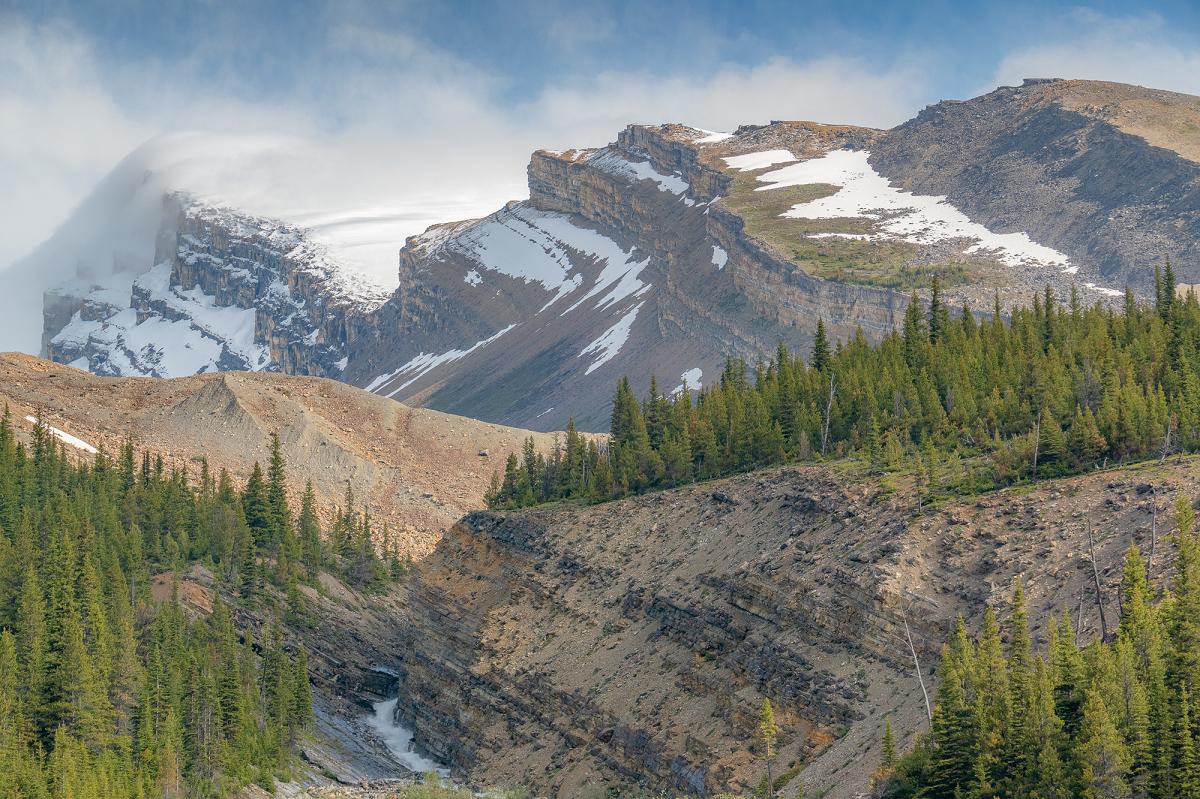 At Emperor Falls campground, I took this photo of Mount Robson towering over the rushing blue water of Robson river.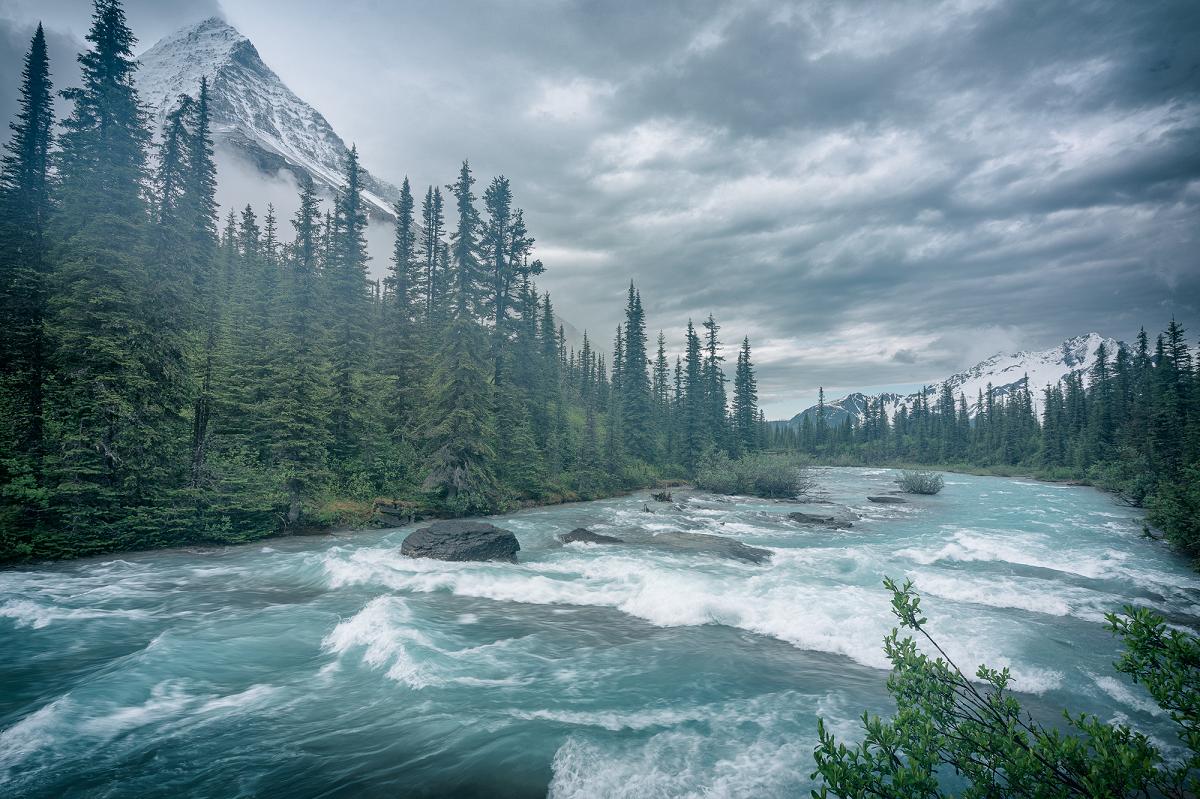 I again didn't stop at Emperor falls. I had become almost a machine and was focused solely on hiking and getting back to my car. By the time I hit Kinney Lake, my feet were killing me, and the last 4 km were maybe the hardest of the entire hike. My shoulders ached, as I hobbled along the last bit of trail. After making it to the car, I was so hungry the first thing I did was take a jar of Kraft peanut butter from my cooler and spoon it into my mouth as I drove to jasper to get real food.

This was not exactly what I had envisioned my first backcountry adventure to be like, I guess when you plan something you should prepare for the worst, and I should have thought: "hey maybe it would just rain the entire time". I could've used a few more pieces of clothing, and a few more morsels of food, Its really hard to plan how much food you will need to eat, when you have never really hiked that hard or long before. 
When I was able to take photographs, it was amazing, one of the most engaging places I have been. Every direction yielded something interesting. I just wish I had been able to spend more time there.  Knowing what I know now I would change how I booked the campsites. Day one I would have done Whitehorn, day two Hike To Berg lake, day three stay at berg lake, day four maybe do emperor falls, and day five probably hike back. 
Kinney Lake is lovely, but I don't think you need to camp there for photo opportunities, especially when it's a 7km hike in and out with little elevation gain. 
This was a learning experience, since doing the Berg Lake trail I have gone on to more strenuous hikes, and I have been all the more prepared because of what happened on this first hike. I can't wait to try it again.