I left my campsite under blue skies and hot sun, the Rim Trail would be my last hike in the park. The trail is aptly named, as it traces the edges of each mountain surrounding the core area of the Park. My goal was to make it to Stone City, a particularly enchanting portion of the trail.
From my campsite at Lake of the Woods to Glacier lake was easy terrain, from there, the trail takes a sharp rise. Most of the elevation gain comes in a 2km strenuous ascent into the alpine. There was a lot of huffing and puffing going on, hiking in the midday sun drains the energy a lot faster. I stopped to admire the view of Glacier lake below.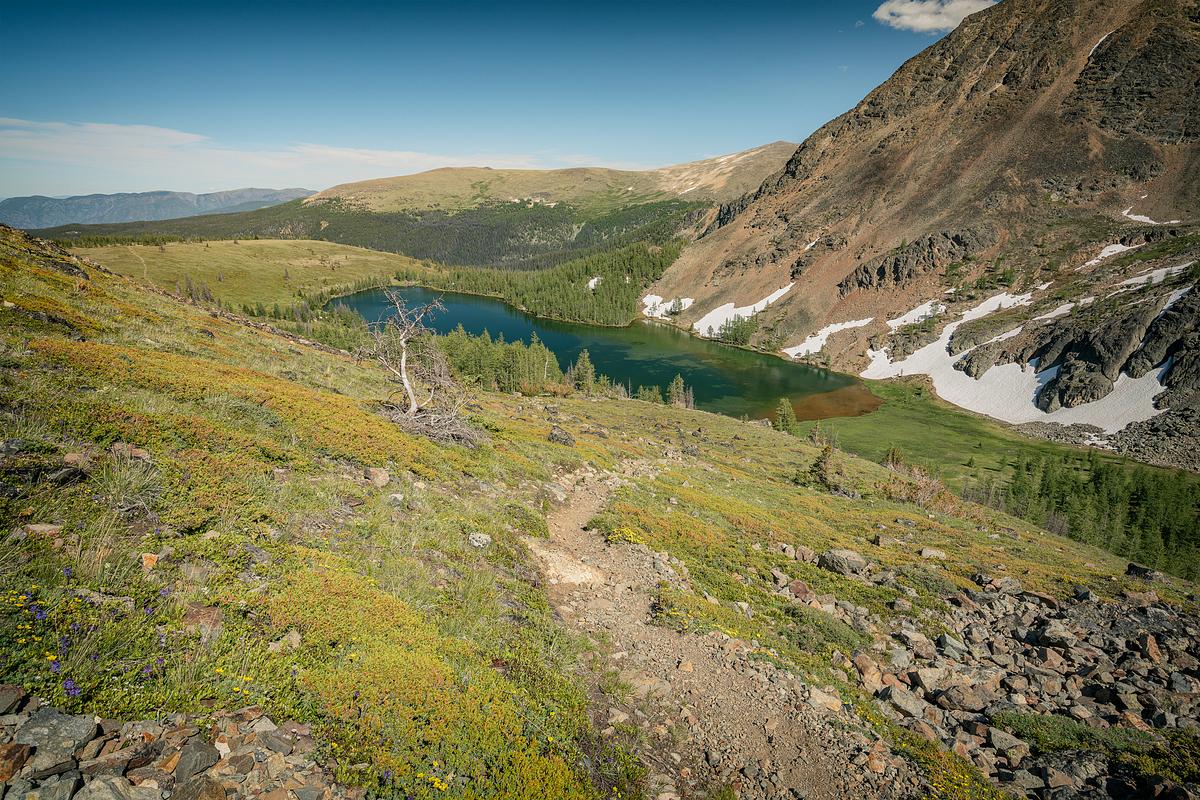 Just before reaching the plateau, I had to slog through giant patches of snow, there was a trail of shoe prints from other hikers to follow, but an afternoon of melting made it extra slippery.
Focused on not sliding down the snow patch, I hadn't noticed a mother Mountain goat and kid approaching in my direction. But there they were, walking intently towards me. I think she just hadn't spotted me, for as soon as she did, the goats veered off to my left.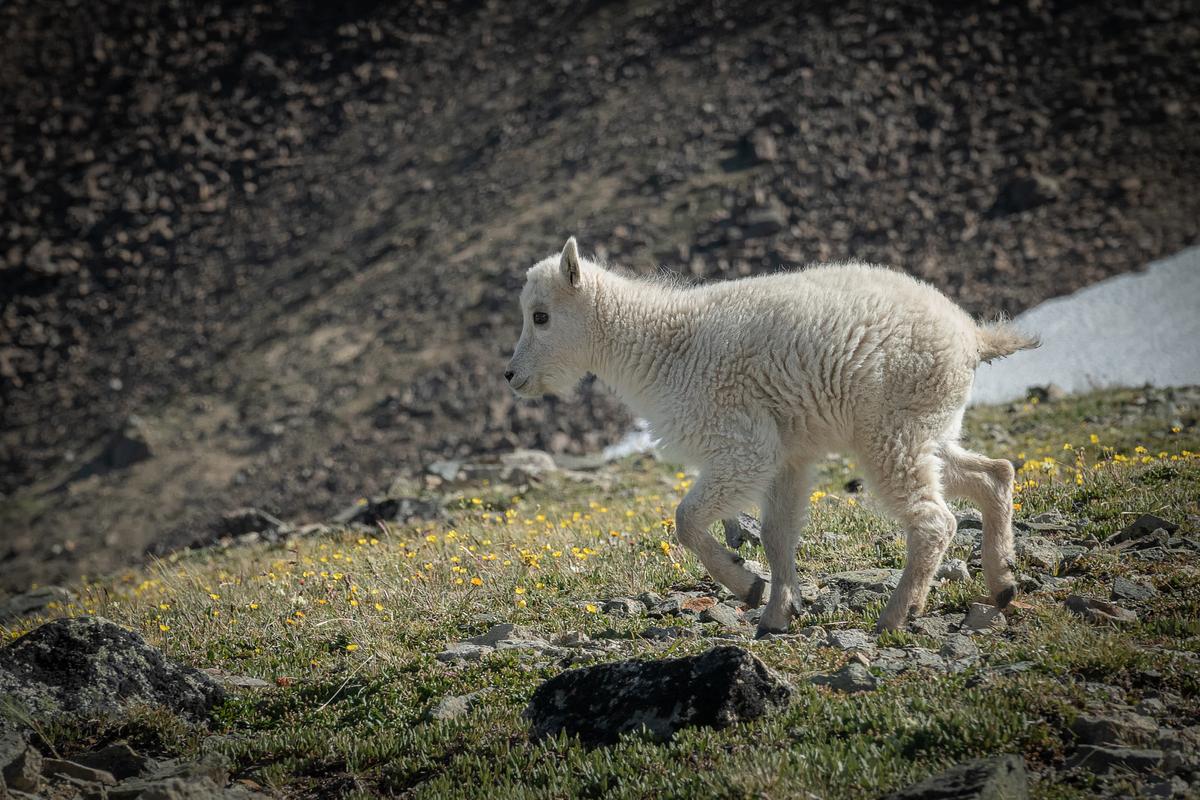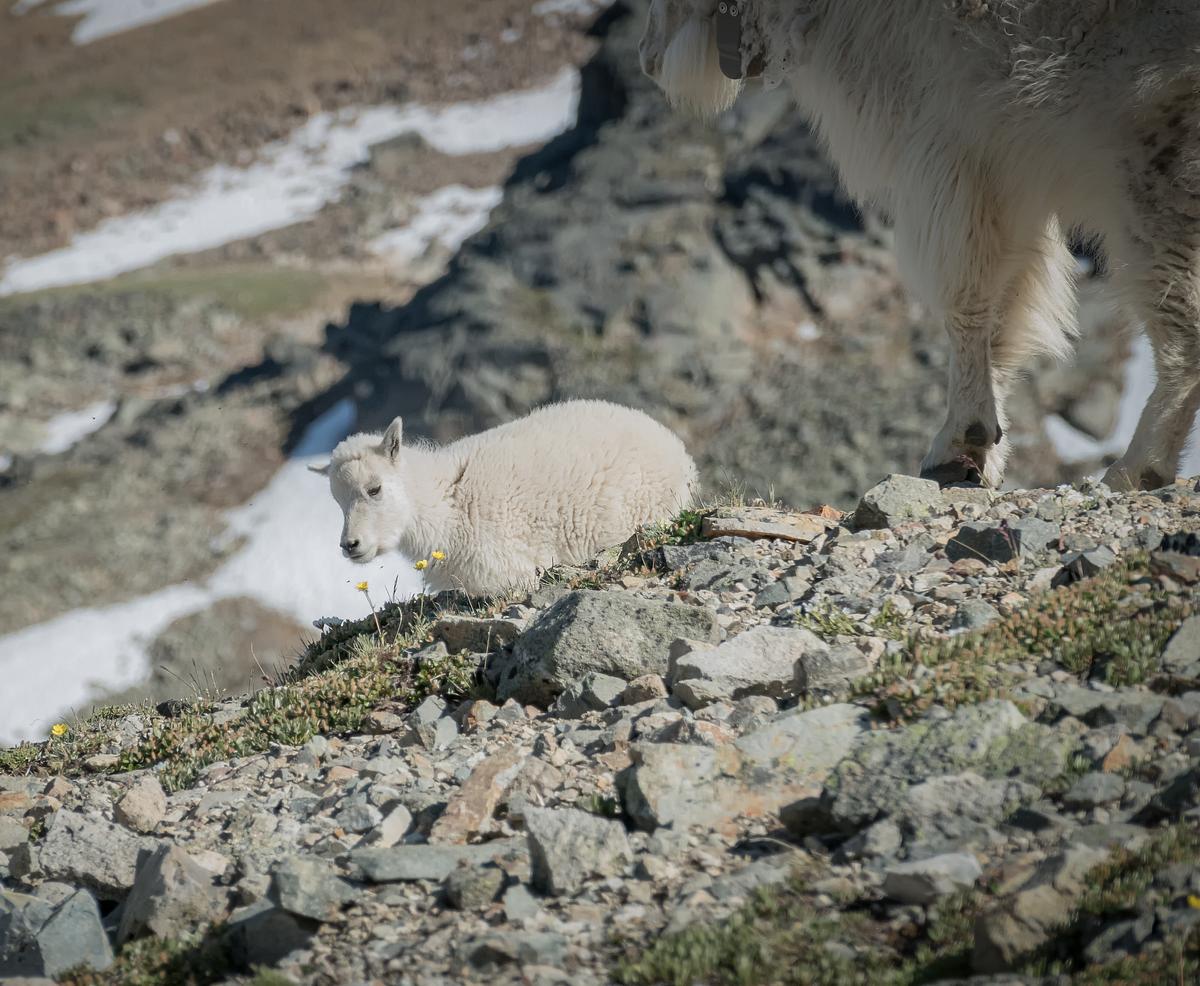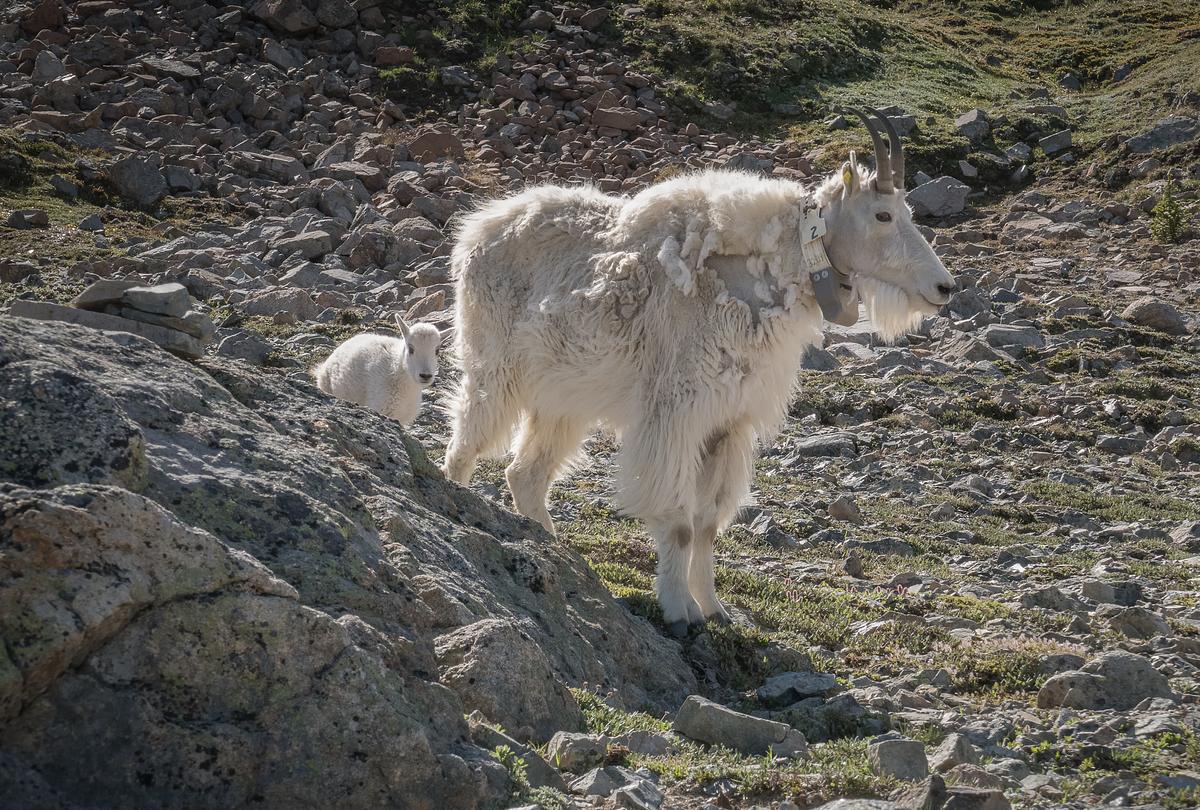 Now this was what I was hoping for, not goats standing around outhouses, but goats surrounded by alpine lakes and vistas.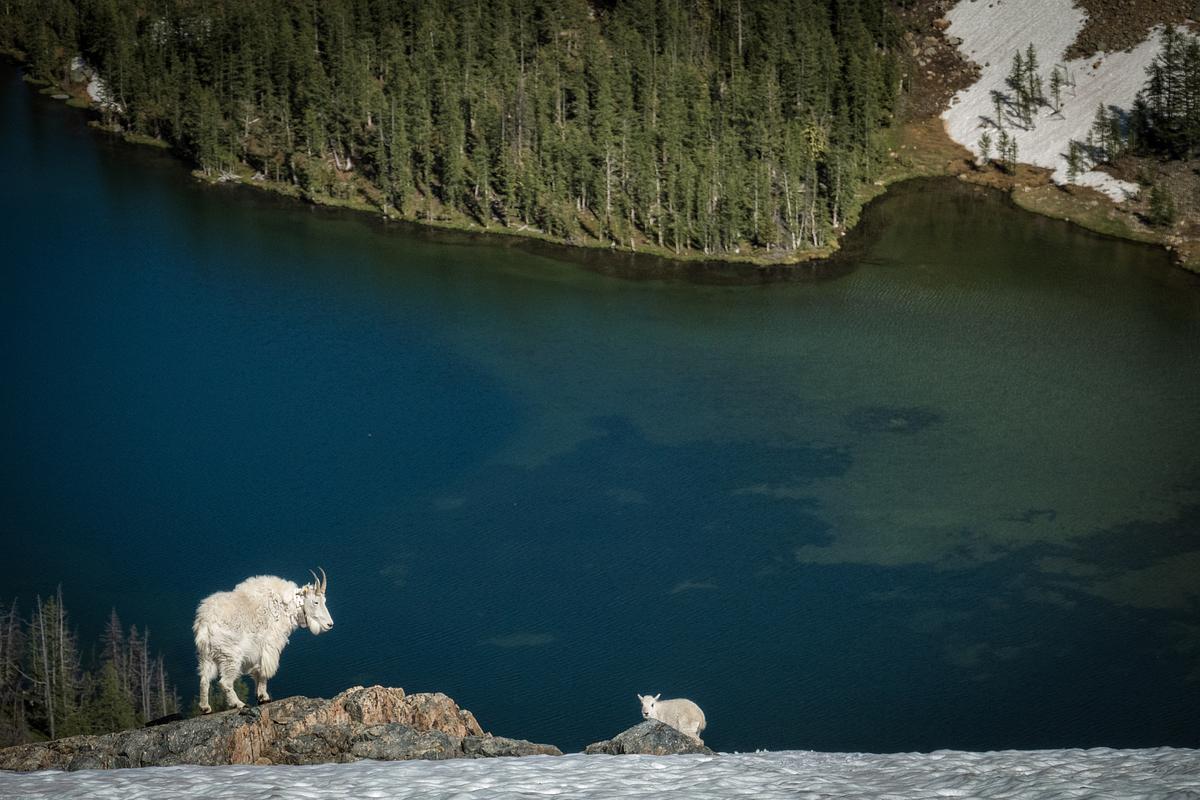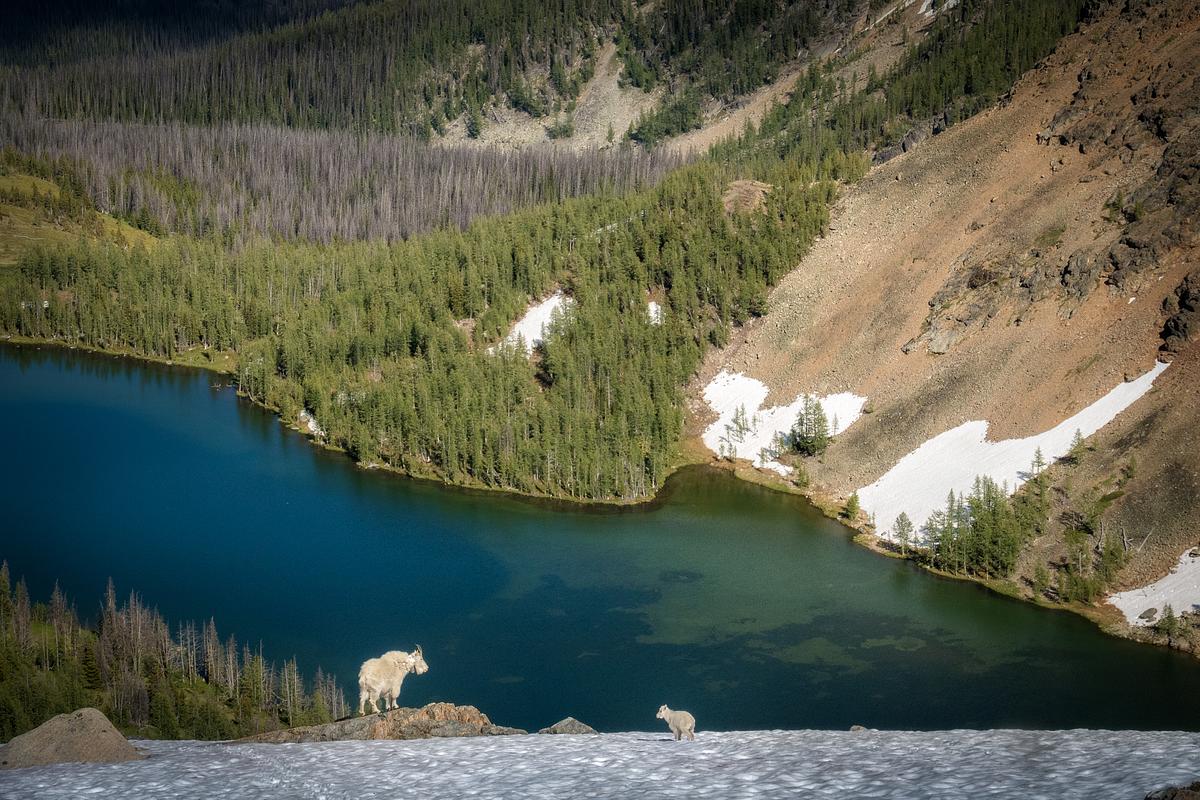 At last, I reached the plateau. It was magical. As far as I could see were mountain peaks of the cascades, all the way into Washington. I looked back to Glacier lake, now tiny. Hard to believe an hour ago I was down there.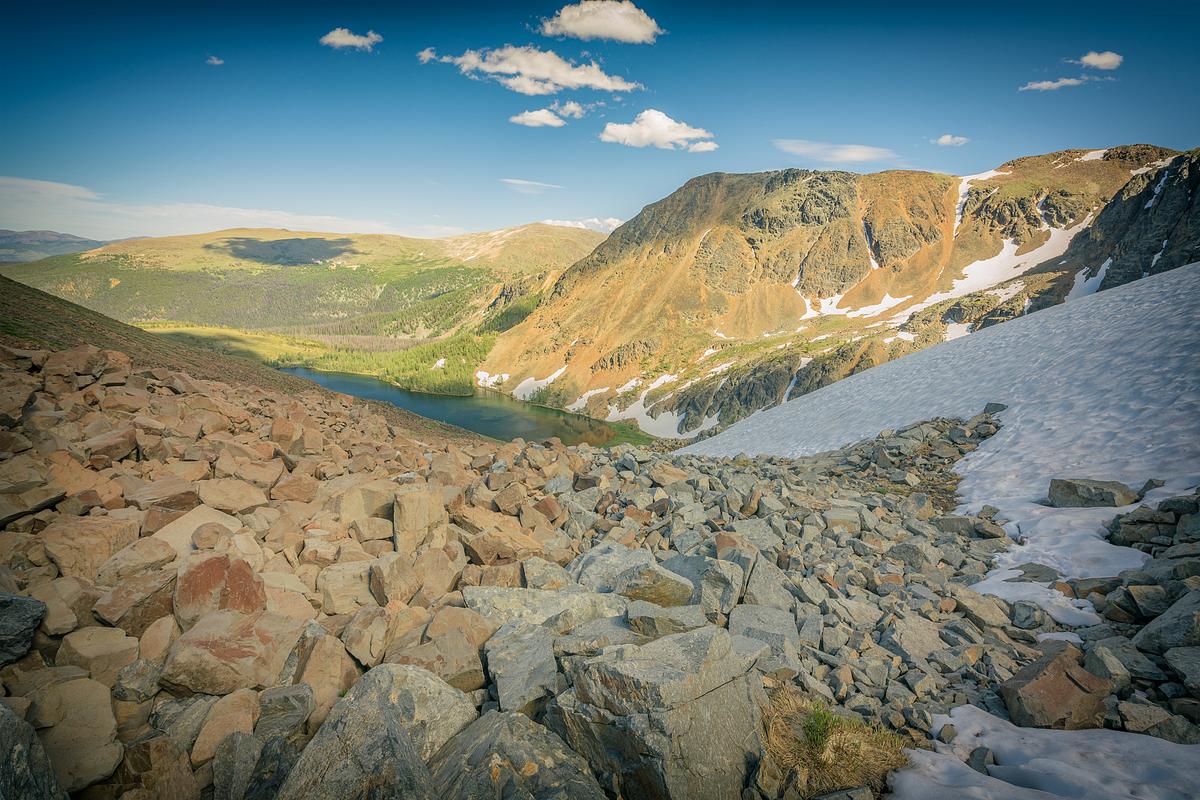 I followed the rim trail, past the views of Glacier Lake, up towards the stone city. Another pair of Goats were coming my way. I used my Panasonic Fz1000 to capture the goats with different perspectives of mountains.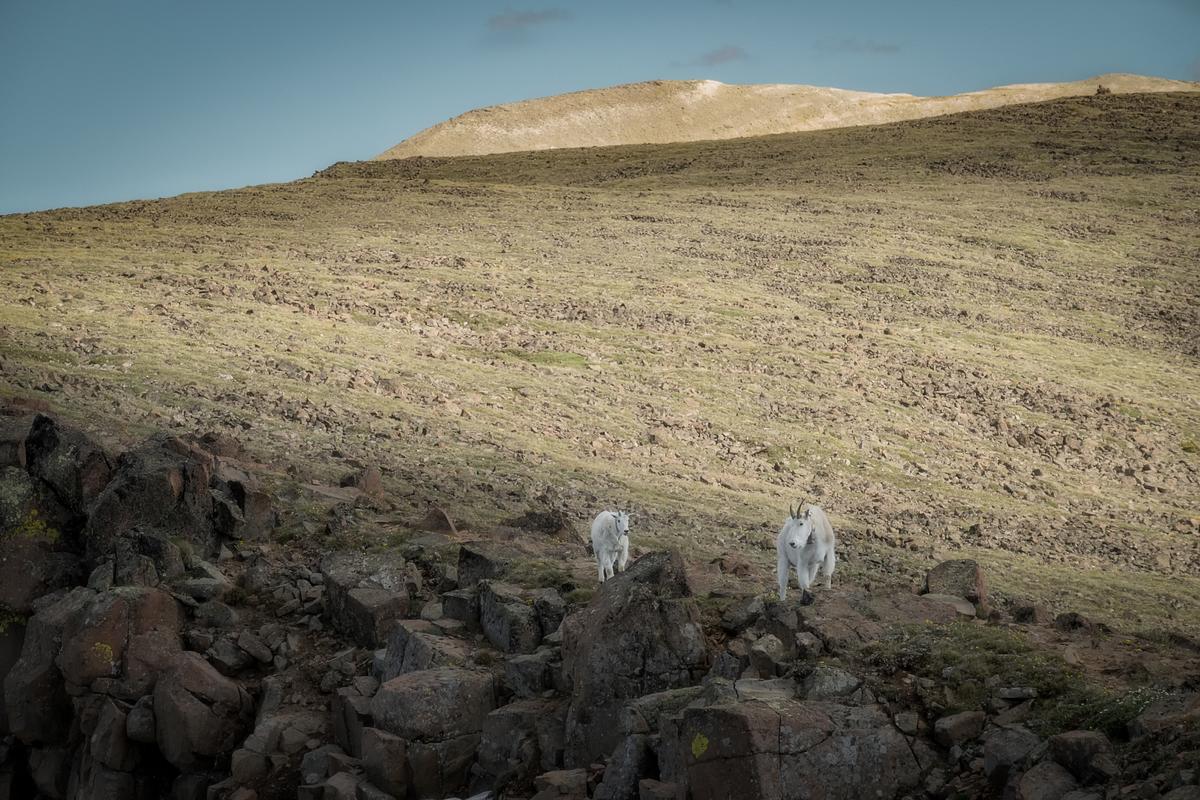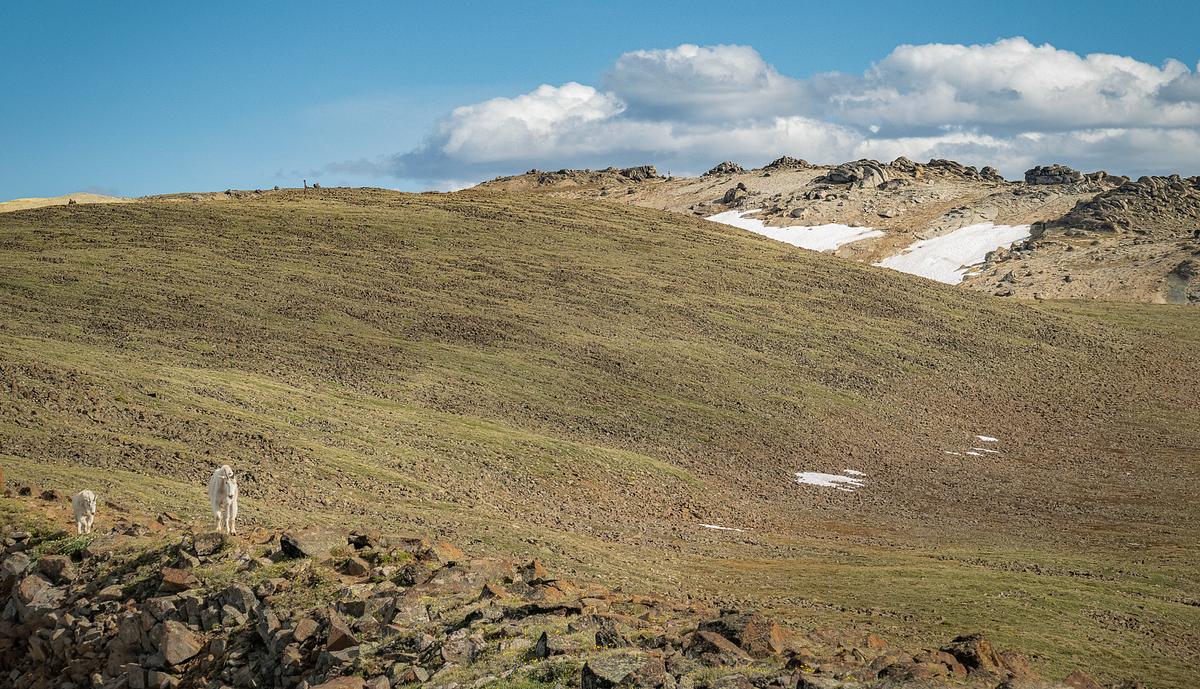 Further up, I heard a familiar song, Gray-crowned Rosy-Finch! These birds are exclusively seen in the alpine during the summer months.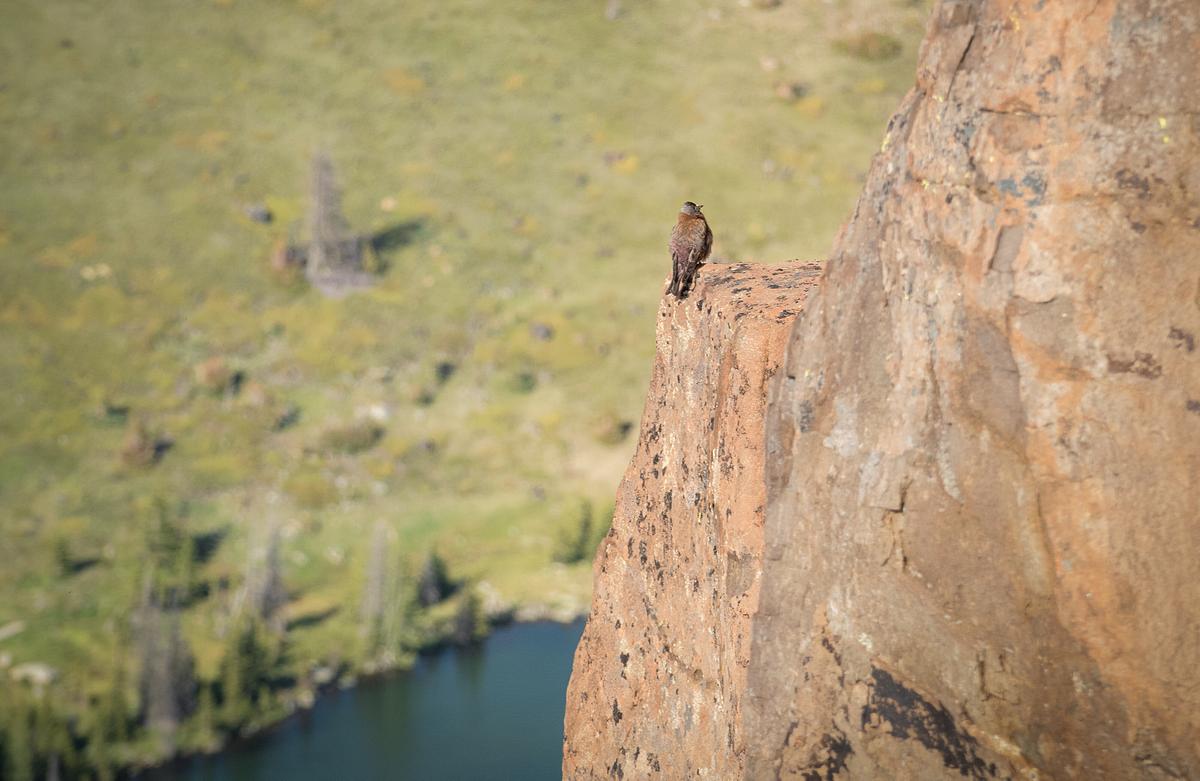 I saw many Horned Larks, creeping about the Wildflowers.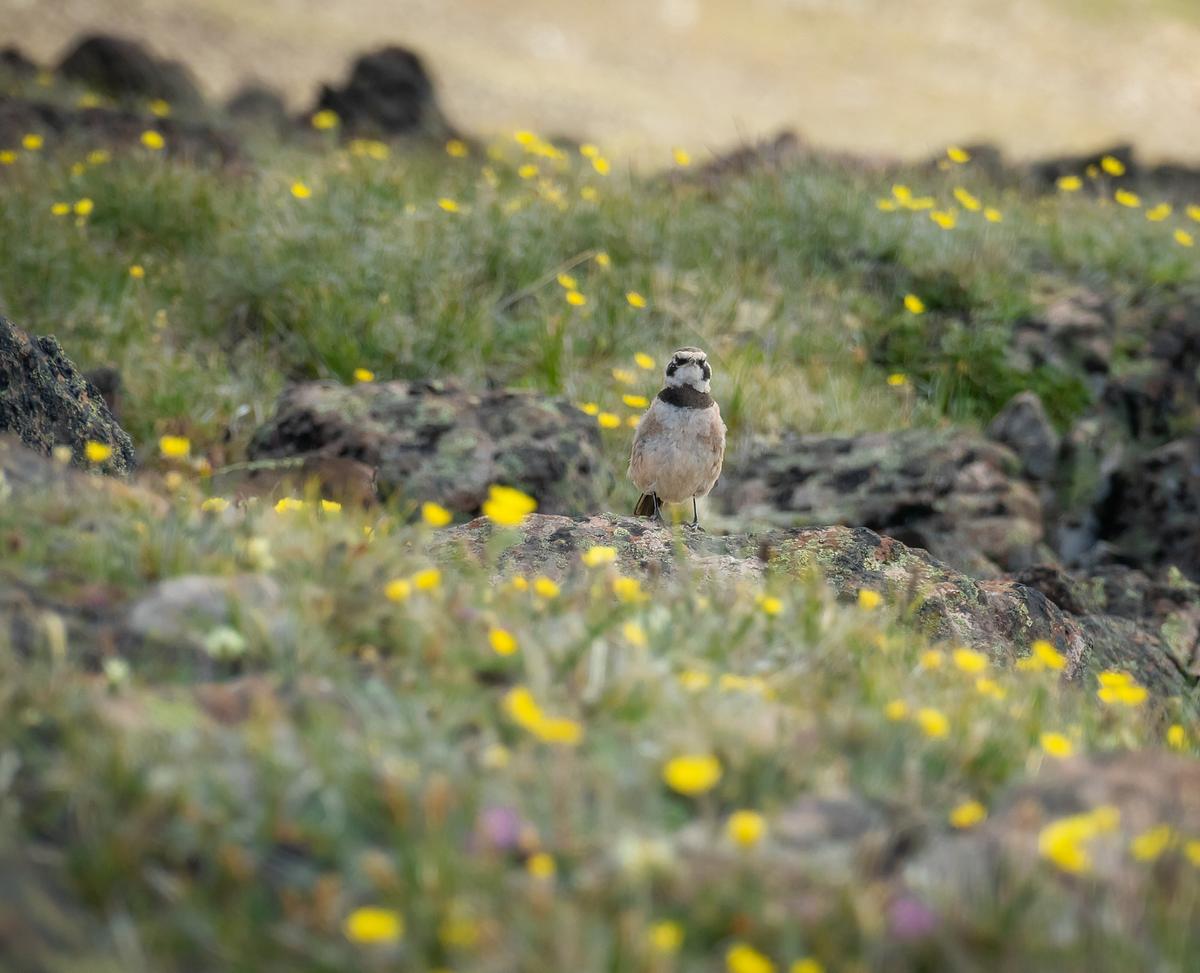 The hike along the rim was more challenging than I had envisioned. The terrain was rugged and rocky, and though not steep, still needed time and attention. I finally reached Stone City.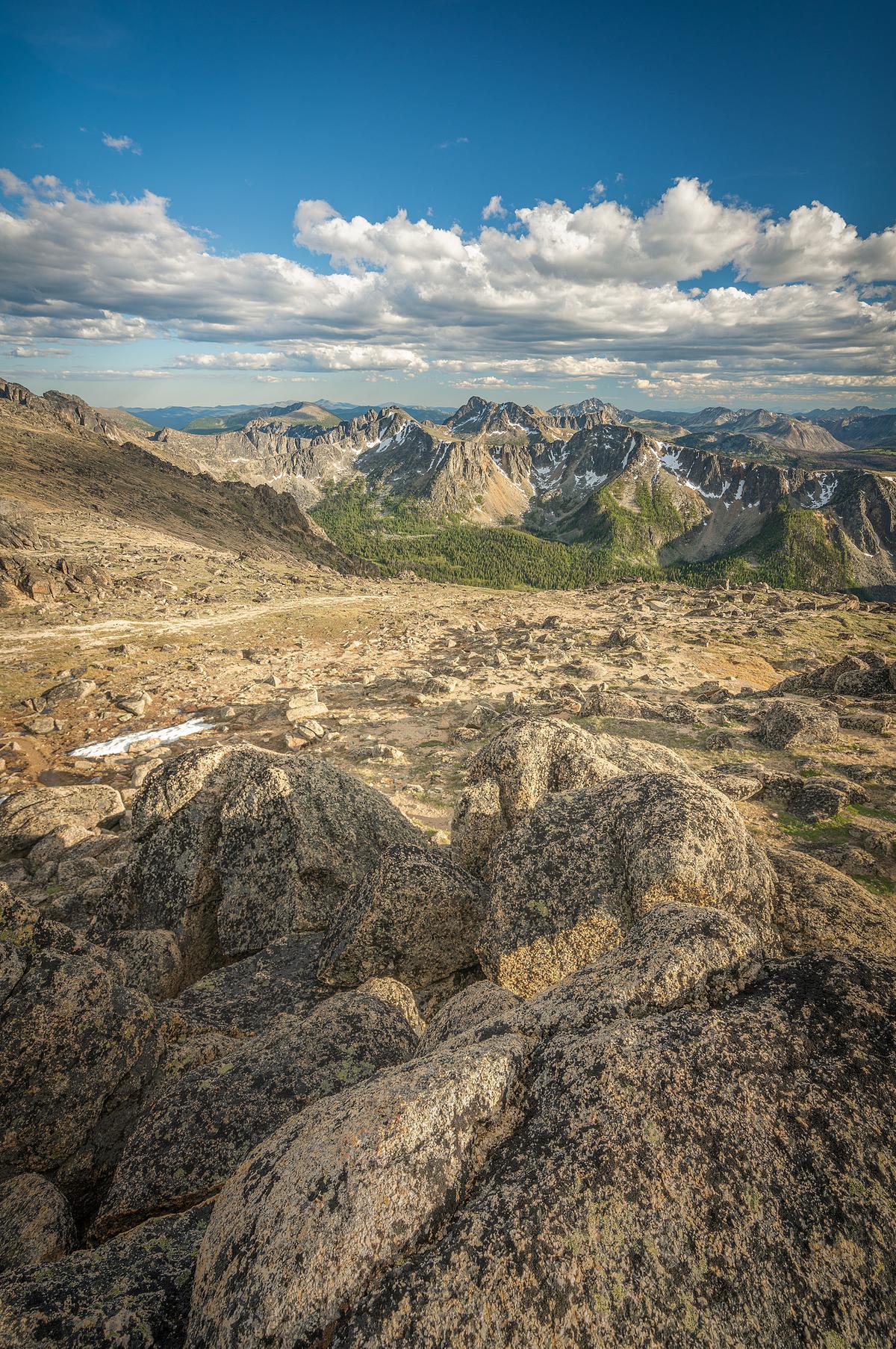 It was unlike anywhere I had seen before, enormous boulders lay strewn about and crystalized soil crunched under my feet. It was like a desert.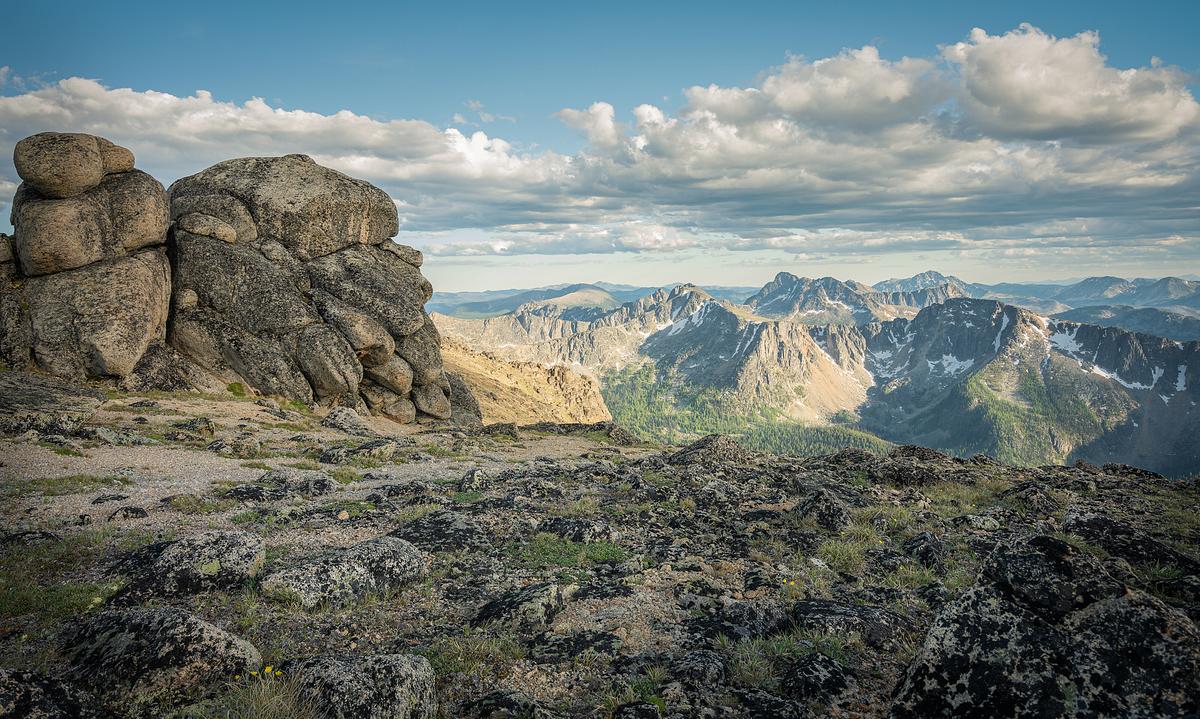 As I wandered the area, I flushed a male White-tailed Ptarmigan; I was having great luck with wildlife today.
He was much obliged to give me a short photo session. I tried to frame the Ptarmigan to the side, looking out at the vast expanse surrounding him. I took these with my FZ1000, so the resolution is lacking. I really need a zoom lens for my Sony, especially for scenes like this.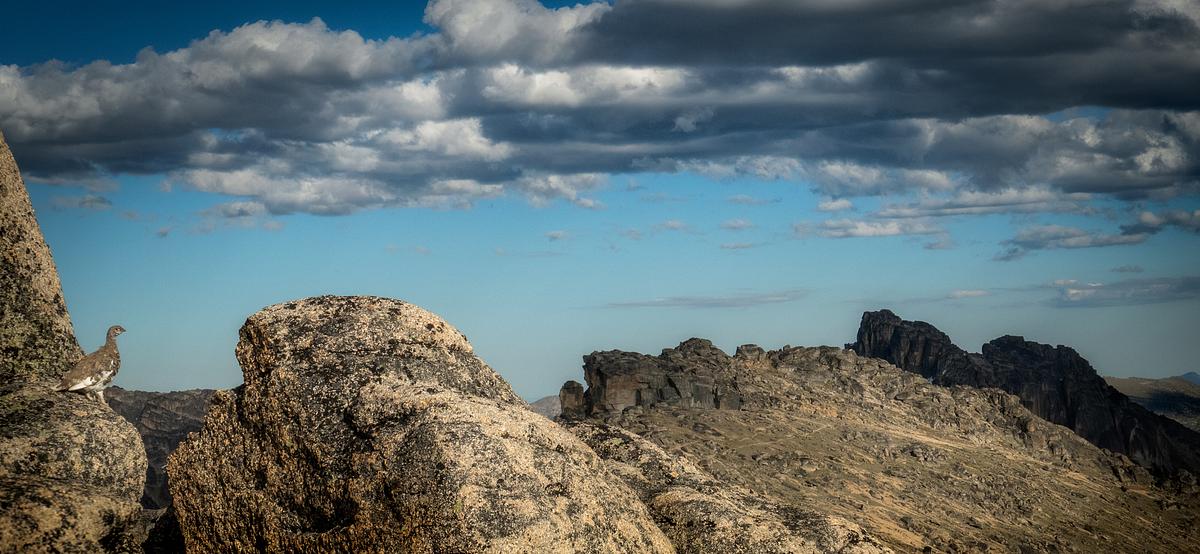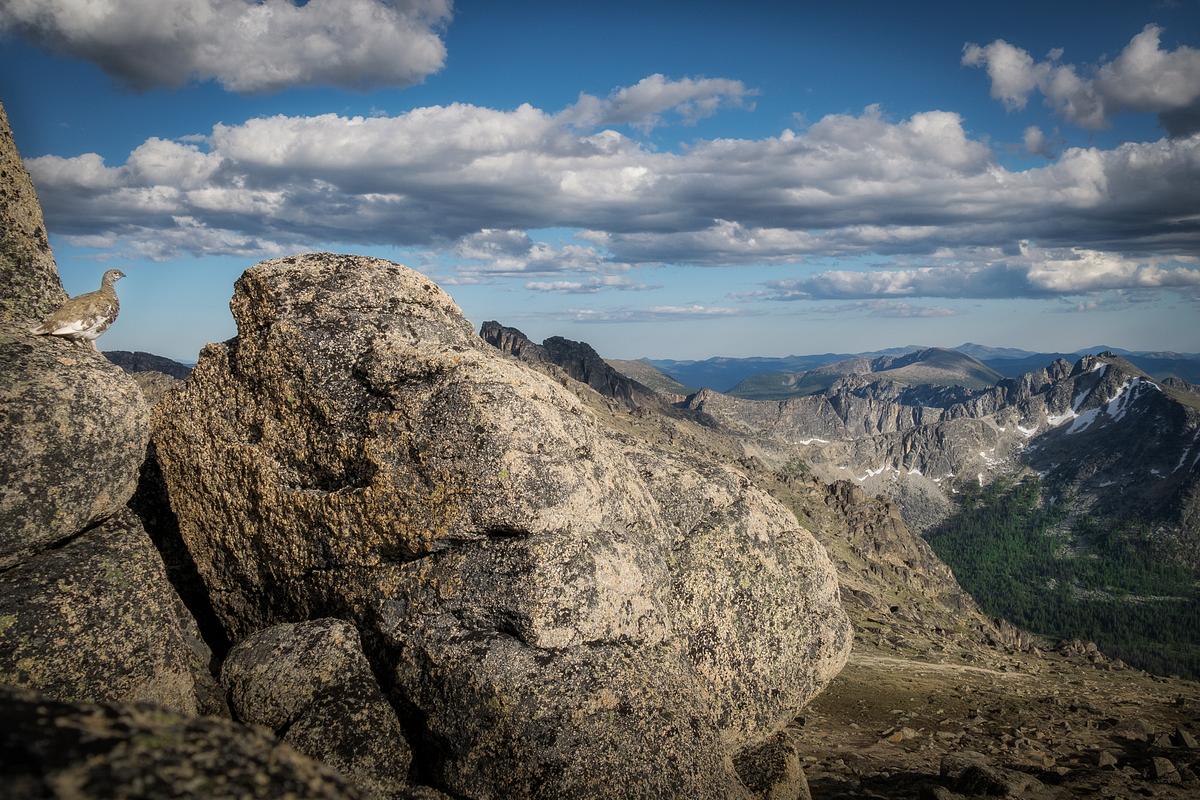 So after being caught in a lightning storm in Wells Gray, I have become very wary whenever I see dark clouds coming in. From where I was, I could see a long line of them, and they were headed my way, I got panicky, decided I should get off the mountain, so I hurriedly made my way back towards Glacier Lake.
Along the way, a few more Goats crossed my path.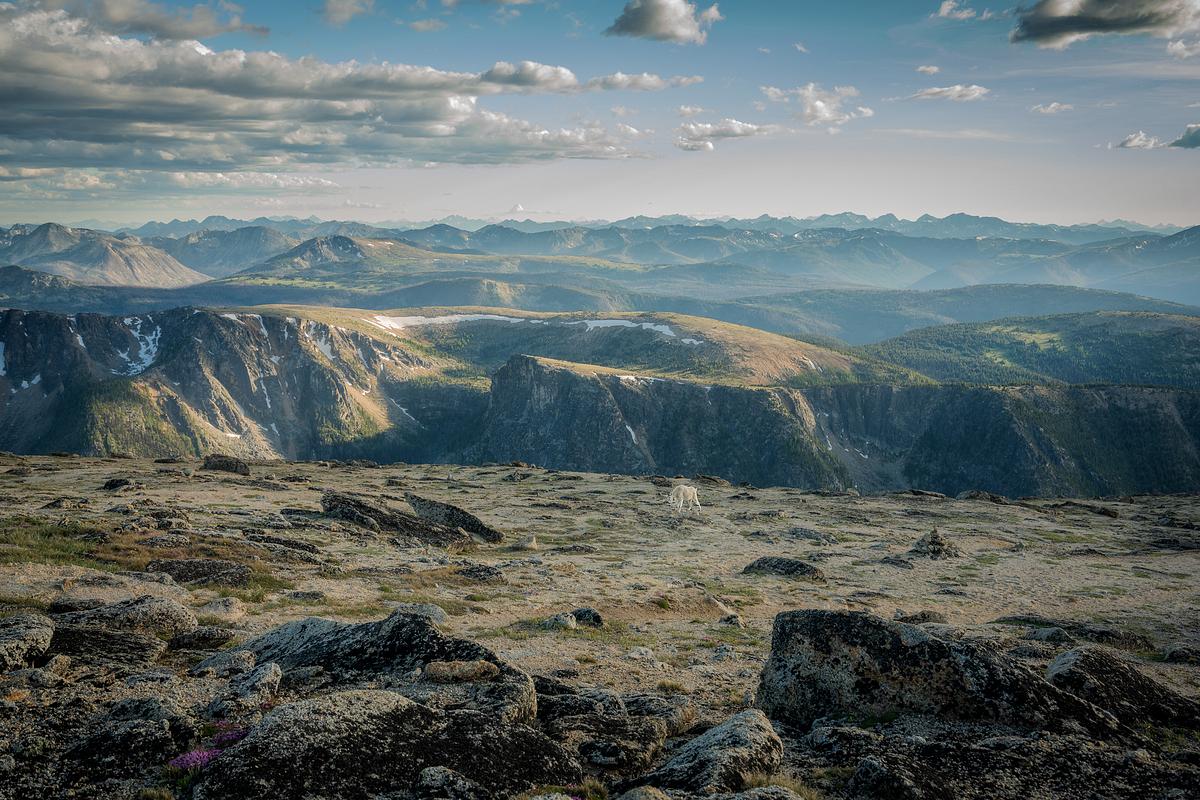 Coming down was a lot harder, primarily through the snow patches, I also felt a bit off from the sun. It got into my head this was a thunderstorm, so I ignored the fantastic light and views of Glacier lake. Thankfully I made it to Pyramid Lake, just in time to get this shot, which would be my last of my time in the Park.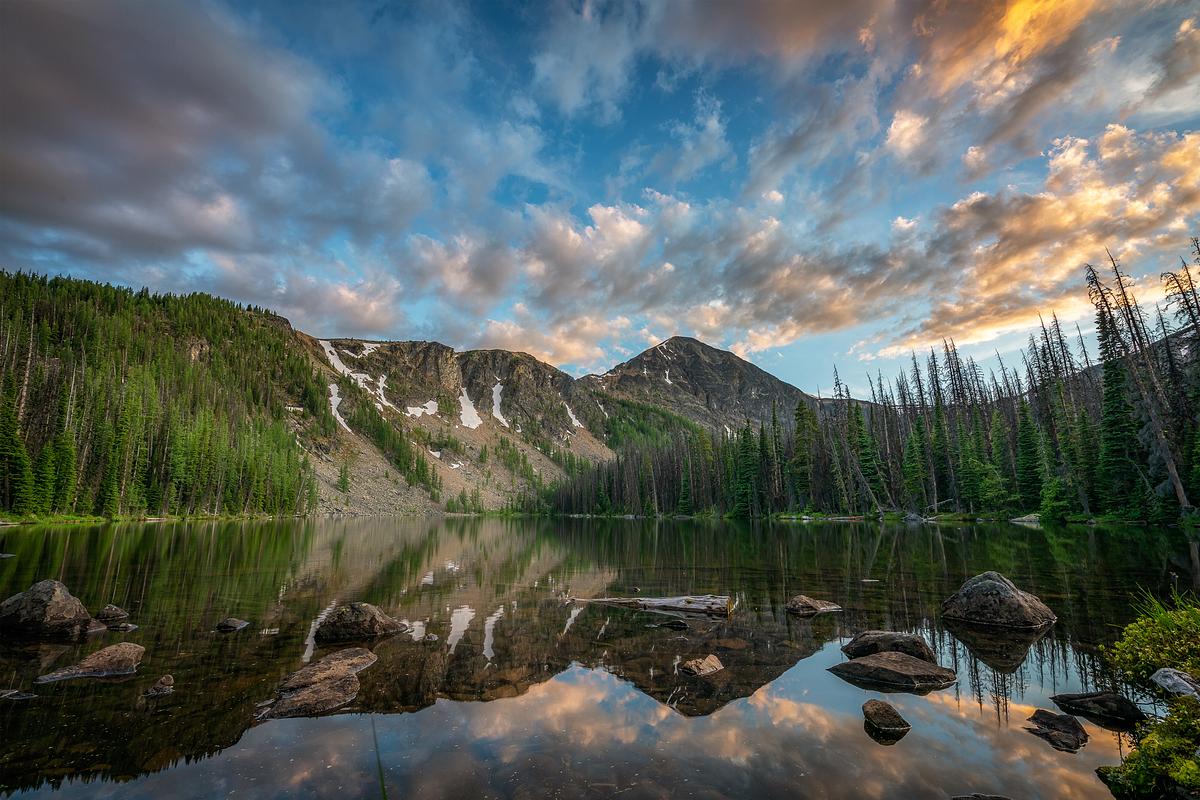 The next morning I tried another sunrise at Quiniscoe lake again, but the clouds that followed me back to camp had grown thicker overnight and the morning was dull and grey.
I caught the noon, shuttle, this time I was glad to be going in a regular truck, and didn't have to worry about getting car sick. An hour later I was in my car, and it was a blistering a 34 degrees. I still had a long drive back to Vancouver. I already wished I was ago in the alpine, Cathedral Lakes were no longer a mystery to me, but there was still so much there I wanted to explore. I will, for sure, be going back next year.